10 Times Dan Stevens Made Our Hearts Go 'Ba-Bum'
If you've been enjoying Dan Stevens in the Marvel TV series Legion, you're not alone. Stevens himself has been loving playing the unlikely superhero, telling Fox News, "It's been wonderful. David is absolutely a delicious role." When we first meet David Haller, he's being held in an psychiatric hospital, (look away now if you haven't seen the show!) before being broken out by fellow mutants. And that's where the story kicks off, with Haller on a path to self-discovery.
In the same interview, Stevens revealed that the show IS being renewed for a second run. It's great news but, with the first season over, you might be feeling a little lost right about now. If it's Stevens in particular that you're missing (although we're also pining for costar Aubrey Plaza), fear not. He's starring in the new suspense thriller, The Ticket, hitting theaters on Friday, April 7. In it, he plays a family man, James, who is blinded by a pituitary tumor. But when he wakes up with his sight back after the tumor shrinks, he finds he has a hunger for... more.
Now he's blinded by greed:
https://www.youtube.com/watch?v=sZvXKRbFgf0
Of course, we also adored him in his other roles, like Beauty and the Beast. Even when he's covered head to toe in fur, it seems, Dan makes our heart thump loud and fast.
Here are ten other times he made our pulse rate soar.
1. When he left Downton Abbey.
Let's just get this one out of the way, shall we? Stevens opted not to renew his contract with the folks over at Downton Abbey, making an unexpected exit. His character, Matthew Crawley, and his new wife, Lady Mary Crawley (Michelle Dockery), were celebrating their new baby when things took a turn for the worse. And fans were not happy. But, time heals, and we think the DA gang is a forgiving bunch — especially since it wasn't personal — and are still keen on Mr. Stevens. Here he is chatting on Today about following his gut and making his way west (to America):
https://www.youtube.com/watch?v=E2XOdYn6rRE
2. When he had a giggling attack on Good Morning Britain.
Some of you may be reliving the DA loss after reading the above — OK, take a breath — and, now... moving along. His appearance on Good Morning Britain, while promoting his role in The Guest, may wash away any residual feelings of remorse. This was one of his first major castings since leaving DA. The host of GMB asked Stevens about what the competition must have been like for such a sought-after role, which sent him into a fit of laughter. The presenter had no idea what triggered this glorious outburst. It's not the question itself, but how she phrased it, which you can check out below:
https://www.youtube.com/watch?v=ovIly_QFRiw
3. When he turned up in Night at the Museum 3 as a tiny knight.
Stevens took a chance when leaving DA. He had a good gig, why mess about? But, he wanted to explore what else was out there, and it could have easily turned out to be a whopping heap of... nuthin'. But, he had confidence in himself, and so did we; he began popping up in a number of films, including Summer in February (2013), The Fifth Estate (2013), and A Walk Among the Tombstones (2014). And, we found him utterly delightful as a tiny Sir Lancelot in the third installment of the Night at the Museum series. Even better is how Stevens pronounces "medieval" in the below interview when discussing his character coming to life in Night at the Museum: Secret of the Tomb:
https://www.youtube.com/watch?v=I5daUWXAiq4
4. When we saw him in his own clothes.
Not that you necessarily need this analogy, but it's kind of like when you're out and about and spot your favorite barman or waiter out of uniform. It's like, "Ah, I can see your personality, now." And, with actors, their costumes, even if contemporary, are not their own. So, it was a bit of fun to see Stevens' taste through his choice of clothing. He's definitely a smart dresser, but he takes a moment to tease himself in the caption of the below Instagram post, writing, "I dunno, one banjo scene and he thinks he's in Mumford & Sons..." He's referring, of course, to the "mind palace" scene in Legion where he plays the banjo to his girlfriend:
5. When he stripped down for The Guest.
Yep, we're gonna go there. Stevens plays an American soldier home from duty in the 2014 film The Guest. He worked hard to get in shape for the role, so we sort of feel obliged to give him credit where it's due. Here's a ripped, bronzed Stevens posing with some woven plates to set the mood:
[caption id="attachment_395063" align="alignnone" width="612"]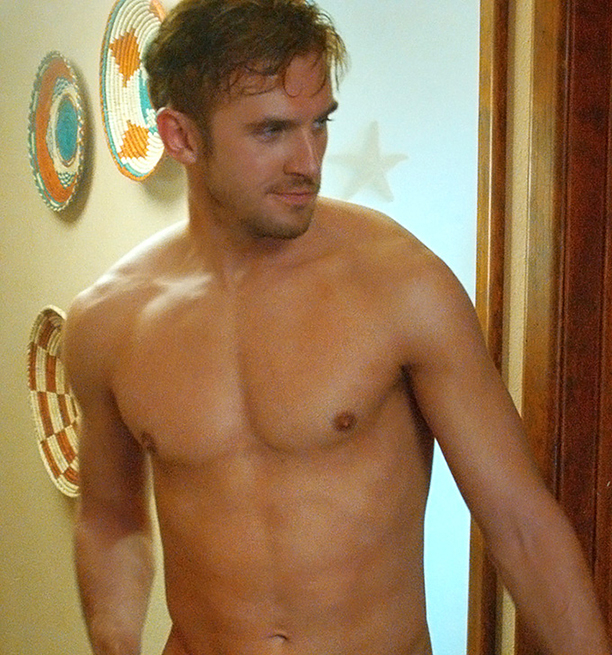 (Photo: Picturehouse)[/caption]
6. When the world spun around him in Legion.
We were very excited about Marvel's Legion, having reported on it as it geared up. And when the show finally landed on FX, we were quite blown away. Through supernatural therapy, David Haller was able to revisit different times in his life and watch from the perspective of an outsider. We saw just what he was capable of. Particularly memorable — and awesome — was the moment everything in his kitchen flew out of the drawers and cupboards and began swirling around Stevens — the centerpiece of this mind-controlled chaos:
https://www.youtube.com/watch?v=RZOwEE4wqkI
7. When he paid tribute to the late Sir John Hurt.
Posting a tweet doesn't take all that long, but Stevens took the time to address legendary actor John Hurt's passing, which does mean a lot:
RIP JH pic.twitter.com/fe5Ggx06Ne

— Dan Stevens (@thatdanstevens) January 28, 2017
8. When he transformed his beard into a piece of art.
Stevens doesn't take himself too seriously and has a great sense of fun off-screen. He's even used his facial hair as a canvas. It's not totally clear where he got his inspiration, but men decorating their beards is a thing now. Stevens has beautifully intertwined flowers into the well-manicured whiskers on his face to create a kind of "beard" garden. W Mag documented the moment and he now uses this photo for both his Twitter and Instagram accounts:
9. When he danced and sang his way across an L.A. crosswalk.
Stevens and his Beauty and the Beast co-stars Luke Evans and Josh Gad joined late night host James Corden and his street team theater company to put on a live production. Stevens was keen to perform in front of a live audience. He just didn't realize the members would be pedestrians and in cars driving by... and who exactly would be playing Belle:
10. When he talked of hope as the Beast.
Disney's Beauty and the Beast has a ton of takeaways, but the one that stands out to us most it's never too late to undo a wrong. Stevens plays the Beast, opposite Emma Watson's Belle. At a turning point in the film, (slight spoiler) the Beast realizes Belle may have a soft spot for him, saying out loud to himself, "Maybe she could love me?" It gives hope to anyone who has ever been plagued by self-doubt. In the below clip Stevens, as the Beast, sings of regret and the possibility of a second chance:
https://www.youtube.com/watch?v=vzEF52dlzjg
Do you like Dan Stevens even more now?