Superheroes, gods and mutants dominate movie theaters and TV schedules nowadays, with top Hollywood talent racing to bag one of the iconic roles from comic books and fantasy novels, including Chris Evans, Brie Larson, and even veterans like Sir Antony Hopkins.
Superhero shows and films are also a breeding ground for up-and-coming actors, and a chance for them to take a major leap in their career. It certainly worked for Tom Hiddleston, who went from independent film actor to action hero thanks to his turn as Loki. And just this week, History Boys' Sacha Dhawan admitted he had some help from fellow Sherlock star Benedict Cumberbatch in securing his role in The Iron Fist.
Below are just a few we've spotted in the latest crop of comic book-inspired shows and movies, and who, in our humble opinion, are about to hit the big time.
Aubrey Plaza (Legion)
It's fair to say our attention was on Dan Stevens when this TV adaptation of the Marvel comics was announced, and sure enough his performance as the troubled David Haller has been nothing short of mesmerising. The real revelation, however, has been Aubrey Plaza. Don't get us wrong: we knew she was good — her role as intern April in Parks and Recreation made sure of that — but the way she vamps it up and chokes it back down as patient-turned-ghost-turned-therapist Lenny Busker means she's the real star of Legion.
Ricky Whittle (American Gods)
There's only one word that can be used to describe the cast of this upcoming adaptation of Neil Gaiman's cult fantasy novel, and that's stellar. Ian McShane, Gillian Anderson, Crispin Glover: they're all there. But right at the center of the show is a relative unknown playing brooding hero Shadow Moon. Sure, maybe you've already spotted British-born Ricky Whittle in The 100 or Mistresses, but rest assured his role in American Gods later this year will be the springboard to a big career.
Katie McGrath (Supergirl)
Expect to see a lot more of Katie McGrath: having portrayed Morgana in Merlin, Lucy Westenra on the 2013 British-American series Dracula, and Zara Young in the science fiction adventure film Jurassic World, she now plays Lena Luthor, the younger sister of Lex Luthor, in Supergirl. Her performance has made a firm favorite among fans, and it looks like it's paid off: When the third season premieres later this year, The Mary Sue reports she'll be a series regular.
Tessa Thompson (Thor: Ragnarok)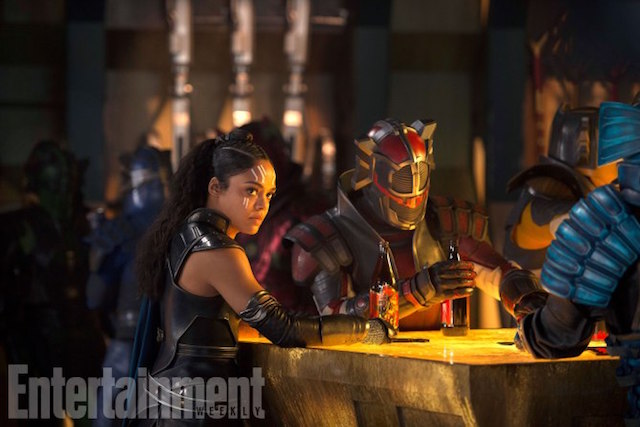 Tessa has been around for a few years now, with roles in the likes of Veronica Mars and Selma, but her star power has gone up a notch or three thanks to playing the mysterious Charlotte Hale in Westworld. Next up is a starring role as Valkyrie in Thor: Ragnarok, plus an appearance in sci-fi drama Annihilation alongside Natalie Portman.
Talulah Riley (Westworld)
Talulah has popped up in Doctor Who and films as diverse as St. Trinian's and Inception, but it wasn't until the TV remake of Westworld came along that she got her big break. In it she plays Angela, the beatific host who has welcomed guests to the Westworld theme park for decades. She's certainly one to watch; just this week Deadline reported she had been promoted to a series regular for season two of the robot-cowboy drama.
Which under-the-radar actors do you think make a splash in the latest crop of superhero shows?  
Read More
Filed Under: