10 Times Helen Mirren Surprised Us: From Riding the NYC Subway to Sharing a Supernatural Story
Dame Helen Mirren just recently turned up for a chat show interview in a bathtub filled with bubbles. It was definitely a surprise, but at the same time, we can count on Mirren to be predictably unpredictable.
There have been plenty of times that's she knocked our socks off.
Let's go through ten of them, one item at a time:
1. When She Was Spotted on the NYC Subway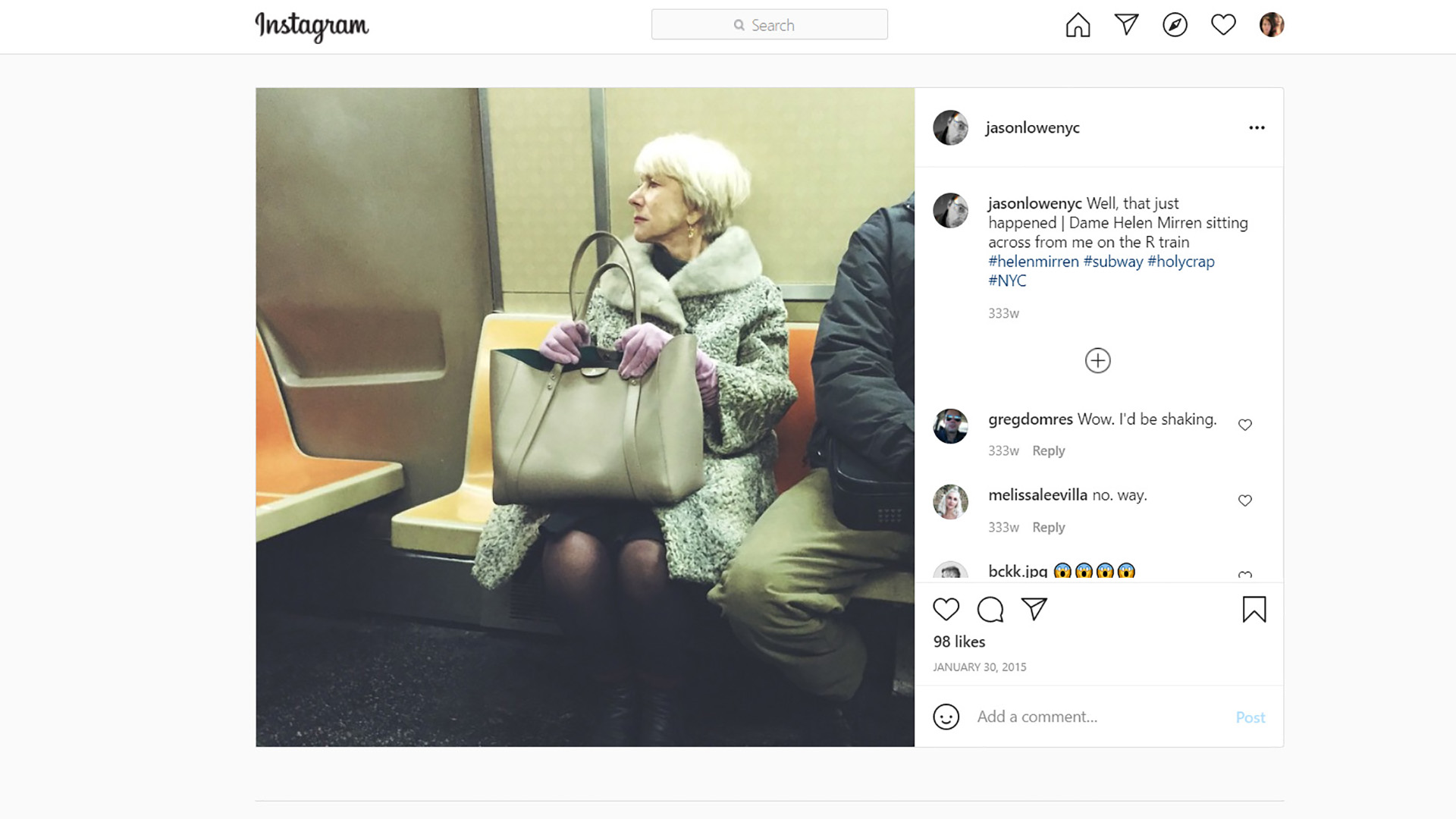 (Photo: Instagram)
Let's time travel back to 2011, when Mirren was seen on a commuter train in NYC. It's not all that surprising, considering a subway can be the quickest way to get somewhere in a city. But, at the same time, it can be the dirtiest and most chaotic. Even so, Mirren is not above it. At the time, when asked about her choice of transport, she said, "I am a commoner anywhere I am. I am a commoner."
2. When She Shooed a Bear Away
Just last year, Mirren found herself face-t0-face with a bear. She was in Lake Tahoe, Nevada, and luckily had read a pamphlet about what to do if this kind of thing comes up. When recapping the story on Marc Maron's WTF podcast, she said to the host, "I saw a bear the other day! A great big black bear came by and stole all my bird food. I went out and I said, 'Bad bear! Bad, naughty bear! Very naughty bear!"
3. When She Used Toothpaste as a Benchmark
We've all handled quarantine in different ways. For Mirren, this has been one of the first times, in a long time, that she's found herself in the same place for more than a few months. In a virtual interview with The Daily Mail, Mirren pointed out, "Up until that point in my life, I was constantly packing and unpacking. And I never got to the end of a tube of toothpaste."
The Dame giggles at her own epiphany, going on to say, "This is how I suddenly realized... my husband and I were in a house in America... and I used up a WHOLE tube of toothpaste. Probably the first time in my life."
4. When She Shared a "First Thing in the Morning" Photo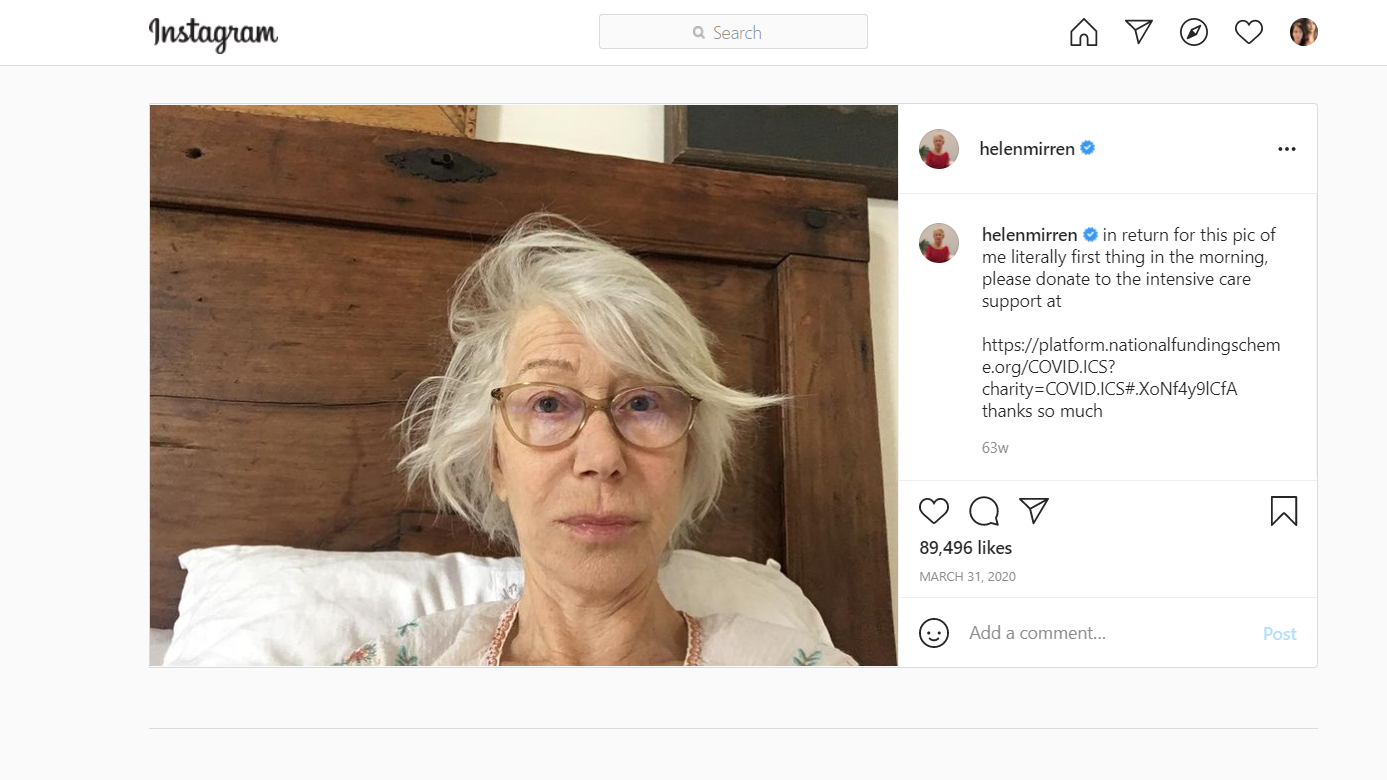 (Photo: Instagram)
We all know Mirren is a stunner. And, a lot of the time, she shies away from compliments about her looks. In an interview with CNN, she noted, "I keep saying we've got to find another word for 'beauty.' I think we should start calling it 'character' instead of beauty, because that's really what it is."
While she doesn't embrace the superficial, she took a moment to share a photo of herself first thing in the morning in an attempt to raise funds for intensive care support during the pandemic. Fans may have been surprised to learn, she's just like us, bed hair and all.
5. When She and Pal Ian McKellen Made a Surprise Appearance Together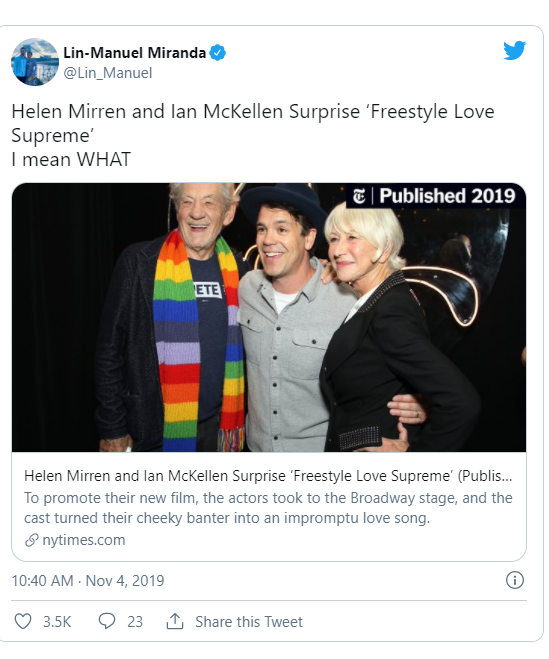 (Photo: Twitter)
Prior to the pandemic, Mirren and her The Liar co-star Ian McKellen, made a surprise appearance at the Booth Theatre in NYC. The two popped up unexpectedly, taking part in a Q&A prior to a Freestyle Love Supreme performance. The cast of the production used the interview to create a rap, with lines like, "Back in the day, we lived parallel lives. The only thing about it is neither one of us wanted wives."
6. When She Decided to Dedicate Her Time to Picking Up Litter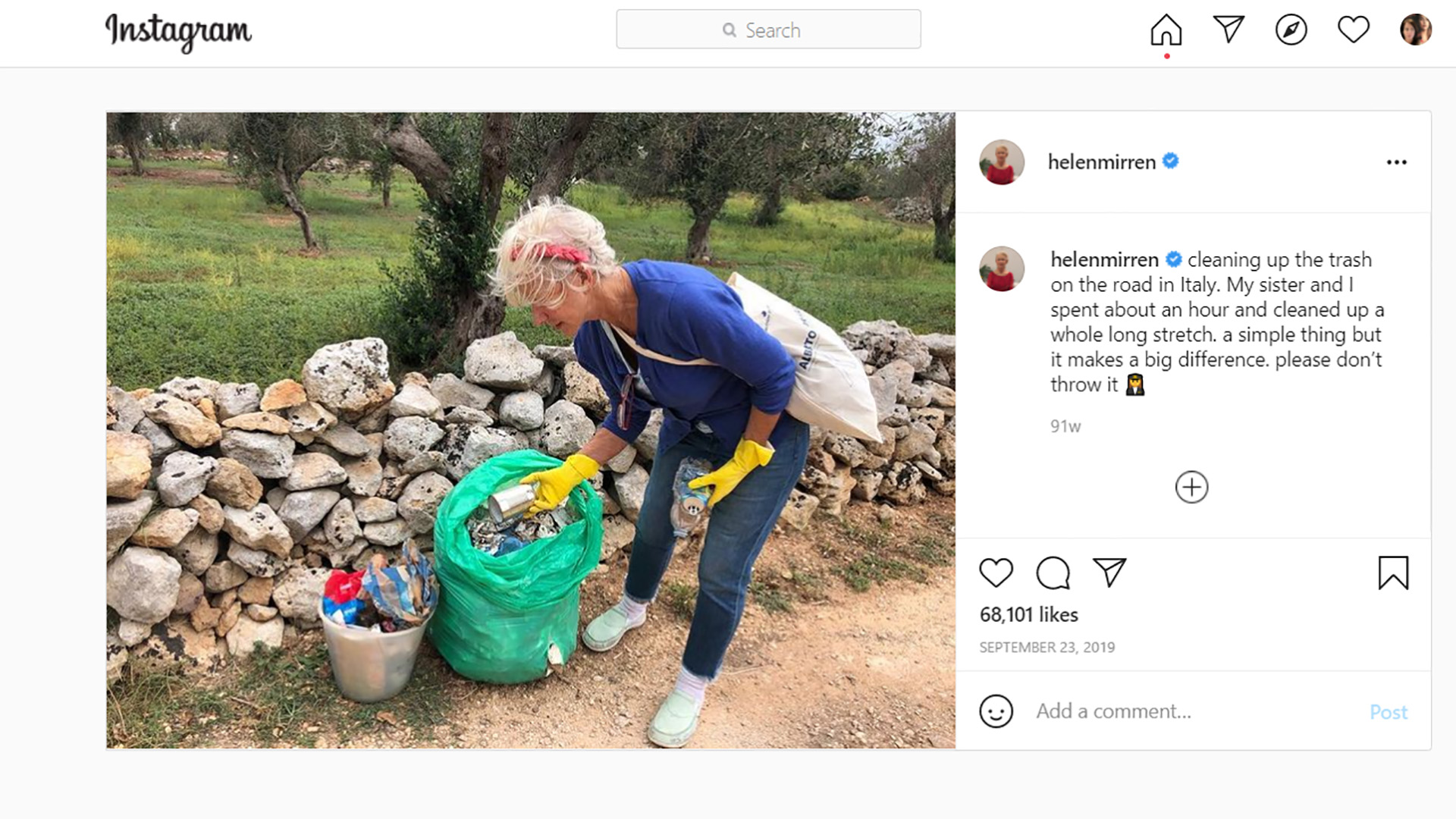 (Photo: Instagram)
Mirren is not afraid to get her hands dirty. Well, in this case, she put on rubber gloves, before diving into her community to clean up after litter bugs. Mirren spends four months a year in southern Italy, where she and her sister noticed an abundance of rubbish. Rather than just scoffing at the eye sore, she went to work, strapping a plastic bag to her back and picking up the discarded waste.
In her Instagram post above, she writes, it's "a simple thing, but it makes a big difference." The little things do add up. Just like her sharing the above photo, it doesn't take all that much effort, it's a quick snap and click of a button, with a huge impact. Now others might think, "What would Helen Mirren do?" if seeing something on the ground, that does not belong there.
7. When She Asked to Appear in The Fast and Furious Franchise
Mirren has been a working actress since 1967 and has won a number of accolades and awards. Point being, she has her choice when it comes to roles. And in 2016, what did she choose? She asked Vin Diesel if she could star in the next installment of Fast and Furious, which he leads. It doesn't hurt asking, and her ask was approved, with Mirren taking on the role of Queenie in 2017's The Fate of the Furious.
You can also look for her in this month's release of F9, where she will get her second ask, to actually drive a car in the movie.
8. When She Shared a Haunted Castle Story from Her Wedding Day
In 2018, Mirren starred in the movie Winchester, which revolves around a haunted mansion. In an appearance on U.K.'s This Morning show, she shared her own personal experience with the supernatural. When staying at a castle in Inverness, Scotland, she was warned that her room was haunted. She wasn't fazed, saying in the above video, "Because I don't believe in ghosts."
When she was woken up in the middle of the night, by an unexplained occurrence, she had a change of heart.
9. When She Showed Up on a Parisian Catwalk
During Paris Fashion Week in 2017, The Queen actress didn't just turn up to take a gander at the clothing, or hold down the front row, she was, in fact, up on the catwalk, taking center stage. Michelle Lee, Editor in Chief at Allure Magazine, graciously shared a close-up video on Twitter, hitting the mark with her caption, "Oh hi it's just DAME HELEN MIRREN."
We especially appreciate the strut, complemented with the twirl of a cane.
10. When She Paused a Stage Performance to Ask People Outside to Quiet Down
Yes, Mirren can be silly and fun, but at the same time, she's an actress and takes her profession seriously. In 2013, when performing in London's West End, starring in The Audience, there was a ruckus outside. One might say, "The show must go on," and just power through the noise. But, not Mirren. She stopped the production, excused herself and went outside to see what was going on.
It turned out there were a group of drummers, who had been a part of a parade earlier and were taking a break behind the theater. Mirren reasoned with the group and upon returning to the stage, addressed the crowd, saying, "They got a very stern royal ticking off, but I have to say they were very sweet and they stopped immediately," reports The Telegraph.
Do you have a favorite Helen Mirren surprise moment from the above list?