Where to Look for Michelle Gomez: From 'Doctor Who' to 'The Flight Attendant' and More!
(Photo: Getty Images)
HBO Max's The Flight Attendant has come to an end, with its season finale airing last week. In the first episode, we saw a blurred out mystery character and found ourselves thinking, "That looks like Doctor Who's Michelle Gomez." And — spoiler alert — it was!
She has such distinct features, we can even recognize her in what was meant-t0-be an unrecognizable haze. In an interview with What's On TV, Gomez said of her looks, "God gave me this face. You know, I don't have a button nose. With this profile I was always going to be playing w*tches and b*tches."
Let's add time traveler to that list and take a peek at her range of roles, going beyond Ws and Bs:
1. Doctor Who
Of course, BBC Americans know Gomez as Missy, the Doctor's fellow Time Lord-slash-archnemesis. That is quite a lot for one being to encompass. We first met Gomez as Missy in the 2013 Doctor Who episode "Deep Breath." She starred in 15 episodes total, with 2017's 'The Doctor Falls" being her final appearance.
2. Taggart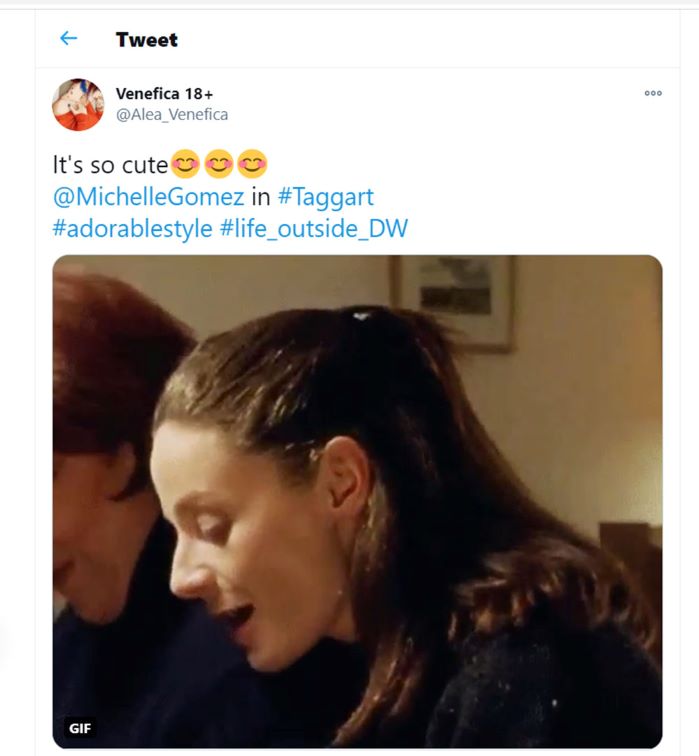 Let's do some time-traveling of our own and head back to the 1990s, in which Gomez starred in the crime series Taggart. Gomez popped up in the 1992 episode "Nest of Vipers: Part One" and again in 1999, starring in "Bloodlines." In the first, she was credited as playing a hairdresser, but in the second, her character actually had a name, that being Harriet Bailes. Upgrade!
3. The Book Group
In 2002, Gomez starred in the dramatic comedy The Book Group. The series revolves around an American (Anne Dudek) living in Glasgow, Scotland, who starts a meet-up group to make some friends. Gomez takes on the role of a football wife, who joins the group for her own reasons. The series ran for one season, with Gomez appearing in all 12 episodes.
4. Carrie and Barry
The comedy Carrie and Barry ran for two seasons (2004-2005). The story follows Barry (Neil Morrissey), a taxi driver, and his wife Carrie (Claire Rushbrook). We also see Barry's friend Kirk (Mark Williams), who is half owner of their shared taxi. Gomez rounds out the cast, starring as Carrie's best friend Michelle, who works as a beautician.
5. Green Wing
Gomez starred in the sketch comedy Green Wing from 2004-2006. While set in a hospital, the storylines are not medical, and roll out more like a soap opera. Gomez takes on the role of Sue White, who is a staff liaison officer. Her job is to listen to and advise employees who may have a complaint. She seems to enjoy it — deciding a person's fate that is — but she may not have the best intentions.
6. Feel the Force
In 2006, Gomez starred in the police comedy Feel the Force as Sally Bobbins. Bobbins isn't the kind of person who works to live, but quite the opposite. She is so keen on her job that it's to the point of compulsion. On top of that, she's partnered up with an officer (Rosie Cavaliero) who is utterly incompetent, causing tension both in the station and out in the field.
7. Bad Education
Bad Education (2012-2013) revolves around a grade school teacher, Alfie Wickers (Jack Whitehall), who isn't the best person to be a role model to young children. Wickers sometimes calls on his students' advice in wooing his crush. When he's not goofing around, he reports to numerous deputy heads, including Isobel Pickwell, played by Gomez.
8. PsychoBitches

In the comedy PsychoBitches (2012-2014), we see Gomez portray a number of female public figures, including Mary, Queen of Scots. Mary sits down for a psychotherapy session in hopes of getting prescribed medication. But, she doesn't really want to talk about what's actually been going on. The clip we have is very much Not Safe for Work, but you can check it out over at YouTube.
9. Chilling Adventures of Sabrina
We absolutely love Gomez in the Sabrina the Teenage Witch reboot, which kicked off in 2018. We see Kiernan Shipka as Sabrina Spellman, who is trying to manage being part mortal and part witch. Gomez takes on the role of a well-meaning but wobbly teacher named Mary Wardwell. But, not to worry, Gomez doesn't play feeble for long, morphing into something much more powerful.
10. The Flight Attendant
As mentioned above, we were pleasantly surprised to see Gomez pop up in this year's The Flight Attendant. When a party girl flight attendant (Kaley Cuoco) wakes up next to a dead body, she tries to piece together just how her sexy evening ended up quite so bloody. Gomez is in deliciously bad form in the role of Miranda, who was an acquaintance of the dead man. As the series rolls out, we also try to figure out how Miranda fits into it all.
Shall we have a Michelle Gomez marathon this week!?