As Dame Maggie Smith Returns to the Stage, Look Back at Her Celebrated Theater Roles
Though she'd previously suggested she had retired from stage work, saying in 2013 that "I feel I won't work in the theater again," Dame Maggie Smith has delighted fans by signing up for a new one-woman play at London's Bridge Theatre. As she prepares to star in A German Life, a play based on the life of Brunhilde Pomsel, who served as personal secretary to Nazi propaganda minister Joseph Goebbels during World War One, here's a reminder of some of Smith's most celebrated stage roles.
Othello
Smith appeared frequently at London's Old Vic theatre during the '60s, starring in everything from Henrik Ibsen's The Master Builder to Noël Coward's Hay Fever. One of her many notable roles there was playing Desdemona opposite Sir Laurence Olivier in Shakespeare's Othello in 1964. Smith has since revealed that she and Olivier didn't always see eye to eye, recalling in last year's documentary Tea with the Dames that "I think I scared the wits out of him from time to time."
[caption id="attachment_442583" align="alignnone" width="300"]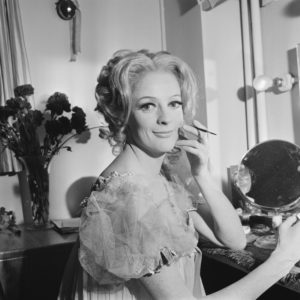 Maggie Smith in her dressing room at London's Old Vic theatre in 1967[/caption]
Much Ado About Nothing
Smith also starred as Beatrice in a 1965 Old Vic production of Shakespeare's Much Ado About Nothing directed by Franco Zeffirelli. Today, the production's cast list is almost unimaginable: Sir Ian McKellen, Sir Derek Jacobi, Lynn Redgrave, Albert Finney, and Smith's first husband Robert Stephens all appeared, too. For decades, a televised version of the play featuring Smith and many of the same co-stars was thought to be lost, until a tape was discovered in a Washington, D.C. library in 2010.
Private Lives
Smith first starred in Noël Coward's classic comedy of manners at London Queen's Theatre in 1972. She played Amanda, a woman whose honeymoon to new husband Victor is interrupted when they discover that Amanda's first husband and his new wife are staying in the hotel room next door. She reprised the role three years later at Broadway's 46th Street Theatre (now the Richard Rodgers Theatre), receiving her first Tony nomination for her performance, and then played Amanda again in a U.S. tour.
Night and Day
Smith earned her second Tony nomination for her performance in the original Broadway production of Sir Tom Stoppard's Night and Day. She played central character Ruth Carson (originated in London's West End by Dame Diana Rigg), a wealthy English woman whose personal compromises are used by Stoppard to illustrate journalistic compromises made by the British media.
Lettice & Lovage
The role of Lettice Douffet, a garrulous tour guide who loves to embellish the truth about the English country house she works in, was written especially for Smith by playwright Sir Peter Shaffer. Smith duly originated the role in the West End in 1989 and then again three years later on Broadway. She and co-star Margaret Tyzack, who played the fact-conscious official that Smith's character butts heads with, both won Tonys for their performances.
https://twitter.com/dame_maggie/status/683487070803877888
The Lady in the Van
Smith returned to London's Queen's Theatre in 1999 to star in this acclaimed stage play based on the memoir of the same name by Alan Bennett. She earned an Olivier Award nomination (her sixth!) for her performance as Miss Shepherd, an enigmatic homeless woman who lived in a shabby old van parked on Bennett's front yard for 15 years. She later reprised the role in a 2009 radio adaptation and 2015 film.
The Breath of Life
In 2002, Smith and longtime friend Dame Judi Dench appeared in the same play for the first time in more than 40 years. They originated the lead roles in this David Hare play at London's Theatre Royal Haymarket, starring as two women who had been romantically involved with the same man. Dench played his wife, and Smith his mistress, so it's same to presume that some crisply-delivered zingers flew.
The Lady from Dubuque
Until last week, this 2007 West End production of a lesser-known Edward Albee play looked as if it would be Smith's stage swan song. She played the mysterious title character, whom some critics believe is a personification of the Angel of Death, and won a WhatsOnStage Award for her performance.
Which of Dame Maggie Smith's great stage performances would you most like to see?