2019 Movie Preview: Films to Watch Out for Both Big and Small
January 4, 2019
Don't worry if you've already broken your New Year's resolution, because there's so much to go out and see at the cinema this year. You will be plenty busy keeping up with this batch of new releases (you won't have time to dwell on not going the gym... it'll still be there).
We've gone through the movies premiering in 2019 and put together a list of 15 standouts, ranging from under-the-radar indie flicks to blockbusters-to-be, and everything else in-between. Surely, there's something for you in our go-to guide below:
1. State Like Sleep (January 4) 
https://www.youtube.com/watch?v=wRWZYDVdgyw
In State Like Sleep, Katherine Waterston (Fantastic Beasts) plays a young woman whose husband died unexpectedly the year before. Her time of mourning is interrupted when she receives a mysterious phone call triggering a chain of events. She begins investigating the final days leading up to her husband's death. In the trailer above, a man, whose face we cannot see, says to her: "He died of a broken heart," while delicately caressing her face. We have a feeling there's more to it than that.
2. Glass (January 18)
https://www.youtube.com/watch?v=95ghQs5AmNk
M. Night Shyamalan's new film Glass will bring together three characters from his previous films. Get ready to see James McAvoy's Kevin Wendell Crumb (aka the Horde from last year's Split) on screen with Bruce Willis' David Dunn and Samuel L. Jackson's Elijah Price, aka Mr. Glass, both from 2000's Unbreakable. Sarah Paulson (American Horror Story) will play a psychiatrist who helps people with "delusions of grandeur." In this case, those who believe they have superhero abilities. In Glass, we find all three men in an asylum, but what if they do have unexplainable powers?
3. The Lego Movie 2: The Second Part (February 8) 
https://www.youtube.com/watch?v=cksYkEzUa7k
The Lego Movie premiered in 2014, with Will Ferrell, Chris Pratt and Elizabeth Banks lending their voices to the lead characters. The sequel, bluntly titled "The Second Part," is set five years after the original ended. And, everything is not awesome. An alien race, LEGO DUPLO®, are attacking the happy builders we met in the original. Pratt and Banks are set to return, joined by Alison Brie, Jonah Hill, Tiffany Haddish and Nick Offerman.
4. Captain Marvel (March 8)
https://www.youtube.com/watch?v=Z1BCujX3pw8
Brie Larson (King: Skull Island) is the latest actor to step onto the big screen in the name of superheroing, starring in Marvel's forthcoming Captain Marvel in the title role. Created by Stan Lee and designed by artist Gene Colan in 1967, Captain Marvel is of an alien race, sent to Earth to observe technological development. In the new film, Earth is caught in the middle of a battle between two alien forces.
You can also look for Marvel's Avengers: Endgame (April 26) and Spider-Man: Far from Home (July 5); DCs' Shazam! (April 5) and Joker (October 4); and a new installment of Dark Horse Comics' Hellboy (April 12). 
5. Pet Sematary (April 5) 
https://www.youtube.com/watch?v=VllcgXSIJkE
Stephen King's 1983 novel Pet Sematary first hit the big screen in 1989. In this year's adaptation, we see Jason Clarke as Louis Creed and Amy Seimetz set to play his wife. The couple and their two children move to a new town, where they discover a pet cemetery. At first, they think it's sweet the neighbor children have a place to lay their deceased pets to rest. But, the Creeds soon learn... the pets don't stay dead for very long.
King has a number of projects in the works, including a sequel to 2017's It (September 6), starring James McAvoy and Jessica Chasten.
6. Pokémon Detective Pikachu (May 10)
https://www.youtube.com/watch?v=1roy4o4tqQM
Even if you're not a fan of the Pokémon playing cards or catching them in real life, this film adaptation seems like a lot of fun. Ryan Reynolds provides the voice to the title character in Pokémon Detective Pikachu. In the movie, people collect Pokémon to battle with. But, a young boy meets a Pokémon, named Pikachu, who can speak. Not just talk... he has aspirations, Pikachu is hoping to work as a detective. Really, he's just so darn cute, it makes us want to check it out. It's a mix of live-action, so you can also look for Suki Waterhouse and Anglo favorite Bill Nighy.
7. John Wick: Chapter 3 (May 17) 
https://www.youtube.com/watch?v=udnZjEIVwDs
Keanu Reeves is back as hitman John Wick in John Wick 3. And, that's not all, we can also look for Ian McShane to reprise his role as Winston, the owner of the Continental Hotel, a sanctuary for hired killers. In the original 2014 movie, Wick came out of retirement after a gangster killed his dog. Now that he's back in it, it doesn't appear Wick is giving up a life of crime any time soon. In Chapter 3, Wick has been hired to procure a diamond sample. His employers seem to be more than upset with him when he returns empty-handed.
8. Aladdin (May 24)
https://www.youtube.com/watch?v=TzWlGGokGeE
Disney's 1992 Aladdin is getting the live-action makeover, starring Will Smith as Genie, Mena Massed as Aladdin, and Naomi Scott rounding out the cast, portraying Princess Jasmine. Really, there's no official description for director Guy Ritchie's version, but based on the teaser trailer above, the one and only line it was heard in the original: "Only one may enter, here. The one who's worth lies far within. The diamond in the rough." It seems we will be getting a live-action remake.
Even if Robin Williams is your one and only Genie, we think this is worth giving a chance.
You can also look for other Disney live-action films later this year, including The Lion King (July 19) and Dumbo (March 29).
9. Godzilla: King of the Monsters (May 31) 
https://www.youtube.com/watch?v=g77W5Q1qK00
In Godzilla: King of the Monsters we not only see the supersized reptilian monster, but his rivals, Mothra, Rodan, and his nemesis of all nemeses, the three-headed King Ghidorah. In the human category, we can look for familiar faces like Sally Hawkins (The Shape of Water), Charles Dance (Game of Thrones), Vera Farming (Bates Motel) and Millie Bobby Brown (Stranger Things). Hawkins starred in the 2014 reboot Godzilla, as scientist and giant monster specialist. How does one land a job like that, we wonder?
10. Dark Phoenix (June 7) 
https://www.youtube.com/watch?v=QWbMckU3AOQ
Dark Phoenix is the latest installment of X-Men franchise and the first film of a new trilogy. We can expect to see some of the X-Men regulars, like James McAvoy who returns as Professor Xavier, Jennifer Lawrence as Mystique and Michael Fassbender as Magneto. But, the focus is on Jean Grey (Game of Thrones' Sophie Turner) and how she came to be Dark Phoenix. In the above trailer, we see a flashback of Grey as a small child asking Professor X, "Do you think you can fix me?" He corrects her: "Jean, you are not broken." But, something is up. He knows the extent of her powers, and what she's capable of... it's not all good.
11. Men in Black: International (June 14) 
https://www.youtube.com/watch?v=BV-WEb2oxLk
Thor co-stars Chris Hemsworth and Tessa Thompson are taking over for the OG alien-hunting agents, originally played by Tommy Lee Jones and Will Smith, in the next installment of the Men in Black franchise, MIB: International. As the title suggests, the story is going abroad, with Agent M (Thompson) sent to London, England. She meets her new partner, Agent H (Hemsworth), and the head of the U.K. branch (Liam Neeson). Like the earlier films, the agency's main initiative is to protect Earth from alien invaders. But, this time around, there's a problem that may usurp anything they've come across in the years prior… a mole. We can also look for Emma Thompson to reprise her role as Agent O, Chief of the MIB.
12. Toy Story 4 (June 21)
https://www.youtube.com/watch?v=LDXYRzerjzU
While Andy may have grown up and moved on, there's more (toy) story to tell. Woody (voiced by Tom Hanks) and his pals, and some newbies, are back for Toy Story 4. The animated tale will pick up with Bonnie, Andy's little sister. We also meet Forky, voiced by Veep star Tony Hale, who does not consider himself a toy, but is in fact, actually a craft. He doesn't think he belongs with this lot. We suspect Forky will find his place, as that's part of the theme of Toy Story, with director Josh Cooley saying, "The world of Toy Story is built upon the idea that everything in the world has a purpose.
13. Hobbs & Shaw (August 2)
https://www.youtube.com/watch?v=UjCjGgUesHA
If you're a fan of the Fast and Furious franchise, then the spinoff Hobbs & Shaw might be for you. The film revolves around U.S. Diplomatic Security Agent Luke Hobbs (Dwayne "The Rock" Johnson) and his alliance with Deckard Shaw, former British military officer turned mercenary. Shaw is played by Jason Statham, who first brought the character to the screen in 2013's Fast and Furious 6. He reprised the role in 2015's Furious 7 and again in 2017's The Fate of the Furious, where Helen Mirren played his mum. If that weren't enough of a draw, we can also look for Idris Elba (Luther) as a bloke named Brixton, who has been brought into the Fast & Furious family to "wreak havoc, hell and mayhem on our heroes Hobbs and Shaw."
14. Once Upon a Time in Hollywood (August 9)
https://www.youtube.com/watch?v=-BDbdkFGRJg
Quentin Tarantino's Once Upon a Time in Hollywood is no La La Land. The story revolves around a fading TV actor (Brad Pitt) and his stunt double (Leonardo DiCaprio), who work to make a living in the film industry. It's set in 1969 Los Angeles, during the time of the Charles Manson murders. Al Pacino, Margot Robbie and Kurt Russell round out the cast. The official trailer has yet to be released, but the above clip provides a behind-the-scenes look at the filming of Once Upon a Time in Hollywood.
15. Kingsman 3 (November 8) 
[caption id="attachment_435487" align="alignnone" width="2000"]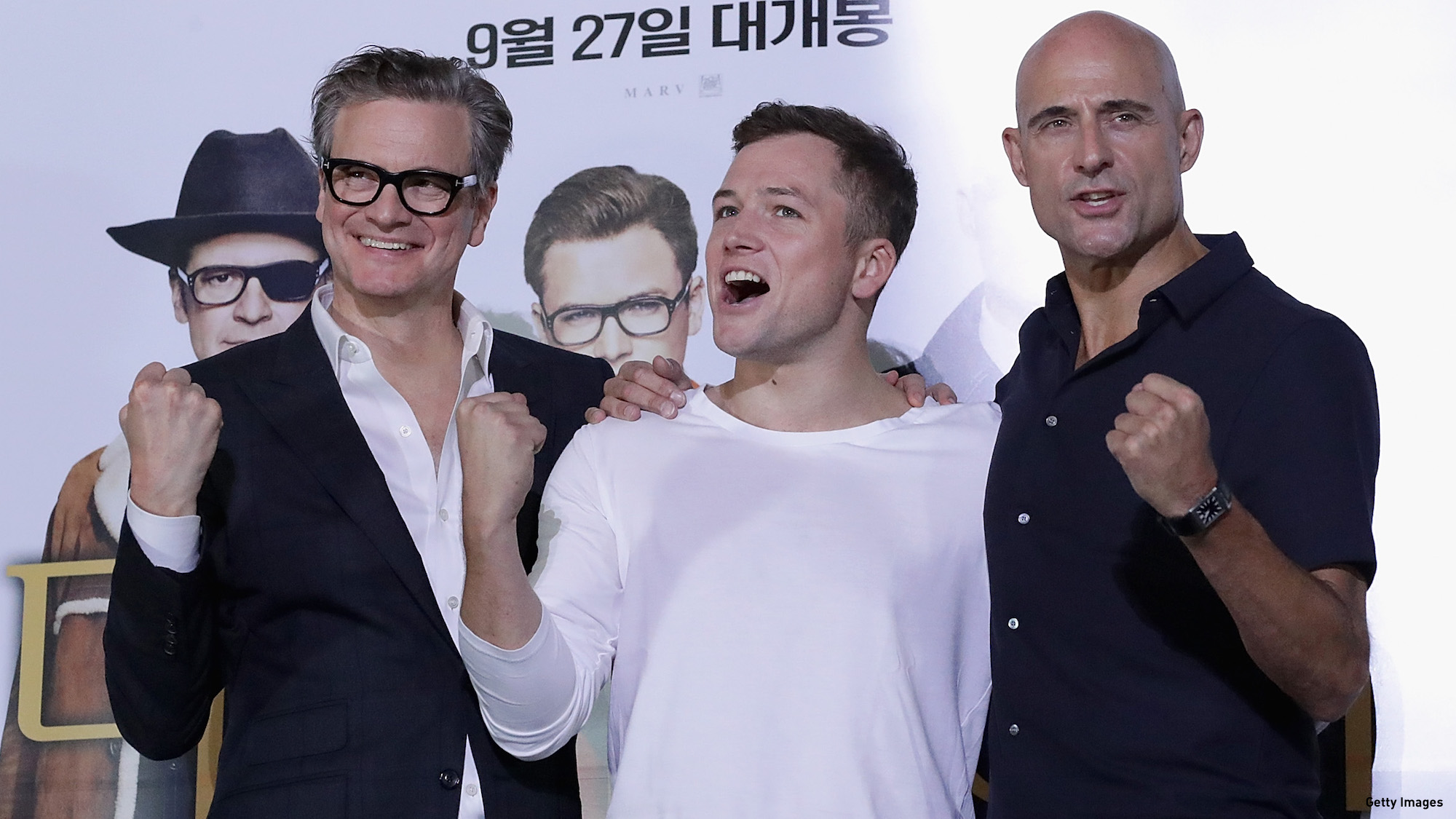 (Photo: Getty Images)[/caption]
The Kingsman franchise is getting a third installment, which was confirmed earlier this year. The first two films — Kingsman: The Secret Service (2014) and Kingsman: The Golden Circle (2017) — starred Taron Egerton, Colin Firth and Mark Strong. We don't know if all, or any, of the original cast members will be returning. Nor, has the storyline been confirmed. Making this forthcoming flick all the more intriguing...
Bonus Mention: We should point out Star Wars: Episode IX premieres on December 20, concluding the latest Star Wars sequel trilogy. There are no details on what to expect in terms of story, but we can look for returning cast members, Daisy Ridley, John Boyega, Oscar Isaac, Domhnall Gleeson, Adam Driver, Mark Hamill, and Lupita Nyong'o. And, drum roll pleaassssse, Episode IX will introduce Doctor Who's Matt Smith to the Star Wars franchise. 
Which movie is calling to you most!?