10 Reasons We Can't Get Enough of Maisie Williams
We've watched Maisie Williams grow up on-screen as part of the HBO mega hit Game of Thrones, owning the role of spitfire Arya Stark. It may be surprising to some, but the actress was still a tween when she began filing GoT — her first ever TV role. Now, at the seasoned age of 19 (we jest, that's still quite young), she's taking the lead in the Netflix original sci-fi/superhero TV movie iBoy, premiering today (January 27). Maisie stars opposite X-Men: First Class star Bill Miner, who develops super human abilities when cell phone fragments are lodged in his brain, following an attack.
We're psyched for more Maisie on TV, but we have to admit, we love her enthusiasm and passion off-screen, too.
Here are 10 reasons we can't get enough of her:
1. She's no wallflower.
Maisie found herself in L.A. the night of the season six premiere of Game of Thrones. Possibly she had a bit of cabin fever, or was just craving some company, because she put out a call-to-action on Twitter looking for a viewing party. And, not too surprisingly, it worked. Maisie ended up gate-crashing a local party. We use the term "crash" loosely as surely she was more than welcome.
https://twitter.com/maisie_williams/status/724400849280077824
It turns out it was jet-lag — and the desire to surprise some fans — that prompted her to track down a viewing party. Here's Maisie explaining her late night stunt to James Corden:
https://www.youtube.com/watch?v=Yz6NLi2syYQ
2. She's forthcoming.
We have to remember Maisie's a teenager. And what are most YouTubers? Well, teenagers. So to appeal to that young crowd, she started posting video diaries via the online channel. As she reveals in her opening episode (which garnered over two million views), she has friends who are on YouTube so she thought she'd give it a try. In the below episode she takes us along on a day in her life with her very good friend Sophie Turner, who stars as GoT's Sansa Stark.
https://www.youtube.com/watch?v=p9cZPIeURBo
3. She's on it.
Maisie has a big presence on social media. The actress is regularly on Facebook, Twitter, Instagram, and YouTube — and possibly more. The cool thing is, she's not just posting updates. Unlike a lot of celebs on social, our girl Maisie very often responds to comments too. And she clearly keeps a close eye on her accounts, like the time she spotted a cunning look-alike posing as her.
https://twitter.com/Maisie_Williams/status/603791407493570560?ref_src=twsrc%5Etfw
4. She's a good sport.
At this point, you're probably getting the sense that Maisie has a great sense of humor. And here she is in full force showing off her fun side. In the clip below she poses as a hobby shop clerk, refusing to admit that she is in fact "that girl from Game of Thrones."
https://www.youtube.com/watch?v=SnQZFoNsJ68
5. She loves to laugh.
It doesn't take much to get Maisie going. Check her out, cackling herself silly, in this interview with Anglophenia's Maude Garrett at the 2016 BAFTA Tea Party. It all starts with the word "scent" and goes from there. Her laugh is definitely infectious.
[bbca_video_embed media_id="771025987893" video_id="MF_397rktqBx"]
6. She can bring it.
Maisie strikes us as a jeans and tee shirt kind of gal, but at the same time, she's just as comfortable in a fancy frock. Let's not forget, for a large chunk of GoT, Maisie played a girl disguised as a boy. We totally get the desire to play dress-up, and, well, she is an actress. Maisie shows off her various looks on her Instagram page.
[caption id="attachment_390422" align="alignnone" width="1600"]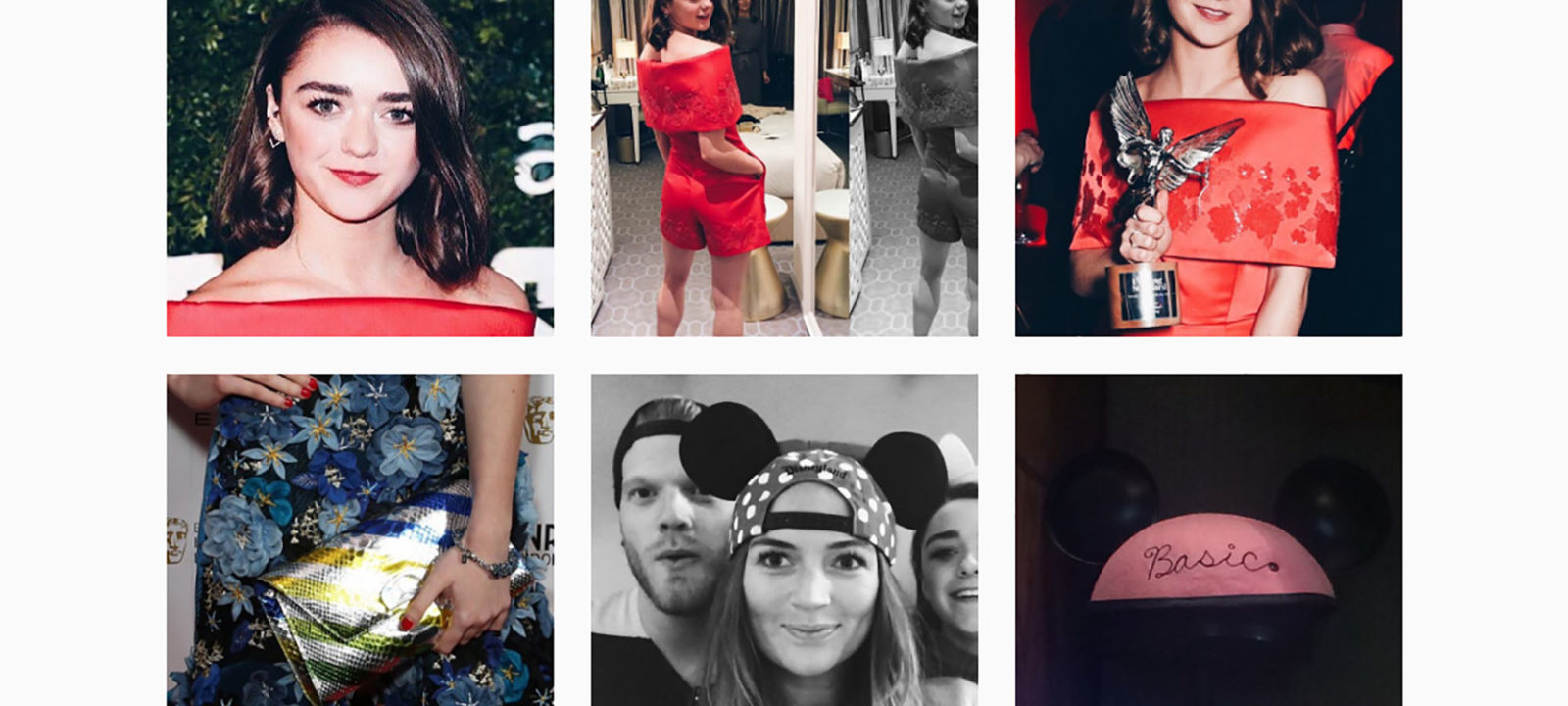 (Photo: Instagram)[/caption]
7. She did a charity skydive.
You're probably thinking to yourself, "Oh, no she did not." Well, YES. She did! And, lucky for us, she documented the adventure with her vlog. She was raising money for two charities, The Dolphin Project and Mencap. She also wanted to bring awareness to her friend Hannah Francis, who was diagnosed with terminal cancer. Maisie originally planned to do a skydive alone, but it turned into a group effort, with other friends keen to join in. Watch what happened below:
https://www.youtube.com/watch?v=z2-x5qIy56Q
8. She's a strong role model.
Maisie uses her fame responsibly, like putting out strong messages for girls to work toward their goals. In addition to her charitable efforts, Maisie gives motivational talks, like the one in Bath, England, at The Royal High Junior School. Maisie talked about her objective in reaching out to youths, saying, "My passion is preparing the girls, not to get to 18, but take it beyond there and prepare them for life ahead." And, it's not just kids and teens, us older folks can take a page out of Maisie's book, too.
9. She hearts Doctor Who.
She's so keen on the Doctor, she starred in four episodes opposite Peter Capaldi in 2015. Talking about her character Ashildr's storyline in this clip, Maisie points out that actors don't necessarily know their entire arc. She's clearly invested, though, and admits that she would like to see Ashildr to make a comeback, only she has no idea whether this will happen. You can watch full episodes of Doctor Who with Amazon Prime.
https://www.youtube.com/watch?v=eUm8PUkoz-o
10. And, finally, she's just really funny. 
Now that we're following her on Facebook, Twitter, Instagram, and YouTube (did we get them all?), it's clear how funny Maisie is. And fun.
https://twitter.com/Maisie_Williams/status/820995297669185537
Yay, Maisie! What do you love best about the talented actress?