Winter Movie Preview: From Gary Oldman in a Black and White Biopic to Olivia Colman in 'The Father'
(Photos: Getty Images)
With most cinemas closed at the moment, a lot of movies are available via Video on Demand or streaming services. And now that we're in the middle of winter, what better way to stave off the cold than to get cozy on the couch?
We've gone through some of the more recent releases as well as what's still to come, pulling out 10 must-see movies:
1. Mank (December 4)
Oscar-winning actor Gary Oldman (Darkest Hour) portrays filmmaker Herman Mankiewicz, who wrote or co-wrote over 100 films. The biopic Mank focuses on Citizen Kane, which he collaborated on with Orson Welles.
The movie kicks off in 1930s Hollywood, with Mankiewicz transitioning from newspaper reporter to screenwriter. The story follows him as he races to finish his part of the script for writing partner Welles.
2. Wild Mountain Thyme (December 11)
Emily Blunt (The Girl on the Train) and Jamie Dornan (The Fall) star as possible love interests in Wild Mountain Thyme, based on John Patrick Shanley's 2014 Broadway play. We say "possible" as there is strife between their families, who are feuding over land that separates their farms in Ireland, where the story is set.
Blunt takes on the role of Rosemary, with Dornan stepping in as Anthony. Rosemary and Anthony have known each other since childhood, growing up next to one another. Now that they're adults, Anthony has feelings for Rosemary, that he's keeping to himself.
3. The Midnight Sky (December 23)
George Clooney (Gravity) stars in The Midnight Sky, which he also directs. He takes on the role of an astronomer named Augustine. The story is post-apocalyptic, based on Lily Brooks-Dalton's 2016 novel Good Morning, Midnight, with Mark L. Smith (The Revenant) writing the screenplay.
Augustine is stationed in the Arctic when there's news of a catastrophic event. Augustine refuses to leave his post and finds himself utterly alone. But, he then runs into a child named Iris (Caoilinn Springall), who is also all by herself.
4. Wonder Woman 1984 (December 25)
Gal Gadot (Death on the Nile) is back to reprise her dual roles as Diana Prince/Wonder Woman in Wonder Woman 1984. The storyline has fast-forward to 1984. Let's not forget, Diana's father is Zeus, which makes us think she's inherited the immortality gene... or at the least, that she will live longer than expected.
Diana is reunited with her flame Steve Trevors (Chris Pine) and is introduced to new foes, including Cheetah (Kristen Wiig) and Max Lord (Pedro Pascal), who becomes obsessed with taking over the world, one wish at a time (via a wishing stone).
5. Promising Young Woman (December 25)
Carey Mulligan (An Education) stars in the dark revenge/comedy Promising Young Woman, written and directed by Emerald Fennell (Killing Eve). Mulligan portrays a character named Cassie. She seemed to have everything going for her, but when she abruptly dropped out of med school, her life took a turn for the worse.
Cassie returns to school to address a traumatic event, but rather than getting support, she is asked, "What would you have me do? Ruin a young man's life?" If no one is going to believe Cassie, or come to her defense, she will take care of matters in her own way.
6. The Marksman (January 22)
Liam Neeson takes on the role of a rancher in The Marksman. He lives a quiet life on his own, but there are cartels running drugs and weapons through the isolated territory he calls home. When he comes across a young woman (Teresa Ruiz) and her son (Jacob Perez), he puts his life on the line to protect them from traffickers.
He's not just a rancher, but a former soldier in the Marines, and seems to know what he's doing.
7. The Dig (January 29)
We can look for Ralph Fiennes in The Dig as real life architect Basil Brown. He is invited by landowner Edith Pretty (Carey Mulligan) to look into some finds on her land. He wonders why Pretty didn't call on the museum folks.
England is about to enter World War II and this isn't high on their list of priorities. But, when Brown unearths what might be a Viking ship and the treasure that comes along with such a vessel, it does get their attention.
8. Supernova (January 29)
We can look for Colin Firth and Stanley Tucci in the forthcoming drama Supernova. The two play a long-term couple, Sam and Tusker, respectively, who set out on a road trip. Tusker has been diagnosed with early onset-dementia and their time together is fleeting. They hop in an RV to travel across England, visiting with family and friends.
In an interview with Variety, writer-director Harry Macqueen describes the project as "a deeply romantic, modern love story." He elaborates on the unavoidable, saying, "It follows two people who are bound together by their love for each other but being pushed apart by the situation they find themselves in."
9. The Courier (February 19)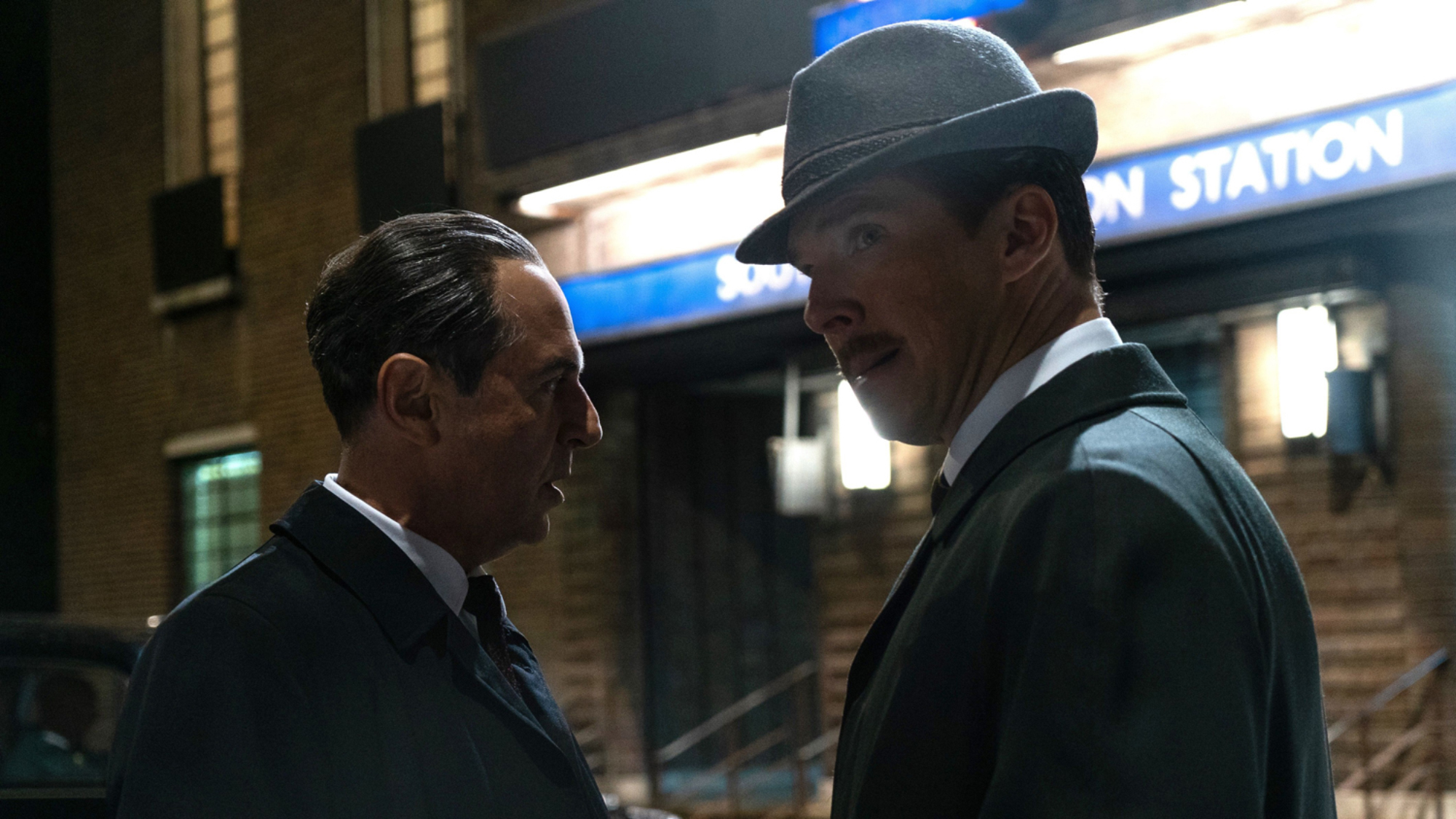 (Photo: Roadside Attractions)
Benedict Cumberbatch is set to star in the forthcoming biopic The Courier. He takes on the role of businessman Greville Wynne who is recruited by MI6 during the Cold War. While Wynne agrees to it, he is hesitant at first, being a civilian and all. Even so, he seems to get a handle on the spy game.
He works closely with a Russian consultant (Merab Ninidze) in an attempt to put an end to the Cuban Mission Crisis.
10. The Father (February 26)
We can look for Olivia Colman (The Favourite) and Anthony Hopkins (Westworld) in the film adaptation of Florian Zeller's play The Father. Hopkins and Colman will take on the roles of father and daughter. The story follows a man in his 80s, who lives a highly independent lifestyle, but finds himself confused at times.
His daughter wants to help him as he ages, which he refuses, leaving her just as confused.
Are any of these movies going on your watch list!?