What's 'Crazy Rich Asians' Star Henry Golding Been Up To?
(Photo: Getty Images)
Henry Golding took the lead in 2018's breakthrough hit Crazy Rich Asians. And, seemingly overnight, he became a household name.
Looking at his filmography, he only had one on-screen credit before the blockbuster romantic comedy. So, while for him landing a lead role in a feature film may not have happened as quickly as it seems, it makes us all the more keen to do some digging.
Let's take a look at Golding's standout performances:
1. Gold Diggers
In 2009, Golding appeared in the Malaysian comedy Gold Diggers, making this his feature film debut. The story revolves around two young women, who set their sights on wealthy men aboard a cruise ship. They chose prime hunting grounds, as there's really no way for said men to escape.
Golding took on the role of Iskandar Tan Sri Murad, one of the ship's passengers, who you can see sunbathing poolside in the above trailer.
2. Departure: Surviving Borneo
Following his film debut, in 2012 he became the host of the BBC and Discovery Channel travel series Departure: Surviving Borneo. He spent seven weeks going through an Iban rite of manhood known as bejalai.
Golding's mother is from Malaysia, with an Iban ancestory, and his father is English. Golding talks about balancing the two cultures in this Guardian interview.
3. Crazy Rich Asians
In 2018, he landed the role of the lifetime, starring as Nick Young in 2018's Crazy Rich Asians. The story revolves around a young couple who come from different socioeconomic backgrounds, which proves to be a hurdle when they plan to marry.
Golding talked to Vulture about auditioning for the role, relaying a story about director Jon M. Chu, saying, "[Jon] was like, 'You can do this. We see so much of this character in this role for you, that if you bring who you are as a person, we're going to nail this.'"
4. A Simple Favor
Also in 2018, Golding popped up in the comedic thriller A Simple Favor, starring opposite Blake Lively and Anna Kendrick. Golding and Lively star as a married couple with a young son. When Lively's character goes missing, Kendrick's does some investigating and grows closer to the other woman's husband.
In an interview with The Hollywood Reporter, Golding talks about why this role was the "perfect next step" for him, saying, "It's such contrasting characters. You couldn't get a nicer guy in [Crazy Rich Asians'] Nick Young and then a more mysterious man, who is unsure of his relationship between two women, in [A Simple Favor's] Sean Townsend."
5. Last Christmas
And how does one follow-up a perfect next step? Oh, by working with Emma Thompson on 2019's Last Christmas, which she wrote the screenplay for and also starred in.
Golding teams up with Game of Thrones' Emilia Clarke, with the two portraying love interests. Clarke plays a young woman who has just survived a life threatening medical condition, and finds herself a little lost. Golding takes on the role of a Londoner who brings some light and laughter into her life when she needs it most.
When Golding swung by The Tonight Show, he chatted with host Jimmy Fallon about visiting with Thompson at her home and where he found her Oscars on display.
6. The Gentleman
At this point in time, Golding was on a roll and making smart career choices. And he continued at it, signing up to work with writer-director Guy Ritchie on 2020's The Gentlemen. Golding portrays an English drug lord, who is feuding with an American billionaire (Matthew McConaughey).
The all-star cast is rounded out with Hugh Grant, Michelle Dockery, Colin Farrell and Jeremy Strong.
Golding talked about landing this role in an interview with Wonderland Magazine. Basically, he went to Ritchie's house, had a whiskey, and the two chatted about movies... and that was about it, with Golding saying, "I think Guy's really intuitive when it comes to choosing his actors."
7. Monsoon
Speeding up to now, his latest project, the drama Monsoon, premieres today (November 13). Golding stars as a young man named Kit who returns to his home of Saigon, not having been there for 30 years. When he was six-years-old, he and his family emigrated to the U.K. He's back in Vietnam to spread his parents' ashes.
In this New York Times interview, Golding talks about having been culturally confused in the past, saying, "I was never Asian enough. I was never English enough." He goes on to say that his feelings of not fitting in helped in his portrayal of Kit.
8. Snake Eyes: G.I. Joe Origins
[caption id="attachment_468787" align="alignnone" width="1580"]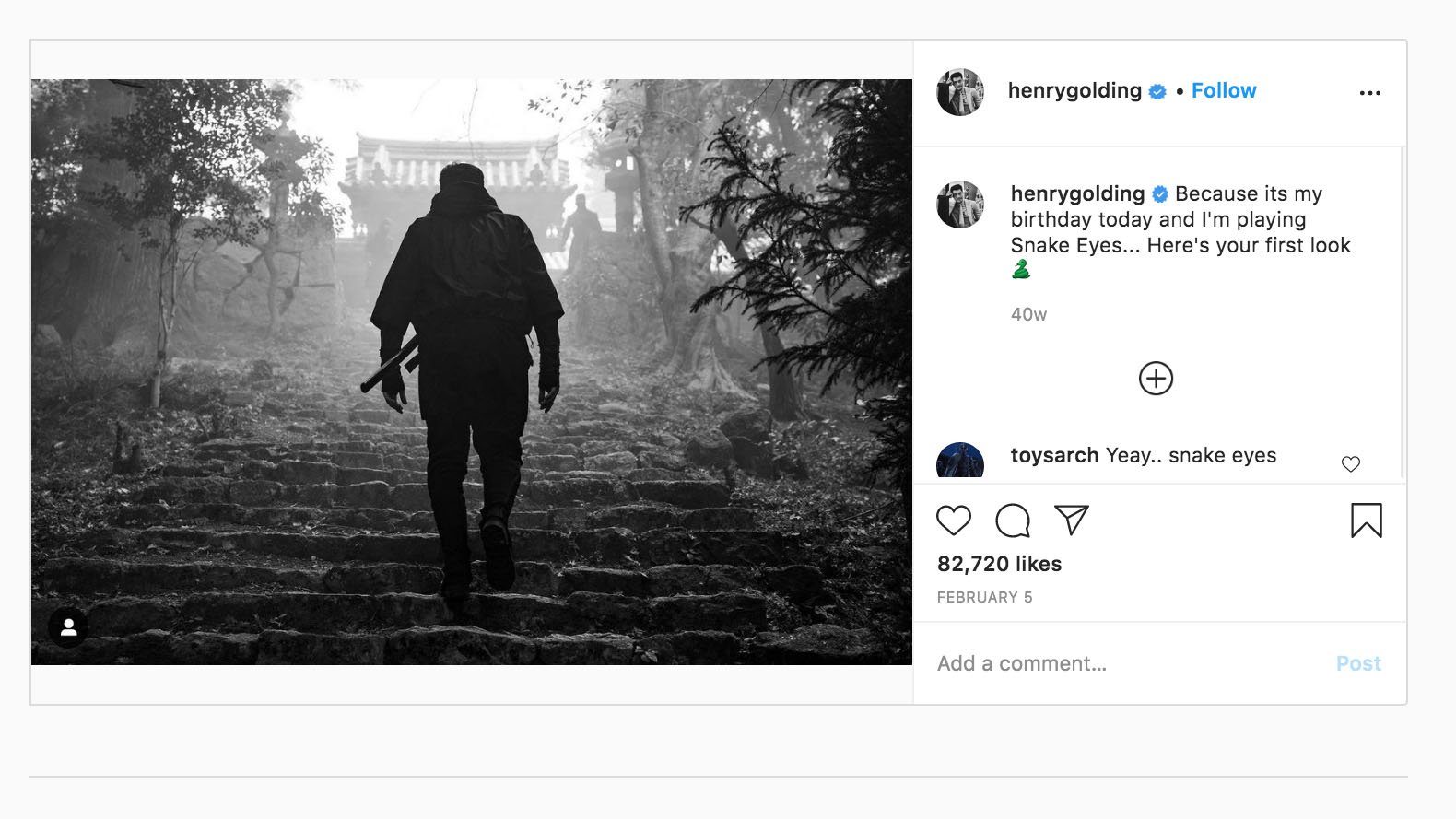 (Photo: Instagram)[/caption]
And that leaves us with the question: what's next for Golding? He's signed on for and has already completed filming on the action-adventure movie Snake Eyes: G.I. Joe Origins. We can look for him in the title role, with the synopsis still to come.
While details are limited, on Golding's birthday this year, he celebrated by revealing a first look photo of him as the villainous ninja in this Instagram post. Snake Eyes is predicted to release in 2021.
Have you been following Henry Golding's career path?