The Story That Keeps on Giving: 6 'Little Women' On-Screen Adaptations
There's something about Louisa May Alcott's Little Women that keeps people wanting to bring it to the screen. Greta Gerwig is the latest director to adapt the classic into a movie, recruiting an all-star cast to portray the March girls. In the recently released trailer (August 14), we see Saoirse Ronan, Emma Watson, Florence Pugh and Eliza Scanlen as 19th century women in pursuit of their best lives:
https://www.youtube.com/watch?v=AST2-4db4ic
There are a number of reasons why Little Women continues to resonate with readers and viewers, some 150 years since first publishing; it's a story of hope, perseverance and individuality... but, there's no exact reason and it's personal to the viewer.
Maybe if we go back through earlier adaptations, and what was going on at the time, we can get closer to figuring out the enduring appeal:
1. 1918 
[caption id="attachment_449635" align="alignnone" width="1024"]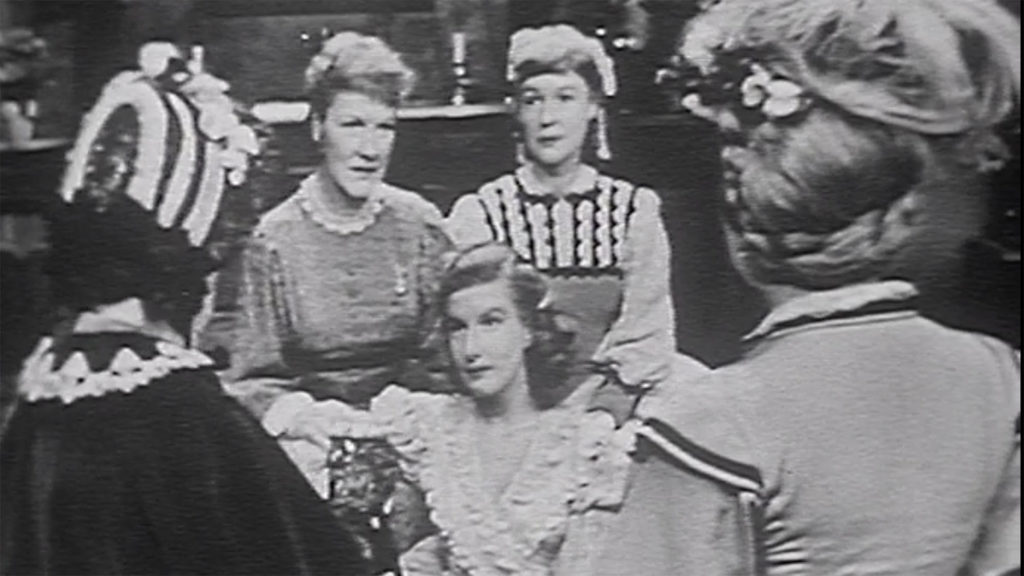 (Photo: Amazon Prime)[/caption]
The book first published in 1868 and 1869 as two volumes. In 1918 the world saw the story for the first time as a moving picture. The story was adapted into a screenplay by Anne Maxwell, whose other film credit includes The Cross Bearer. English director Harley Knowles, who worked on 23 films leading up to Little Women, took the helm. When this film released in 1918, women still weren't able to vote, making the movie particularly powerful and reaching a far larger audience.
You can find the 1913 adaptation over at Amazon Prime. 
2. 1933
https://www.youtube.com/watch?v=68NFmQf5d4c
In 1933, Katharine Hepburn took on the role of Jo, who is loosely based on Alcott herself. Hepburn was 26-years-old at the time, making this her fourth on-screen acting role. She starred opposite Frances Dee, Jean Parker and Joan Bennett. Sara Y. Mason (The Age of Innocence) wrote the screenplay, with George Cukor (My Fair Lady) directing. At this point in time, women now had the ability to vote (as of 1920), and the fight for equal rights in the workplace was gaining momentum. 
3. 1949
https://www.youtube.com/watch?v=5k7WUCIr16g
In 1949, the story of struggle and survival returned to the big screen. Once again, the casting was made up of major star power with Janet Leigh as Meg, June Allyson as Jo, Margaret O'Brien and Elizabeth Taylor as Amy. Taylor was 17 and already a household name after starring in 1944's National Velvet. Mervyn LeRoy (The Wizard of Oz) directed, working off of Mason's 1933 script, with Andrew Solt (Joan of Arc) also working on the screenplay. In other news from that year, Burnita Shelton Matthews was the first woman to take a seat on the federal trial bench as a District Court Judge, appointed by President Harry S. Truman.
4. 1978
https://www.youtube.com/watch?v=gAei_NV4Zcc
In 1978, NBC presented a two-part miniseries, starring Meredith Baxter (Family Ties), Susan Dey (The Partridge Family), Ann Dusenberry (Murder, She Wrote) and Eve Plumb (Brady Bunch). And, if you think you spot Star Trek's William Shatner in the above trailer, you're absolutely correct (we couldn't resist). Shatner takes on the role of Professor Friedrich Bhaer, Jo's love interest. Suzanne Clauser wrote the screenplay, with David Lowell Rich and Gordon Hessler directing. Also in 1978,  there was a march in D.C., with 100,000 people showing up to support the ratification of the Equal Rights Amendment.
5. 1994
https://www.youtube.com/watch?v=uKqi9edJVQY
The 1994 version, starring Winona Ryder, Claire Danes, Kirsten Dunst and Trini Alvarado, is probably the best known Little Women film, possibly because it's the most recent (up until now). We also saw other familiar faces like Susan Sarandon, Christian Bale and Gabriel Byrne. This film marks the first time we saw a woman directing a Little Women adaptation, with Charlotte Gray's Gillian Armstrong taking the helm, and Robin Swicord (Practical Magic) writing the screenplay. We can add Armstrong and Swicord's collaboration as an accomplishment in female advancement in the workplace.
6. 2018
https://www.youtube.com/watch?v=xduKAqUfucc
And, finally, just last year the BBC premiered a three-part miniseries, topped up with Anglo faves. Legendary Angela Lansbury took on the role of Aunt March and Michael Gambon (Harry Potter) stepped in as Mr. Laurence. The cast was rounded out with Maya Hawke, Willa Fitzgerald, Annes Elwy and Kathryn Newton as the March sisters. Vanessa Caswill (BBC America's Thirteen) directed, with Call the Midwife creator Heidi Thomas handling writing duties. The series aired on the BBC in the U.K. and PBS in the U.S. CNN decreed 2018 the Year of Women. Little Women airing on two major TV networks may not have been exactly what CNN had in mind, but it is a strong representation of women.
What's your reason to keep going back to Little Women??