'The Sopranos' ' 20th Anniversary: 10 Ways the Series Changed TV Forever
Today (10 January) marks 20 years since the first ever episode of The Sopranos aired, setting in motion a ratings and cultural phenomenon that took place over six season and 86 episodes.
If we are in a "golden era of television," then The Sopranos was surely the harbinger that ushered it in. Below are ten ways it changed TV forever, and inspired the creators of some of our favorite shows.
1. Premium drama
The Sopranos helped transform HBO from a fights-and-features cabler into a destination for critically-acclaimed drama. The fact that people had to subscribe to watch meant it was more important to make a show they loved, rather than one that simply reached as big an audience as possible. The result is ever higher quality cable shows, like Mad Men, Game of Thrones or The Walking Dead, that go on to attract dedicated and committed fanbases.
[caption id="attachment_306353" align="alignnone" width="640"]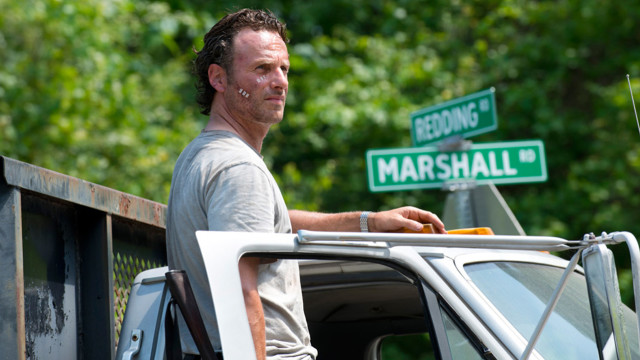 Andrew Lincoln in 'The Walking Dead' (Pic: Gene Page/AMC)[/caption]
2. Tony Soprano
The show's central character set the stage for some of TV's most difficult, conflicted men, like Deadwood's Al Swearengen (Ian McShane), Mad Men's Don Draper (Jon Hamm), Billions' Bobby Axelrod (Damian Lewis), Empire's Lucious Lyon (Terrence Howard), and, most famously, Breaking Bad's Walter White (Bryan Cranston). Tony was a deeply flawed man, prone to unpredictable violence and appalling vice, but he was so excessively human and so committed to his own personal code, we ended up rooting for him anyway. This was in large part due to James Gandolfini, whose peerless performance could go from wonky-toothed charm to frightening unpredictability in a heartbeat.
https://twitter.com/BryanCranston/status/347735374602321921
3. Bigger budgets
The Sopranos' success set a precedent for higher budgets, at a time when big drama shows were normally produced for about $2 million per episode. Costs have since ballooned as producers seek to attract major talent and achieve ever better production values with shows such as Vinyl (the pilot cost a cool $30 million), historical epic Rome ($10 million per episode), Game of Thrones ($10 million per episode), and Westworld ($8-10 million per episode) all benefitting from the "Sopranos effect."
[caption id="attachment_348041" align="alignnone" width="640"]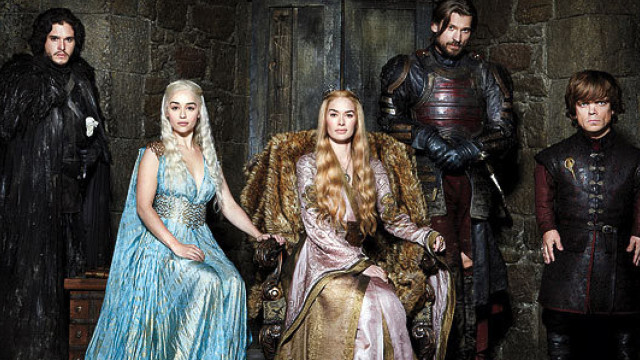 The cast of 'Game of Thrones.' (Photo: HBO)[/caption]
4. The standalone episode
So-called "bottle" episodes have always existed, usually in a bid to produce an episode cheaply using a single location and non-regular cast members. The Sopranos took them to another level though in "Pine Barrens," the acclaimed season three episode directed by Steve Buscemi. In it, two of the show's best – and weirdest – characters, Paulie Walnuts (Tony Sirico) and Christopher Moltisanti (Michael Imperioli), stumble around 1.1 million acres of dense woodland on the New Jersey border. It's funny. It's high stakes. And above all, a brilliant character study of two mob henchmen. Self-contained episodes have become all the rage since then, with shows like Breaking Bad, Atlanta and Master of None breaking the main story arc to focus on a sub-plot or character.
https://www.youtube.com/watch?v=5mhDpAFnDaM
5. Soundtrack
The throbbing beat of "Woke Up This Morning" by Alabama 3 over the titles of the pilot episode was the first clue that The Sopranos would be doing music differently. Eschewing the traditional use of incidental music, the show instead treated its soundtrack like a jukebox, picking tracks such as "State Trooper" by Bruce Springsteen, Frank Sinatra's "It Was a Very Good Year," and "Don't Stop Believin'" by Journey for significant emotional prompts.
Current shows from Insecure and Girls to Ray Donovan take a similar approach, one that reached an apex in 2012 when Mad Men paid $250,000 to use "Tomorrow Never Knows" by The Beatles.
[caption id="attachment_363970" align="alignnone" width="640"]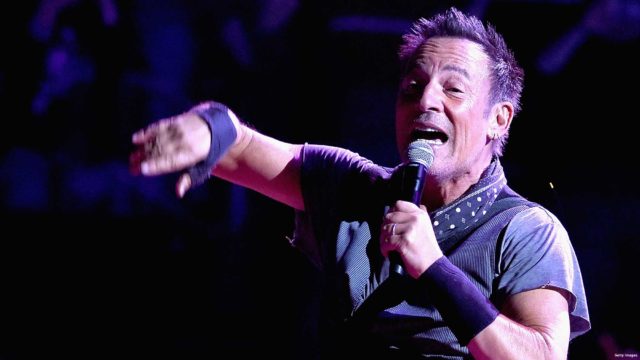 Bruce Springsteen. (Photo: Jamie McCarthy/Getty Images)[/caption]
6. Dark, challenging storytelling
At the end of season three episode "Employee of the Month," Dr. Melfi (Lorraine Bracco) struggles with the notion of telling Tony about her rape. Her assailant has walked free, and one word to a mafia boss like Tony would put the wheels in motion for her revenge. But she doesn't do it. She knows it would cross a line. More than that, it would downgrade a show known for its dark, challenging storylines for a moment of cheap closure. Darkly cynical shows such as Dexter and Weeds, or Battlestar Galactica, The Wire and Deadwood are direct descendants of The Sopranos' unflinching approach.
[caption id="attachment_415852" align="alignnone" width="640"]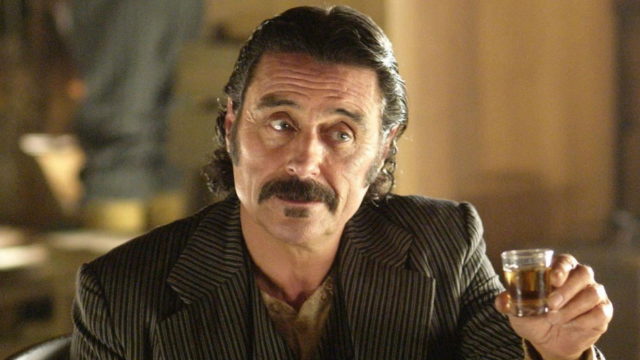 (Photo: HBO)[/caption]
7. Raised the profile of TV as a medium
The Sopranos single-handedly raised the profile of television as a medium capable of dramatic ambiguity and emotional depth. With over 100 hours of television to play with, the writers could delve into every character, however brief or inconsequential to the plot, and produce a living, breathing thing, with new book The Sopranos Sessions highlighting its use of symbolism, and no less an authority than Norman Mailer likening it to the Great American Novel.
We'd go one further than that, and call it Shakespearean: a compelling personal drama about the head of a family undergoing what is essentially a mid-life crisis, even if that "family" happens to be the New Jersey Mob. Since its example, we've been treated to shows like The Wire, reminiscent of sprawling 19th-century novelists like Dickens and Balzac in its scope, or Battlestar Galactica, which grappled with ethical and political dilemmas as sensitively as Philip K. Dick. Once found in writers such as John Steinbeck, Philip Roth, and Toni Morrison, a distillation of the American experience can now be found in some of our best TV shows, and we have The Sopranos to thank.
[caption id="attachment_440907" align="alignnone" width="640"]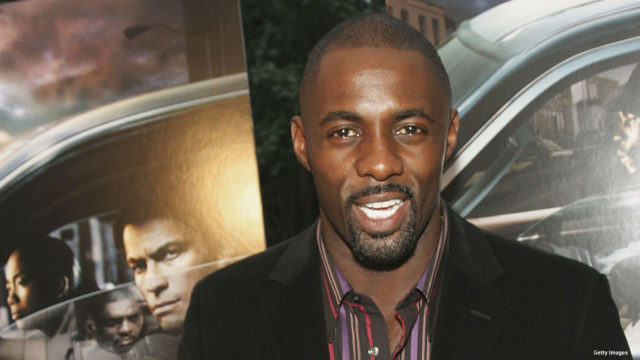 Aww! A fresh-faced Idris Elba arrives at the New York premiere of 'The Wire' in 2004. (Photo: Scott Wintrow/Getty Images)[/caption]
8. The showrunner as auteur
Film has always had auteurs: names like Martin Scorsese, Werner Herzog, and the Coen Brothers, are tantamount to being genres of their own. Sopranos creator David Chase was the one of the first TV showrunners who the public could name, leading the way for Aaron Sorkin (The West Wing), David Simon (The Wire), Shonda Rhimes (Grey's Anatomy), Matthew Weiner (Mad Men), and Lena Dunham (Girls).
[caption id="attachment_440905" align="alignnone" width="640"]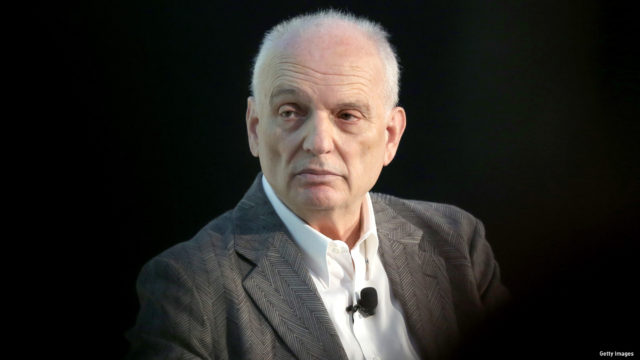 David Chase at the 2016 Vulture Festival at Milk Studios on May 22, 2016 in New York City. (Photo: Getty Images)[/caption]
9. Edie Falco
Without The Sopranos there would be no Edie Falco, or no Nurse Jackie, at least. Like her co-star James Gandolfini, Edie won three Emmys for her performance, and continued racking up awards even after saying goodbye to Carmela. Her starring role as a drug-addicted nurse in Nurse Jackie earned her five Emmy nominations and a win in 2010, and she recently popped up in a heartbreaking turn as Louis C.K. and Steve Buscemi's sister in Horace and Pete.
[caption id="attachment_440906" align="alignnone" width="640"]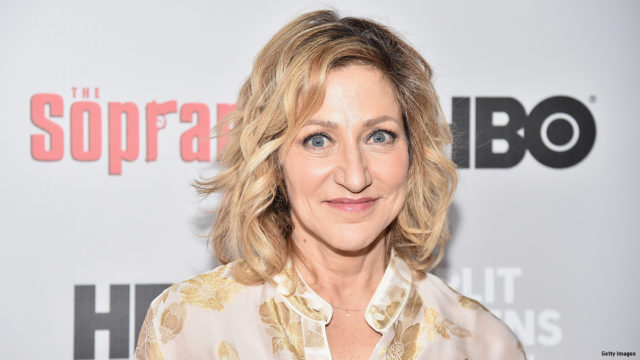 Edie Falco attends the "The Sopranos" 20th Anniversary Panel Discussion at SVA Theater on January 09, 2019 in New York City. (Photo: Theo Wargo/Getty Images)[/caption]
10. More graphic content
With its brutal violence and inhibitions at showing the unseemlier side of life, The Sopranos paved the road for smart but graphic shows such as Game of Thrones, Boardwalk Empire, True Blood, and Hannibal. The upshot wasn't necessarily positive. Noting the increase in violence on network shows, the New York Times blamed it on viewers becoming accustomed to such scenes on cable, resulting in "unnecessary gore at best and dreadful copycatting at worst."
[caption id="attachment_388105" align="alignnone" width="640"]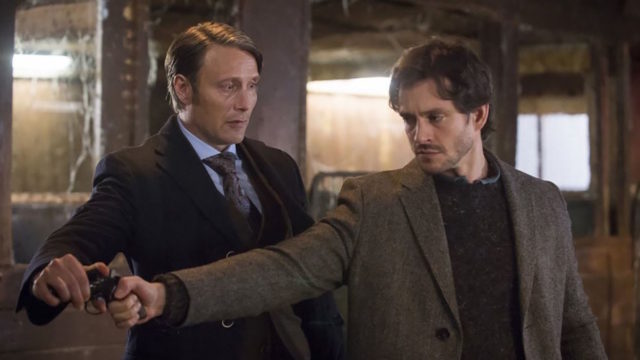 Mads Mikkelsen (l) and Hugh Dancy (r) in 'Hannibal'. (Photo: Sony Pictures Television)[/caption]
What does The Sopranos mean to you?