Sandra Oh's Parents Won the 2018 Emmys
Look, we all wanted Sandra Oh or Tatiana Maslany to win Best Actress last night (at least all of us at BBC America...) And although the ultimate victory just wasn't in the cards (or rather, the ballots), it's fair to say Sandra Oh and her downright adorable parents stole the show.
First, they arrived...
Sandra Oh brought her mom and dad. 😭😭 pic.twitter.com/kd0xc0nUdt

— Dave Itzkoff (@ditzkoff) September 17, 2018
Fans couldn't help but notice Oh's mother was wearing a traditional hanbok.
Sandra Oh's mom wore a hanbok to the Emmys! There is a hanbok at the Emmys! Forget K-pop, THIS is the sign that Koreans have arrived. https://t.co/GZCtfBw1GR

— Albert Kim (@MagicBranch) September 17, 2018
For those unfamiliar, a hanbok is a traditional Korean dress for semi-formal or formal attire during traditional occasions such as festivals, celebrations, and ceremonies. The ladies of The Today Show even deemed Mrs. Oh best-dressed of the night!
.@IamSandraOh brought her parents to the #Emmys! 💞 pic.twitter.com/q5bxowIMwB

— TODAY (@TODAYshow) September 17, 2018
Can't really argue with that, although her daughter gave her a bit of a run for her money...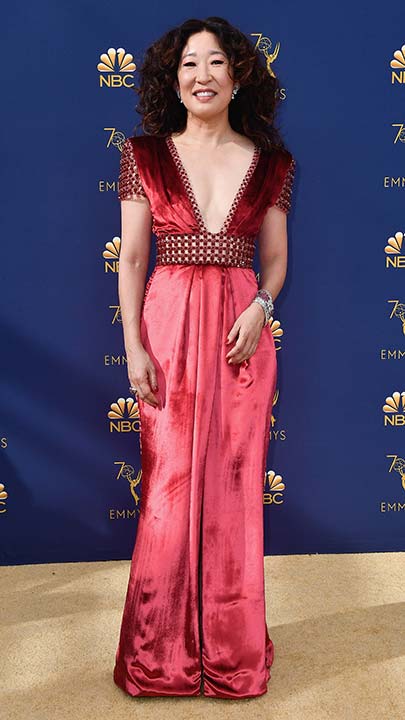 I would like to give a nod to Sandra's father as well, whose handkerchief was flawless.
Walking a red carpet is difficult enough, but with your parents? It can't be easy. Sandra made it look like a breeze, proudly introducing them to journalists and her peers.
Sandra Oh's parents, Mr. and Mrs. Oh, share how proud they are of their daughter #Emmys https://t.co/QILf2nBd4b pic.twitter.com/9vZcPWxK9l

— Variety (@Variety) September 17, 2018
The joy (and shock!) on Sandra's face at how genuinely proud her mother is of her was everything.
cause of death: sandra oh smiling as her hanbok-clad mom claps proudly pic.twitter.com/bkQKSG5oEM

— sara david (@SaraQDavid) September 18, 2018
And I'm only a little bit jealous that Mama Oh met Jess Mariano before me... (Did you notice he not only shook their hands but put his other hand on top of theirs?! Respect.)
This might be the best introduction on the #Emmys red carpet: Milo Ventimiglia of #ThisIsUs meets Sandra Oh's parents! ❤️ pic.twitter.com/t8oUvsiiQw

— LAT Entertainment (@latimesent) September 17, 2018
They finally got inside for the big event where Sandra really shined, participating in multiple sketches throughout the night.
Sandra was celebrating a historic nomination as the first actor of Asian descent to be nominated for Best Actress, but I can't imagine it wasn't even more exhilarating to represent her community with a line like this.
"Thank you but it's an honor... just to be asian." - Sandra Oh #Emmys pic.twitter.com/hbbls8eQW7

— Entertainment Weekly (@EW) September 18, 2018
And maybe I'm biased, but I genuinely thought Sandra and Andy Samberg's presentation was the funniest of the night.
Sandra Oh's comedic timing in this little segment is exactly why @KillingEve is one of the best TV series of 2018 #Emmys

— David Onda (@David_Onda) September 18, 2018
Sandra. Oh. Can. Do. Everything. #Emmys

— Jarett Wieselman (@JarettSays) September 18, 2018
Ultimately, we all know what happened: Sandra didn't win.
But didn't she, though?
can sandra oh's parents adopt me please? pic.twitter.com/SOSokv41Ly

— Meghan Overdeep (@meghanoverdeep) September 17, 2018