Episode 5: What You Didn't Know About 'Human Raw Material'
Here are behind-the-scenes secrets from our very own Orphan Black production team! 
SIDE BRAID
This is the first time in Orphan Black history that Sarah's hair has been in a braid, or even put up in any way. Katarina, our key hair artist, and Tatiana decided that since this episode was about Sarah relaxing with her daughter that Sarah might tie her hair back in a relaxed way. It also echoes Mrs. S's braids and gave her an overall more motherly feel for this episode.
FARCICAL
Every season we try to do one episode that is our farce episode. In the past it has always centered on an Alison and Donnie storyline (remember: clone potluck parties and rehab.) However, this year we changed things up and let Cosima have all the fun: dressing up, sleuthing, going undercover, and dodging another clone — Krystal!
Fun Fact: The farcical episodes have traditionally been Episode 6 or 7 in our full season arcs. This season we pushed it up to 5th position because the location where the episode takes place — Brightborn — allowed us to introduce Evie Cho and Susan and Ira outside of the complex, in a really fulsome and immersive way.
BRIGHTBORN
For the Brightborn building we shot in TIFF's (Toronto International Film Festival) private residence building in downtown Toronto. It is a spectacular building with some of the best views of the city you can find.
[caption id="attachment_364117" align="aligncenter" width="540"]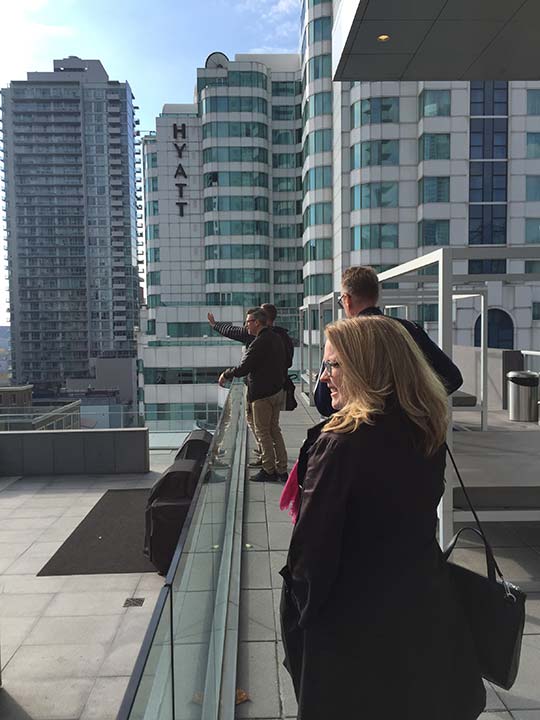 Kate Melville and John Fawcett scouting rooftops[/caption]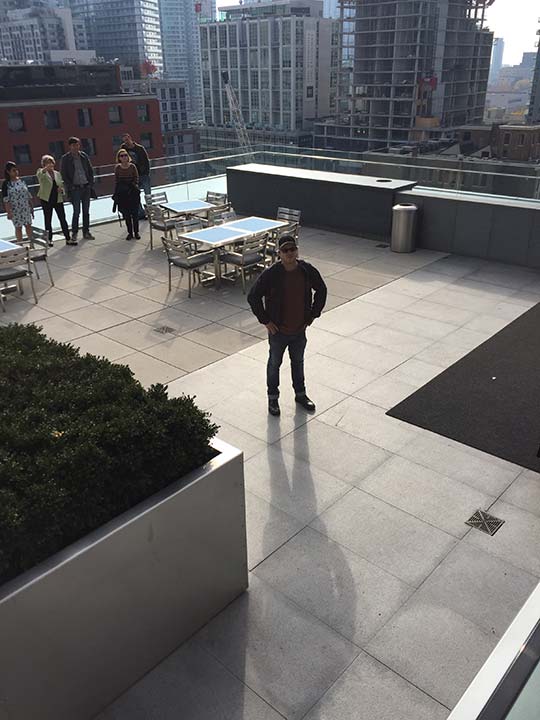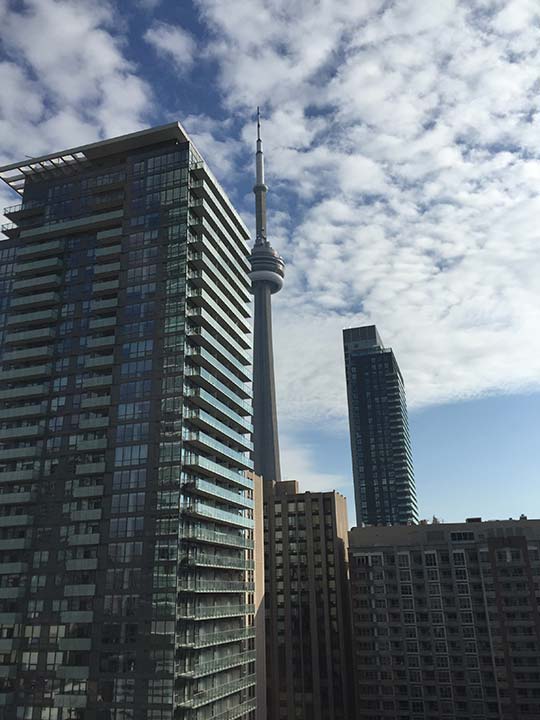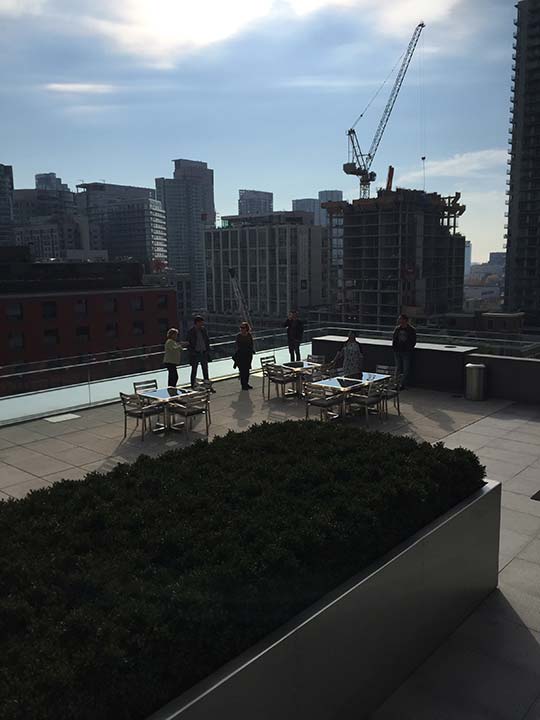 Fun Fact: We used their design elements, wood, red, etc. to influence and build Evie's office, which we built as a set on our own sound stages (as we'll go back there in future episodes).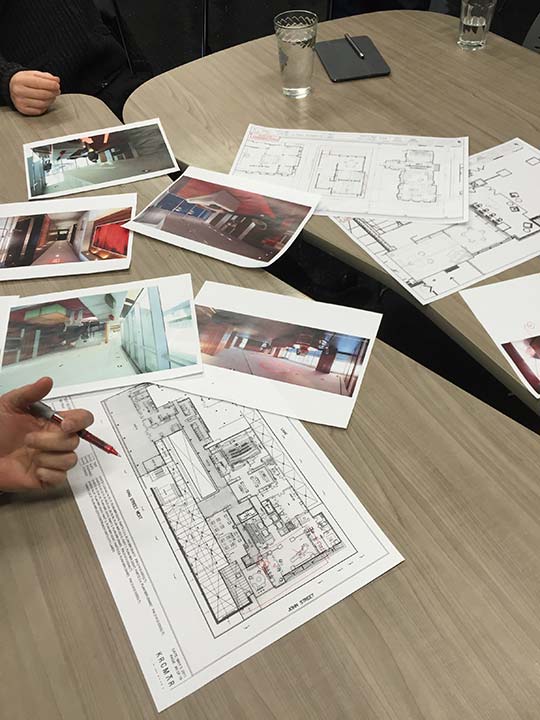 SHADES OF WHITE
This is the first episode of the season where Ira and Susan Duncan are not dressed in cream and light shades of grey. We had fun with our wardrobe designer Debra Hanson using the white/cream color palette to differentiate where these characters are in the world. Outside of Susan's compound they bring in more colors and Ira usually wears a suit, unlike when they are with Rachel in the compound.
Fun Fact: Debra's team must have bought out every white or cream-colored piece of clothing Toronto stores had to offer in the dead of the winter – not an easy feat up here after Labor Day!
KRYSTAL, KRYSTAL, KRYSTAL
Krystal's acrylic nails are a fundamental part of her clone look. However you can't take kickboxing and self-defense classes with pointy talons for nails. So Stephen Lynch, make-up artist, designed two different looks for Krystal's nails in this episode: one bright color to match her work-out clothes that was just painted on Tatiana's nails, and another acrylic pointed fake nail for when she dresses up to go undercover to Brightborn. Tatiana mentioned that although the nails in the gym were great, she had a harder time getting into character without her fake nails.
7 MONTHS
The actress who plays the Brightborn carrier giving birth to the deformed baby was actually pregnant! She was 7 months pregnant when we shot this scene.
Fun Fact: Having someone with a real baby bump made the birthing scene much easier to shoot as we could show her belly without worrying about the seam of a prosthetic stomach.
DEFORMED BABIES…
Chris Bridges, our prosthetic designer, created the mutated baby prop working with Cosima Herter, our science consultant, and the writer Kate Melville to find the right combination of genetic disorders to shock audiences and move our Brightborn story forward. It was not the most fun kind of research, as you can imagine. The baby has a combination of three different genetic disorders.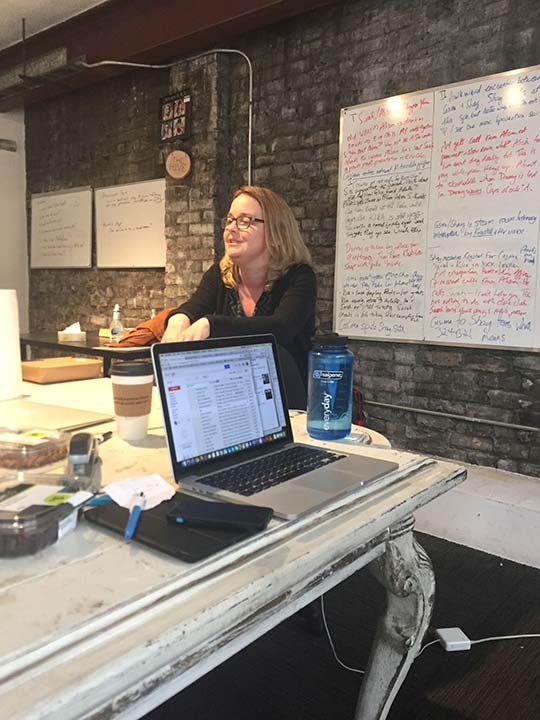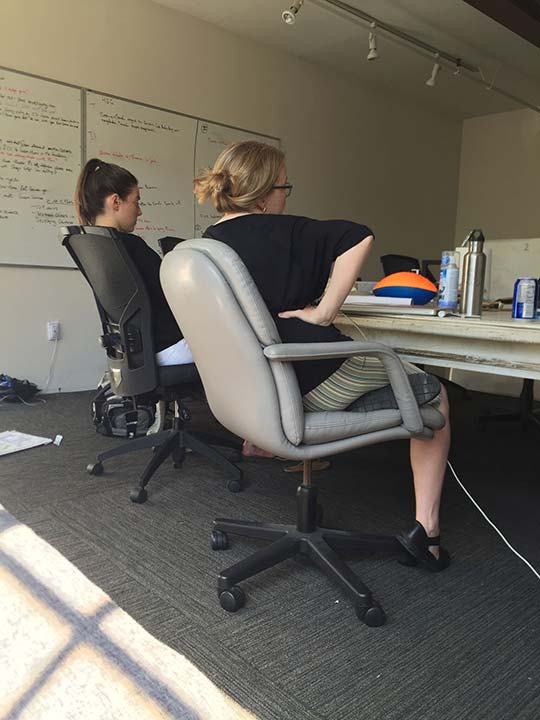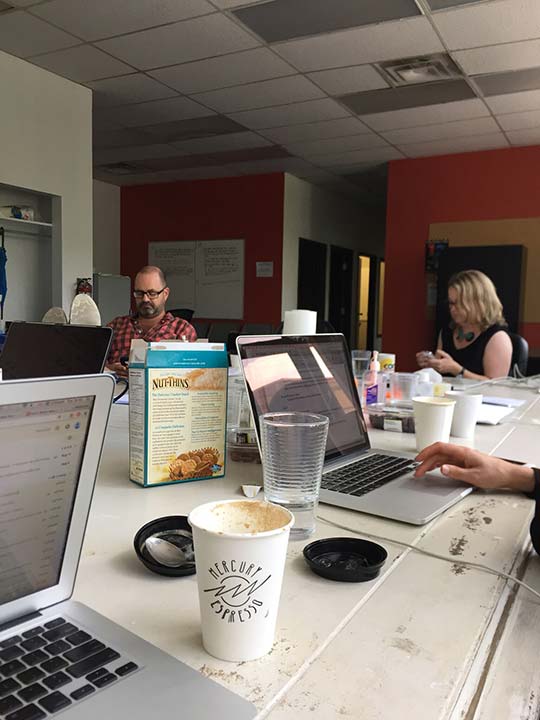 POOLSIDE KISSES
Director David Wellington worked intimately with The Hive to get the tone of this episode just right, always a feat when you are working with the farcical episode. The incestuous and one might say iconic scene of the episode — the last scene where Ira and Susan are revealed as lovers — was shot to look like an old Hollywood romance film. With the stylized camera angles and sound design — not to mention the throwback swimwear and styling — David succeeded in accomplishing the perfect clone/creator kiss.
Fun Fact: This is the first time Orphan Black has shot near or in a pool.
[caption id="attachment_364120" align="aligncenter" width="540"]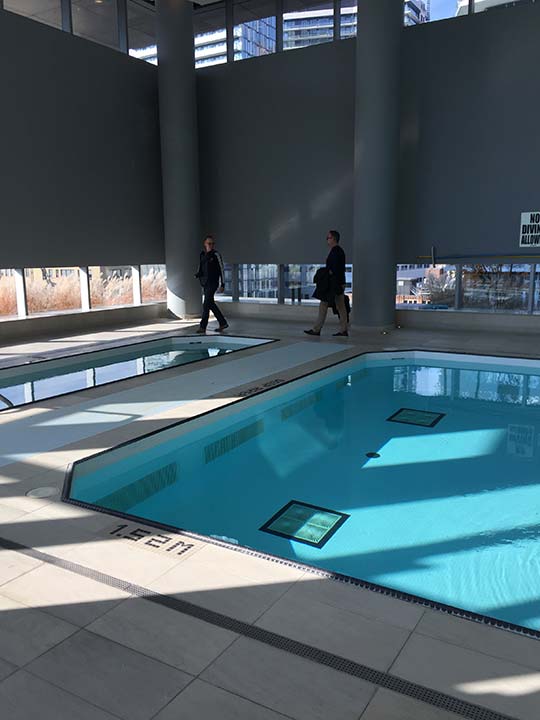 Production Designer John Dondertman and First AD George Jeffreys scouting the pool[/caption]
SURPRISE!
While we were shooting Episode 405, a very important birthday occurred. Co-creator Graeme Manson turned 50! The office surprised him with wine and cheese and cake in The Hive.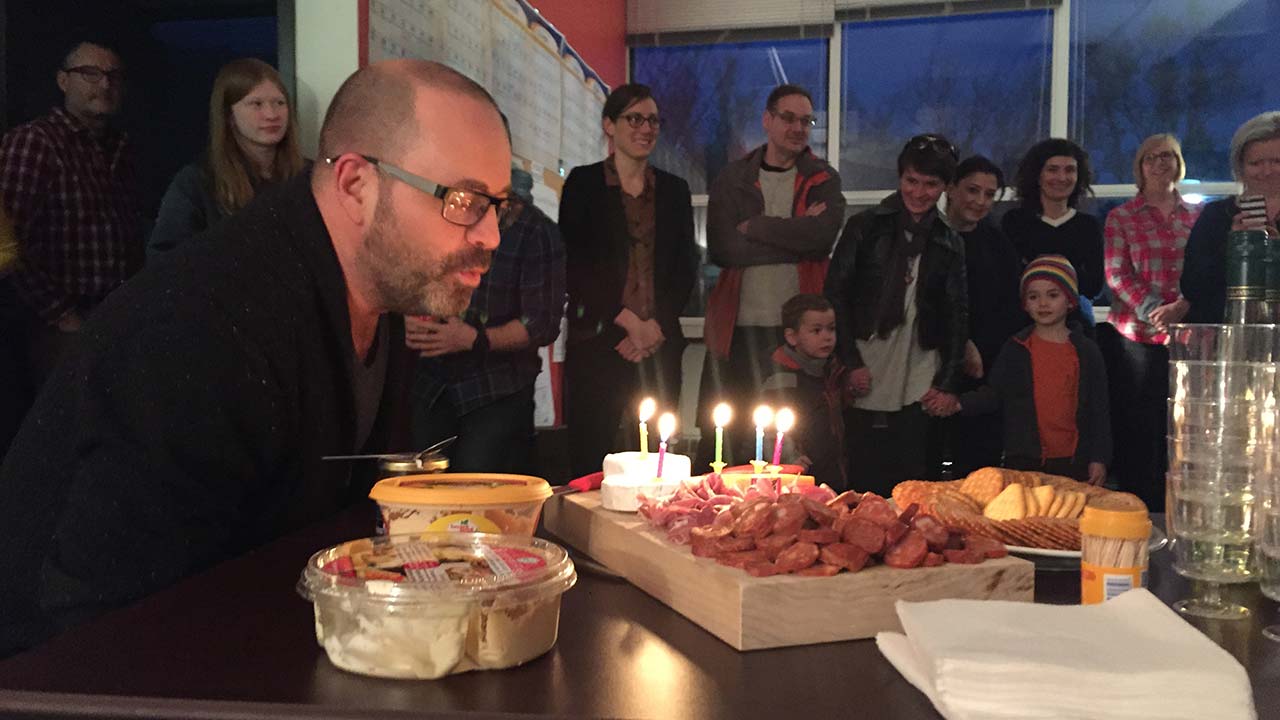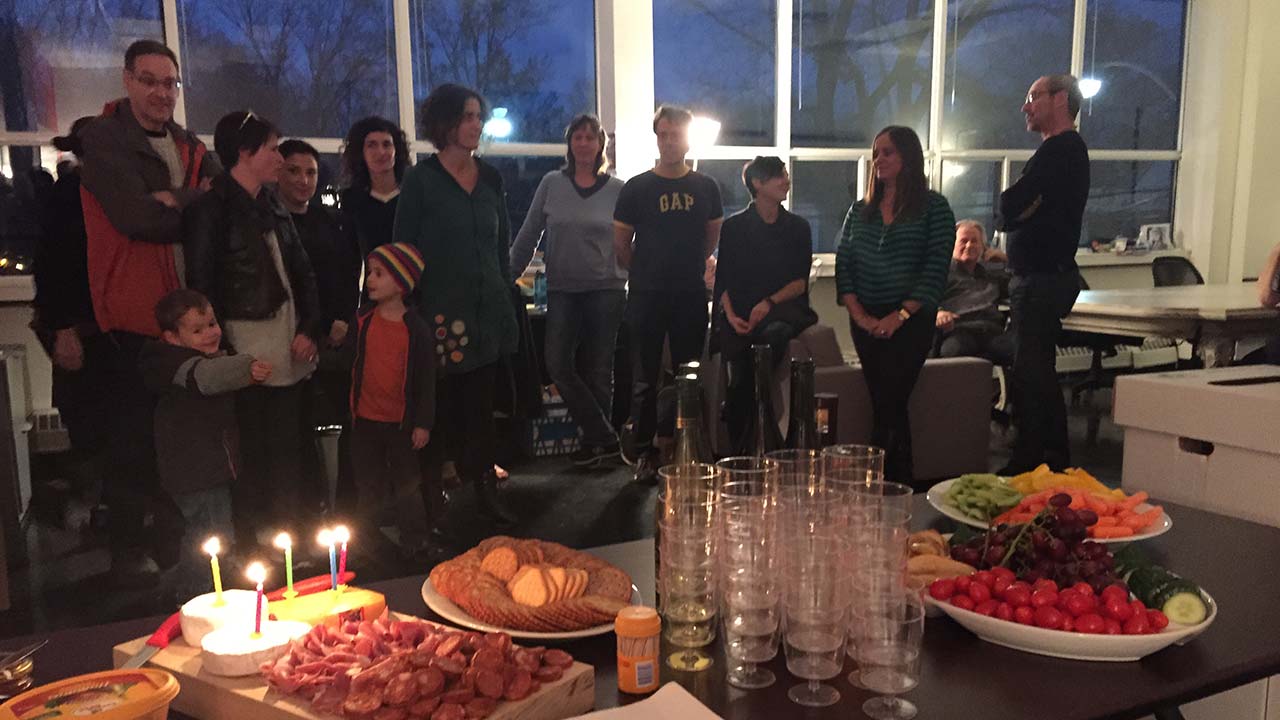 PINK PANTHER-ESQUE
Getting to work with a new clone is always a treat, and Krystal is one of the most fun to see come to life. In this episode — Krystal's third appearance on the show — she saw her most screen time, and that meant that we got to really create a Krystal soundscape for those scenes. In the past, our composer used fake nails and nail files when composing Krystal's score, but this year he stepped it up a notch and used a Pink Panther-esque animal-influenced score, matching her leopard print and fur.
Fun Fact: Trevor Yuille used actual animal recordings in these tracks. Did you hear them?