J.K. Rowling 'Overjoyed' as 'Harry Potter and the Cursed Child' Wins Six Tony Awards
Harry Potter and the Cursed Child picked up a whopping six awards at the Tonys last night (June 10), and author J.K. Rowling says she's "overjoyed."
https://twitter.com/jk_rowling/status/1006063683099922432
The two-part stage play won awards for Best Play, Best Scenic Design, Best Costume Design, Best Direction, Best Sound Design and Best Lighting Design, having stormed Broadway after transferring there from London's West End.
The play's cast and crew were there to pick up the awards, including Jamie Parker, who performed during the show as the grown-up Harry Potter, and Jack Thorne, who wrote the plays and is now adapting Philip Pullman's fantasy trilogy His Dark Materials for TV.
[caption id="attachment_429133" align="alignnone" width="640"]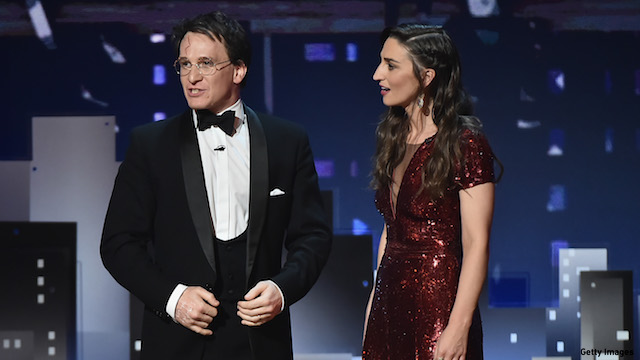 Jamie Parker and Sara Bareilles onstage during the 72nd Annual Tony Awards at Radio City Music Hall on June 10, 2018 in New York City. (Photo: Theo Wargo/Getty Images for Tony Awards Productions)[/caption]
Thorne took to Twitter a few hours later, paying tribute to the "incredible witch" behind the Harry Potter phenomenon. We're sure he meant that in the best possible way, of course:
https://twitter.com/jackthorne/status/1006019214774325254
Certainly the Harry Potter author seemed unperturbed, quoting the phrase in another tweet and quipping how she felt sure it wasn't "rhyming slang."
As for the night's other winners, veteran actress Glenda Jackson won Best Actress in a play for her performance in Three Tall Women, while Andrew Garfield won Best Actor in a play for his turn in a revival of Angels in America. Lord Andrew Lloyd Webber was honored with a lifetime achievement award.
The biggest winner of the night, however, was The Band's Visit, a musical about an Egyptian band visiting an Israeli desert town. It picked up an impressive 10 prizes, including Best Musical, Best Actress (Katrina Lenk) and Best Actor (Tony Shalhoub).
And one of the biggest moments was Bruce Springsteen performing "My Hometown." Springsteen was part of the awards ceremony, receiving a Special Tony Award for his one-man show, Springsteen on Broadway: 
https://www.youtube.com/watch?v=8x6i4xeNvG0
Fellow musician Billy Joel presented the award to his colleague and longtime friend:
It also meant the two shows with the most nominations — Tina Fey's Mean Girls and SpongeBob SquarePants, with 12 nods each — won just one award between them: Best Set Design for SpongeBob SquarePants.