How to Enjoy a Quintessentially British Picnic at Home
Nothing says summer like a picnic – but don't make the mistake of thinking you can just cobble one together carelessly. In the picnic section of his 1922 etiquette book, Perfect Behaviour, A Guide for Ladies and Gentlemen in All Social Crises, Donald Ogden Stewart writes: "One should not make the mistake of thinking that because he or she is 'roughing it' for a day, he or she can therefore leave behind his or her 'manners,' for such is not the case."
That's us told.
Picnics in the park aren't really an option right now because of social distancing, but there's no reason why you can't have one in your garden, on your roof or balcony, or even in your living room if you clear some floor space! Wherever you decide to have it, here's a handy guide to giving your picnic a very British sense of occasion.
1. Bring a picnic blanket
Picnic blankets are widely used in the U.K. because they protect your clothes from grass stains and keep you dry if you're sitting on slightly damp earth – a definite summer hazard. Gingham and tartan picnic blankets are classic options, though there's obviously no reason why you can't use a large beach towel or a sofa throw that you don't mind taking outside and sitting on.
https://www.instagram.com/p/Bi-IDeTjJh-/
2. And if you're feeling posh, a picnic basket
A wicker picnic hamper is definitely the most stylish way to transport your food and drink to your favorite picnic spot. London department store Fortnum & Mason is known for its fancy picnic hampers, but be warned: they don't come cheap.
https://www.instagram.com/p/B_cDIYiAxXc/
3. Bring a hat to keep the sun at bay
If you fancy getting dressed up like an extra from the Downton Abbey set for your picnic, well, why not? But these days, most Brits just wear whatever they feel comfortable in – flip flops or espadrilles are fine – while maybe steering clear of easily stained white fabrics.
It's got to be said, though, that Peter Davison's Fifth Doctor looks very picnic-ready in this classic shot:
[caption id="attachment_261942" align="alignnone" width="920"]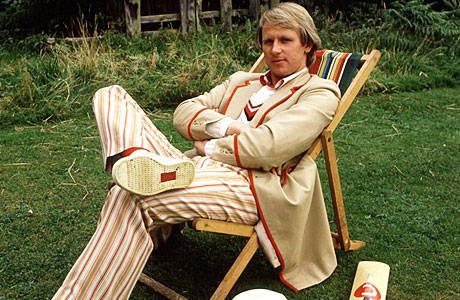 Peter Davison as the Fifth Doctor[/caption]
4. Make sure there's lots of finger food
Sausage rolls, Scotch eggs, and afternoon tea-style finger sandwiches remain firm favorites at a British picnic. Cheeses, fresh fruit salad, and Victoria sponge cake are all popular, too. But really, there's no reason why you can't bring whatever food you like to a picnic, so long as it can be eaten cold and without too much cutlery. The BBC Good Food website has a range of vegan picnic ideas including burritos, falafel, and cheesy vegan scones.
https://www.instagram.com/p/B_2FMpWnJ6W/
5. And, well, plenty to drink
Pimm's, a brand of gin-based fruit cups traditionally served with berries, apple slices, and mint sprigs, is probably the quintessential British picnic drink, but wine, beer, and Buck's Fizz – the boozier U.K. version of a mimosa – are popular too. Most British supermarkets now sell "gin in a tin" and other pre-mixed cocktail cans which also make a perfect picnic tipple.
British MP Diane Abbott became an internet sensation last year when she was snapped sipping a Marks & Spencer mojito can on the London Overground – something which is technically against the law – and caused the drink to sell out. Don't worry, though, as Abbott swiftly apologized to Transport for London (TfL) for her cheeky faux-pas.
https://twitter.com/HackneyAbbott/status/1119352416783282177?s=20
Oh, and there's obviously no reason whatsoever why you can't stick to soft drinks at a picnic. Anyone for lemonade or ginger beer?
https://www.instagram.com/p/B_26W3dpu2D/
6. Don't eat too much, though, because there may well be games 
Badminton and frisbee are both classic picnic games if you're in a park or garden with plenty of space. Super-fancy folks may even play croquet. But at the moment, a classic British card game like Whist is probably a little more realistic for most of us.
7. And finally, round off your picnic with a nap
By this point, you've definitely earned it.
[caption id="attachment_460712" align="alignnone" width="655"]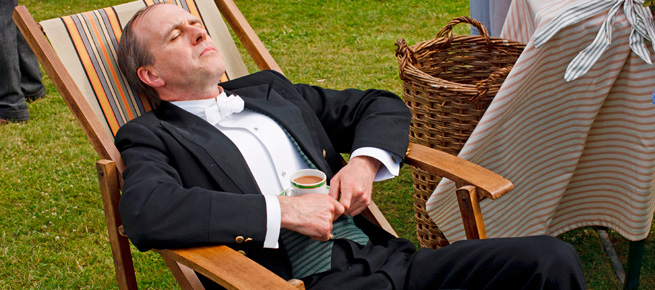 Photo: Downton Abbey / PBS.[/caption]
What's your favorite picnic food and drink?