Graham Norton: Then And Now
Graham Norton seems like the kind of person who really enjoys his job. Why wouldn't he? He makes a living chatting up the best of the best in entertainment. Like this coming Sunday, February 14 at 10/9c, when he hosts the BBC America special Adele: Live in London. (It airs after the EE British Academy Film Awards.)
The event may be even a bit of a tearjerker, with Graham saying about the special, "This opportunity to spend an hour with Adele, her music and her stories is a truly rare treat. If I wasn't hosting this special, I'd be sad at home watching it!"
Graham is always having so much fun on The Graham Norton Show, and we have just as much fun watching him. It makes us wonder, how did he end up in London on national television, ultimately landing on BBC AMERICA?
Let's follow Graham's story then and now:
He was born Graham William Walker in Clondalkin, a suburb of Dublin, Ireland. (Our imagination may be running rapid, but now we're picturing him going back for a visit and getting a full-fledged parade with ticker tape and everything. The mental image is close to perfect and maybe we can wish it into happening.)
Oh, look, we found a snap of a street in Clondalkin, leading up to the Round Tower, which would be perfect for a street fest:
[caption id="attachment_356845" align="alignnone" width="2000"]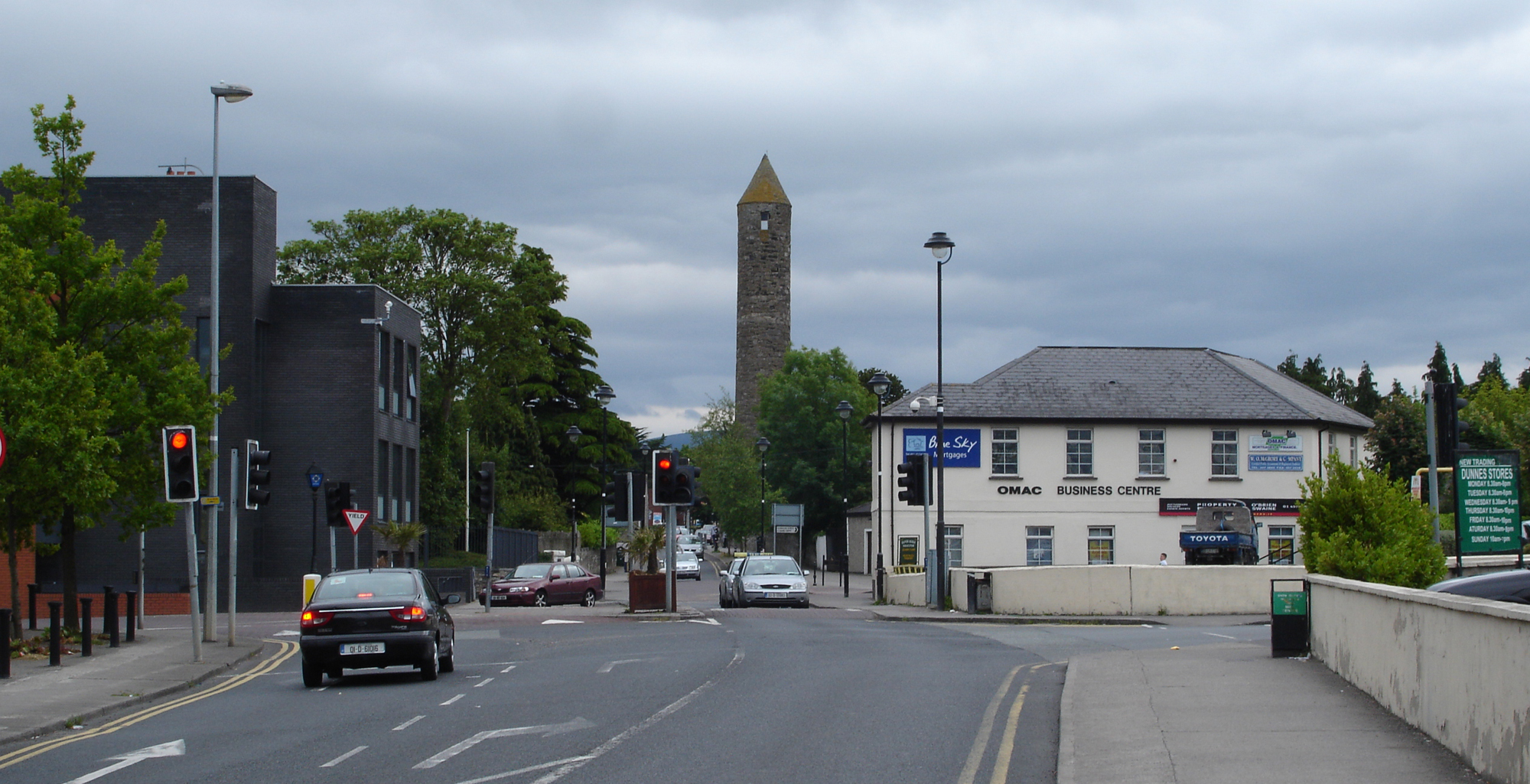 (Photo: Wiki)[/caption]
Graham was raised in Bandon, County Cork. If not a parade, maybe there could be a street named after him? Here's a look at Bandon:
[caption id="attachment_356846" align="alignnone" width="800"]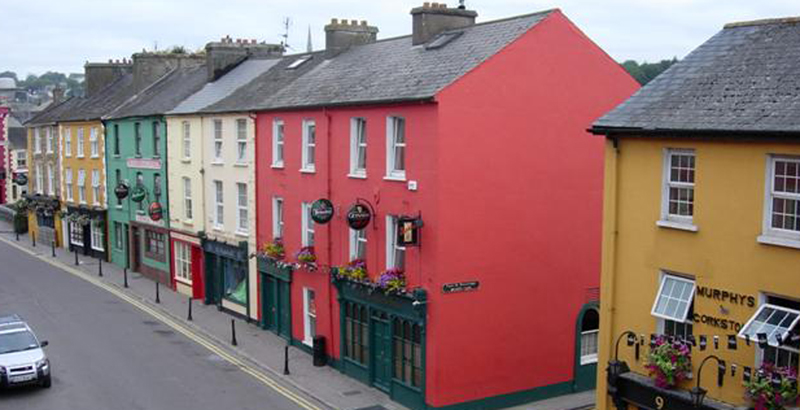 (Photo: Wiki)[/caption]
Graham attended Bandon Grammar School, which is also a secondary school (equivalent to high school in the U.S.), graduating in 1981. He made his way to London to attend the Central School of Speech and Drama. He was clearly onto something majoring in speech, as in talking, as in talk show ... but we're getting ahead of ourselves.
The school was pleased to have him, including him on their list of High Profile Alumni.
Here's a look inside of one of Central School's performing arts classrooms:
[caption id="attachment_356882" align="alignnone" width="964"]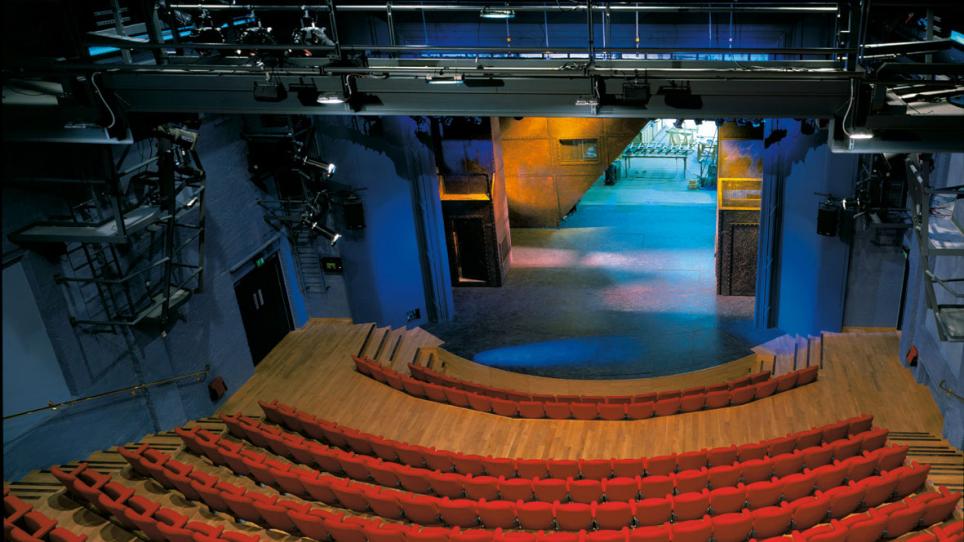 (Photo: CSSD)[/caption]
One of Graham's earliest gigs was as a regular on BBC Radio 4's morning show Loose Ends. Around this time he legally changed his surname to Norton. He then took the hot seat, filling in for late-night host Jack Docherty.
Here's Graham honing his interview skills in the 1990s, being his seriously funny self on The Jack Docherty Show:
https://www.youtube.com/watch?v=zRO9jMX33PE
In 1996, he co-hosted the game show Carnal Knowledge, revolving around sexual topics. Here he is getting a lap dance (the scene is all in fun, but it may be deemed NSFW):
https://www.youtube.com/watch?v=7o1BpQJpjqs
Also in 1996, Graham had a go at acting, appearing in three episodes of Father Ted as Father Noel Furlong:
https://www.youtube.com/watch?v=CjRyGnAG7oY
He moved on to host the 1997 panel show called Bring Me the Head of Light Entertainment:
https://www.youtube.com/watch?v=18rAeQGUixE
These early clips illustrate Graham's natural talent as a comic and TV personality. While the shows may have had short runs, he kept on going.
In 1998 he hosted his own show entitled So Graham Norton. Here he is interviewing Joan Rivers and Boy George:
https://www.youtube.com/watch?v=pK3lA9Zfg1E
He followed up with another show named after him, V Graham Norton, starting in 2002. Here he is sitting down with the late Heath Ledger: 
https://www.youtube.com/watch?v=zW3982MTD1c
Graham took a wee hiatus from the U.K., moving to the U.S. to star in 2004's Comedy Central's The Graham Norton Effect:
https://www.youtube.com/watch?v=R3quN070-kk
In 2005 he made his return to London, landing on BBC. He hosted both Strictly Dance Fever and Graham Norton's Bigger Picture:
https://www.youtube.com/watch?v=NrC213StXB8
From 2006 through 2010, Graham helped Andrew Lloyd Webber cast his famed musical productions for the stage, hosting four competition shows.
Here's a clip pulled from How Do You Solve a Problem Like Maria? after one of the contestants dropped out (Graham wasn't overly empathetic):
https://www.youtube.com/watch?v=BRiM9a-cmW4
In 2007 he co-hosted the first annual Eurovision Dance Contest and became a regular host for The British Television Academy Awards. He both hosts the ceremony and wins a BAFTA in the below clip:
https://www.youtube.com/watch?v=Wjn85UEreI8
In the same year he traced back his Irish roots in the 2007 episode of Who Do You Think You Are?:
https://www.youtube.com/watch?v=t2qJnyp5DWM
And, finally, also in 2007 Graham kicked off The Graham Norton Show which we know and love him for today:
You know you're doing something right when back-to-back TV shows are named after you.
And Adele doesn't work with just anyone.
As we mentioned above, this coming Sunday, February 14 at 10/9c, he'll be hosting Adele: Live in London, airing on BBC America.
If you'd like to get to know Graham even better, he published a memoir in 2014 entitled The Life and Loves of a He Devil.
Do you feel like you know Graham a little bit better now?