First Look: Sir Kenneth Branagh Transforms into Boris Johnson for Coronavirus Series 'This Sceptred Isle'
The first image of Sir Kenneth Branagh as Prime Minister Boris Johnson in Coronavirus-themed drama series This Sceptred Island has been released.
The image shows Branagh with the British P.M.'s familiar tousled blond hair and a rather stern look on his face. U.K. network Sky shared the production photo on Twitter, where it's prompting a whole range of responses.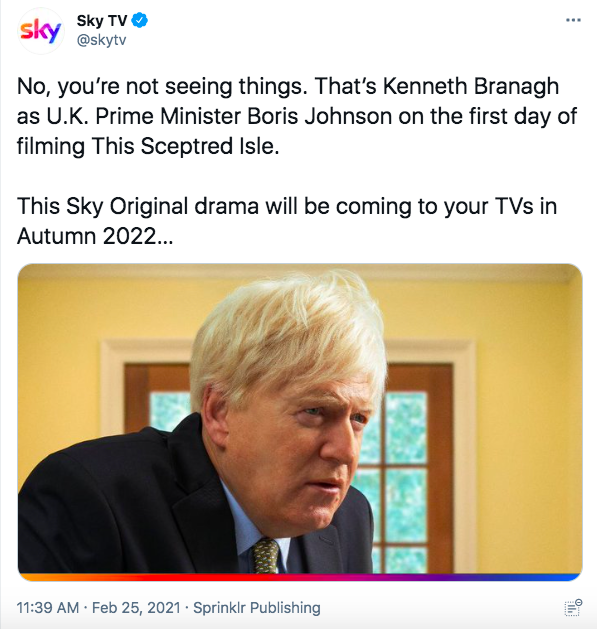 "First time I've ever not fancied Branagh," one fan said drolly, while another tweeted: "Fair play, though, that photo of Branagh as Johnson is mildly uncanny, although obviously his hair is too tidy."
Announced in January, This Sceptred Isle is five-part drama series about the U.K.'s response to the global coronavirus pandemic. It's being directed by Michael Winterbottom (The Trip, 24 Hour Party People) with an eye on a fall 2022 premiere.
"Our series weaves together countless true stories — from Boris Johnson in Number 10 to front line workers around the country — chronicling the efforts of scientists, doctors, care home workers, and policy makers to protect us from the virus," Winterbottom said in a press release when This Sceptred Isle was announced.
The image of Branagh as Johnson arrives within days of the real-life Prime Minister announcing the U.K.'s "roadmap" out of its latest Coronavirus lockdown, which began in December. Provided infection and hospitalization rates continue to fall sufficiently, and the nationwide vaccination program goes to plan, all social distancing restrictions in the U.K. could be lifted by June 22.
What do you make of Sir Kenneth Branagh as Prime Minister Boris Johnson?