First Look: Rupert Grint Leaves Ron Weasley Behind for 'The ABC Murders'
November 22, 2018
The BBC has released a new photo of the cast of The ABC Murders, including Rupert Grint as Inspector Crome and John Malkovich as Poirot.
[caption id="attachment_438864" align="alignnone" width="640"]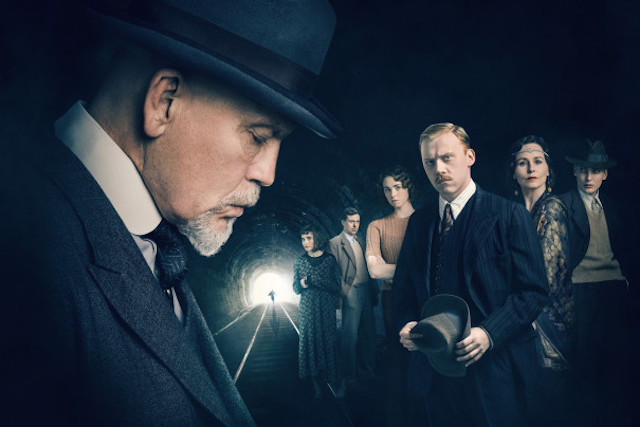 (Photo: BBC)[/caption]
Also shown are (from left to right) Shirley Henderson (Harry Potter) as Miss Rose Marbury, Andrew Buchan (Broadchurch) as Franklin Clarke, Freya Mavor (The Sense of an Ending) as Thora Grey, Tara Fitzgerald (Game of Thrones) as Lady Hermione Clarke, and Eamon Farron (Twin Peaks) as Cust.
Deadline reports the three-part drama will also star Kevin McNally (Pirates Of The Caribbean) as Inspector Japp, Gregor Fisher (Love Actually) and Jack Farthing (Poldark).
Based on a 1936 Agatha Christie novel of the same name, The ABC Murders is the latest in a string of Christie adaptations by the BBC, and is written by Sarah Phelps, the same writer behind The Witness For the Prosecution, And Then There Were None and Ordeal by Innocence.
It'll be the first time in the series that legendary detective Hercule Poirot pops up, played by John Malkovich after Sir Kenneth Branagh's tache-tastic turn in last year's Murder on the Orient Express.
The series title refers to the alphabet-obsessed serial killer Poirot is forced to track down, his only clue being a copy of The ABC Railway Guide left at the scene of each crime.
The Belgian detective's unorthodox investigative techniques do not go down well with Rupert Grint's character Inspector Crome, however, who's initially assigned to the case but proves increasingly hostile and suspicious towards Poirot.
In short, he's a world away from Ron Weasley:
https://twitter.com/agathachristie/status/1056123339675037696
The ABC Murders will stream on Amazon in the U.S., but the air date has yet to be confirmed.
Are you looking forward to this new outing for Poirot?