First Look: Matt Smith is Unrecognizable as Cult Leader Charles Manson in 'Charlie Says'
It's all go in the world of Matt Smith. He's been nominated for an Emmy for his work on The Crown, his horror movie Patient Zero is finally seeing the light of day, and if that wasn't enough he's also been cast in the upcoming Star Wars movie.
His next film Charlie Says premiered at the Venice Film festival on Sunday (September 2), and a clip and some first look photos of him as cult leader Charles Manson were released online.
With shaggy long hair and a full beard, he looks almost unrecognizable:
[caption id="attachment_434387" align="alignnone" width="640"]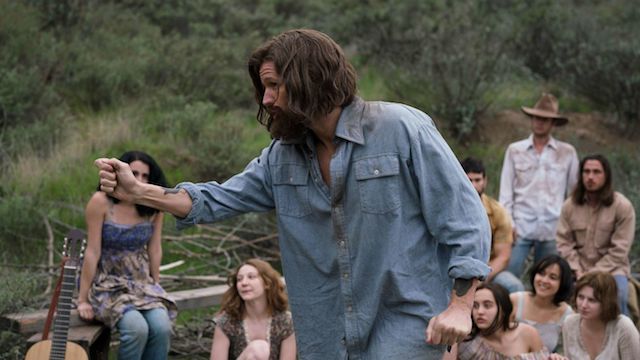 (Photo: Epic Level Entertainment)[/caption]
Helmed by American Psycho director Mary Harron, this film takes a different approach from other Manson-themed movies. Whereas Sean Durkin's 2011 film Martha Marcy May Marlene was inspired by the Manson killings, and Quentin Tarantino's upcoming project Once Upon A Time In America is set during his reign of paranoia, Charlie Says focuses instead on three of Manson's followers after their arrest. They're played by Hannah Murray (Game of Thrones), Sosie Bason (Here and Now) and newcomer Marianne Rendon, who also stars alongside Matt in his other film out this year, Mapplethorpe.
Matt himself appears in flashback scenes as Manson, often with a guitar slung around his neck as he picks out third-rate songs he believes will propel him to global stardom.
And as for the clip, well, the word "chilling" doesn't quite do it justice:
https://twitter.com/mattsmithoff/status/1035909344787947521
Charlie Says is due to open in theaters some time in 2019.
Will you be watching?