First Look: Jude Law Joins Brie Larson in 'Captain Marvel' Photos
September 6, 2018
The first official photos from Captain Marvel were released yesterday (September 5), showing Brie Larson as the titular character and Jude Law as her mentor.
The 1990s-set superhero movie will be Marvel's first female-fronted film, and the fact that their lead is also an Oscar winner (Brie won Best Actress in 2016 for her role in Room) means anticipation is sky high.
Sure enough, the internet exploded when the photos were released. Entertainment Weekly published 11 images in all, including this one of Brie as ex-fighter pilot Carol Danvers and Jude as  the enigmatic Starforce commander Walter Lawson who trains her to become Captain Marvel.
[caption id="attachment_434519" align="alignnone" width="640"]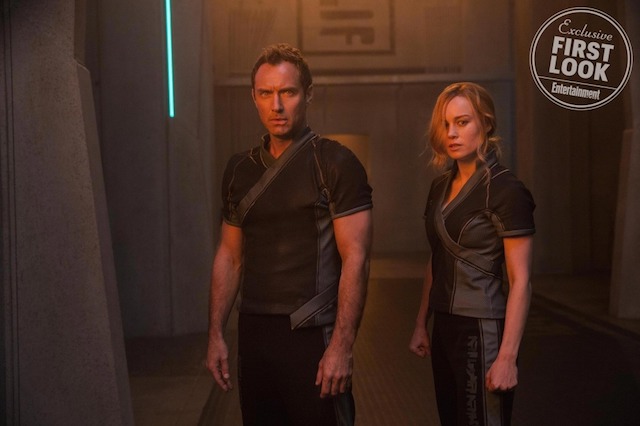 (Photo: Chuck Zlotnick / © Marvel Studios)[/caption]
"These extraordinary powers she has, he sees them as something of a blessing and something that she has to learn how to control," Jude told EW. "That's a motif throughout the piece, the element of learning to control one's emotions and to use your powers wisely."
Those "extraordinary powers" he's referring to are superhuman strength, energy projection, and flight, which she gained when her DNA was fused with that of a Kree after an accident. Jude's character is also Kree, a scientifically and technologically advanced militaristic alien race who pop up every now and then in the Marvel Cinematic Universe (MCU).
Hmm, learning how to use your powers wisely all sounds a bit Dumbledore, which funnily enough is Jude's other upcoming big role.)
Here's Jude in an altogether more superhero get up, alongside Lee Pace, who reprises his role as Kree fanatic Ronan the Accuser from Guardians Of The Galaxy, and director Anna Boden:
[caption id="attachment_434523" align="alignnone" width="640"]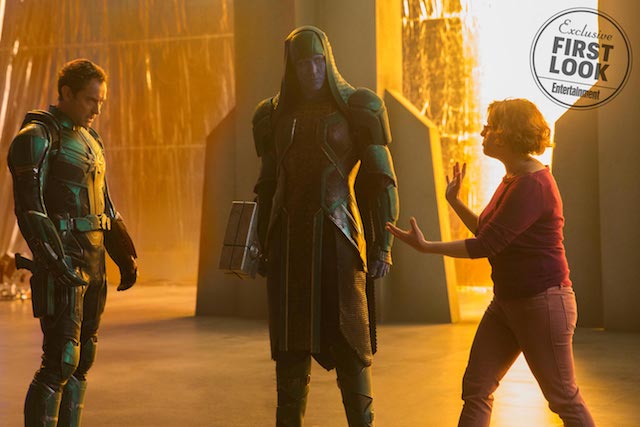 (Photo: Chuck Zlotnick / © Marvel Studios)[/caption]
Set in the 1990s, the film will show Carol becoming one of the universe's most powerful heroes, just as Earth is caught in the middle of a galactic war between two alien races.
Other photos released yesterday (September 5) show Brie in Captain Marvel's iconic blue, red and gold suit, then emerging as Carol from a jet Top Gun-style, Samuel L. Jackson as Nick Fury, a load of Skrulls, the shape-shifting aliens that will be the movie's main baddies, and Ben Mendelsohn as Skrull leader Frank Bush.
Captain Marvel opens in theaters March 8, 2019.
Are you excited to see Jude Law in a superhero movie?