First Look: Harry Styles Channels Old-School Hollywood in New Movie 'Don't Worry Darling'
Director Olivia Wilde has shared a first-look image of Harry Styles in her new movie Don't Worry Darling.
The black-and-white photo shows Styles sitting on top of a classic car in a scene that harks back to old-school Hollywood. You can check it out on Wilde's Instagram.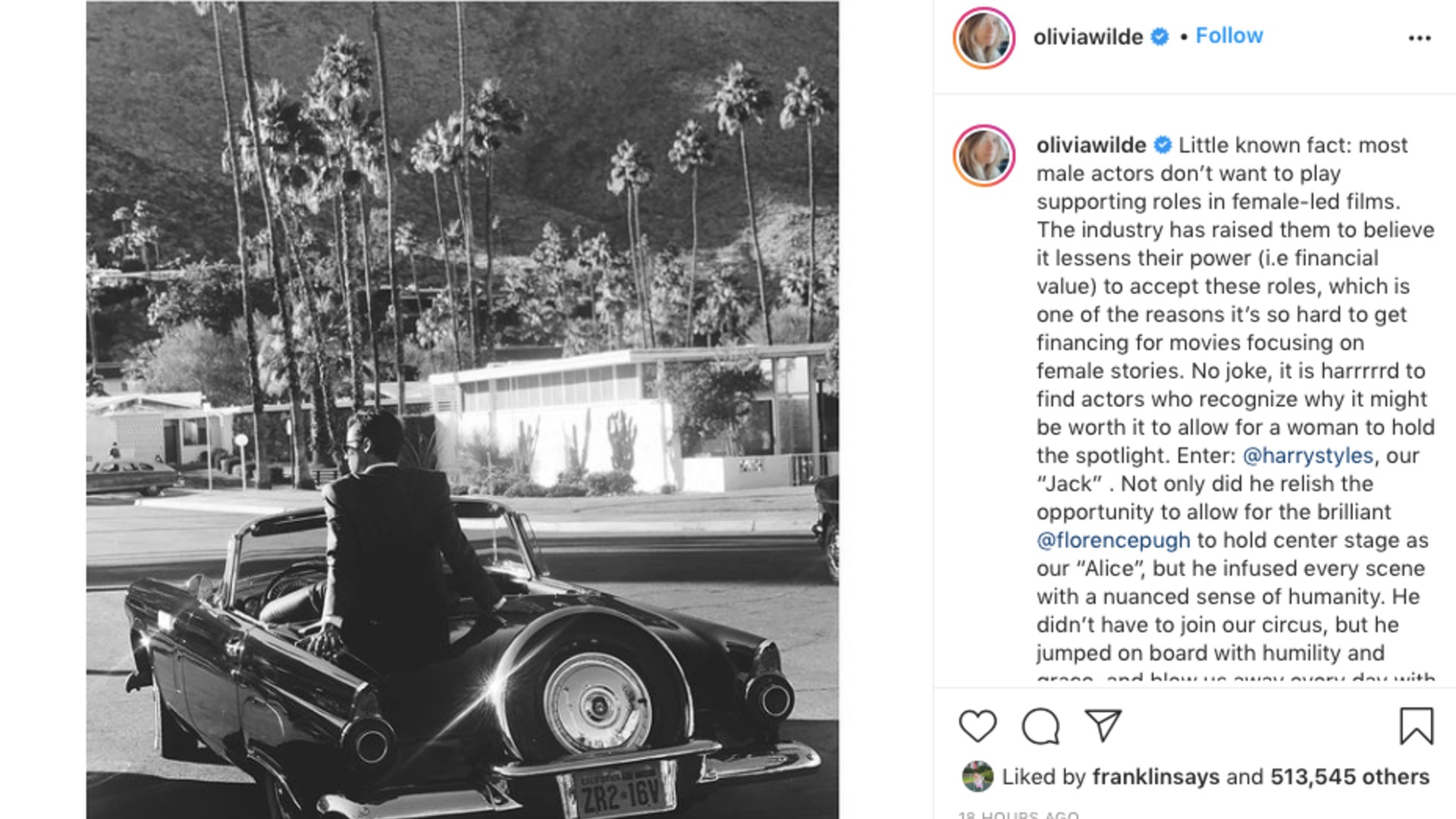 (Photo: Olivia Wilde)
Styles appears opposite Florence Pugh, Chris Pine, and Gemma Chan in the psychological thriller movie, which is Wilde's follow-up to Booksmart. It's Styles' first film role since his breakout performance in Christopher Nolan's war epic Dunkirk.
In her caption, Wilde praised Styles for taking on a supporting role opposite Pugh, who plays the movie's lead character, Alice, a 1950s housewife who discovers that her husband is harboring a dark secret.
"Little known fact: most male actors don't want to play supporting roles in female-led films," she wrote. "The industry has raised them to believe it lessens their power (i.e financial value) to accept these roles, which is one of the reasons it's so hard to get financing for movies focusing on female stories. No joke, it is harrrrrd to find actors who recognize why it might be worth it to allow for a woman to hold the spotlight."
She added: "Enter: @harrystyles, our "Jack". Not only did he relish the opportunity to allow for the brilliant @florencepugh to hold center stage as our "Alice", but he infused every scene with a nuanced sense of humanity. He didn't have to join our circus, but he jumped on board with humility and grace, and blew us away every day with his talent, warmth, and ability to drive backwards."
Earlier this month Styles added to his acting résumé by joining The Crown's Emma Corrin in LGBTQ-themed romantic movie My Policeman.
Are you looking forward to seeing Florence Pugh and Harry Styles in Don't Worry Darling?