First Look: 'Dirk Gently's Holistic Detective Agency' is Open for Business at San Diego Comic-Con
[bbca_video_embed media_id="731695683958" video_id="j2lRJgBDHmWE"]
"It's not a detective show — the clues make no sense."
Oh, OK.
Don't worry — we were in the right room to say hello to BBC America's newest series, Dirk Gently's Holistic Detective Agency.
And after watching stars Elijah Wood and Samuel Barnett as Todd and Dirk, respectively, Entertainment Weekly's Creative Director Tim Leong welcomed the rest of the cast to join them on stage: Hannah Marks (Amanda), Jade Eshete (Farrah), writer and hair-dye novice Max Landis, and showrunner Robert Cooper to their first San Diego Comic-Con panel.
If you couldn't make it to San Diego (or were convinced by Max that you were, in fact, in the wrong room), here are the bits you missed, both big and small.
1. "I'm pretending to be a a person with confidence." Max Landis reveals his self-deprecating cosplay, but he was really dressed in rainbow chic, with his t-shirt matching his rainbow locks. He says he didnt' dye his hair until he turned 30, saying he'd do it if both of his pilots were greenlit, so we feel at least partly responsible for the 'do. You're welcome.
[caption id="attachment_377049" align="aligncenter" width="2000"]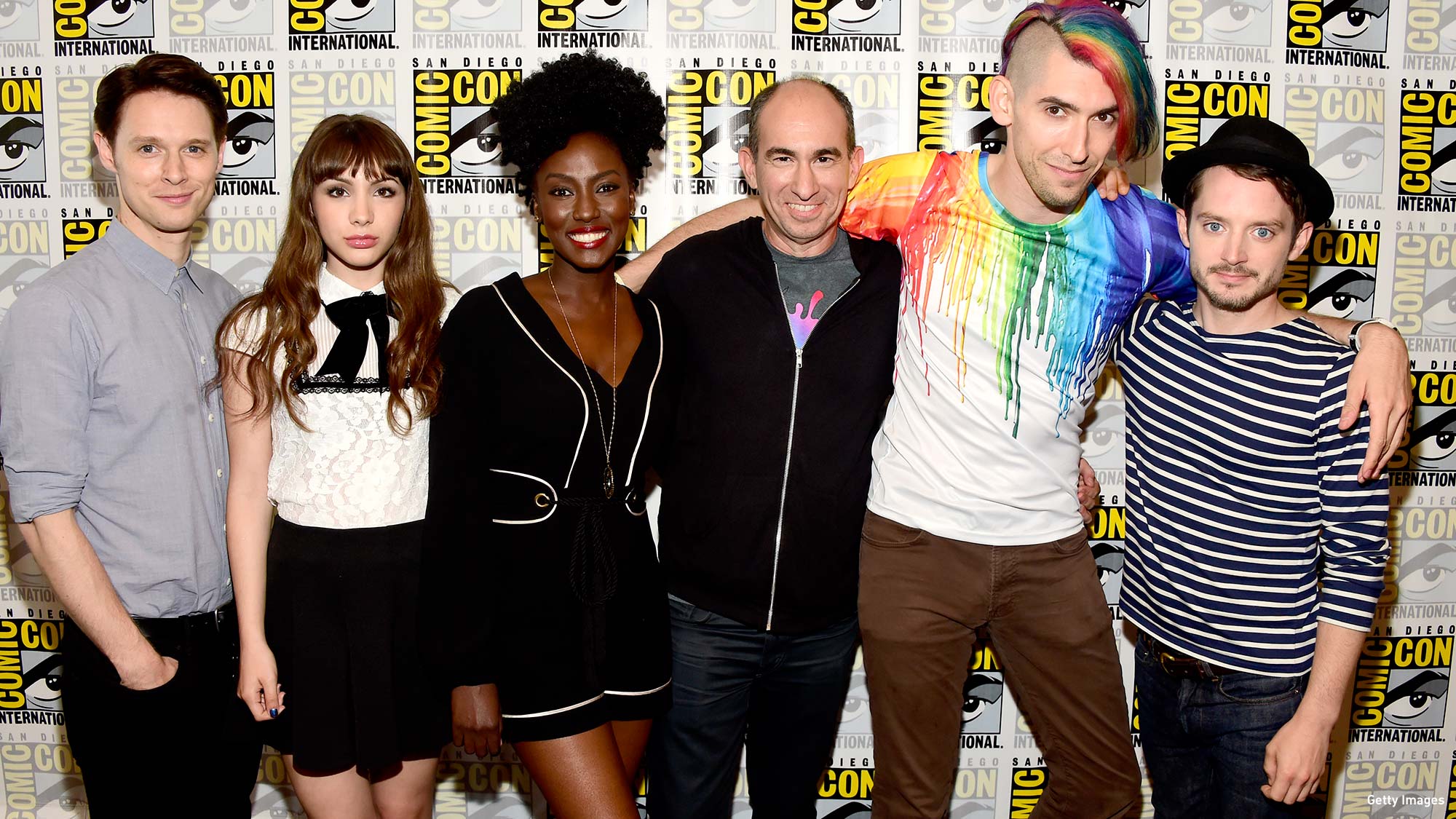 From left to right: Samuel Barnett, Hannah Marks, Jade Eshete, Showrunner Robert Cooper, Executive Producer Max Landis and Elijah Wood attend the 'Dirk Gently's Holistic Detective Agency' press line at San Diego Comic-Con 2016. (Photo: Frazer Harrison/Getty Images)[/caption]
2. So, what does "holistic" mean? Holistic is the word used by people who don't know what they're doing, declared Samuel Barnett. Hannah Marks revealed that the cast (the cast of a detective show) couldn't even get out of an "Escape the Room" experience. The experience was very... holistic.
3.Samuel Barnett dislocated his shoulder on set by... slipping. He was making a turn around a car on a wet bridge. As he started to go down, he reached for the car. His arm stayed. His body didn't. Owww.
4. Elijah jokes that the show — or at least an episode — could be titled "Two Sane Guys Doing Totally Normal Things." It's funny cause it's not true!
5. When asked who is better at solving mysteries — Dirk, Sherlock, or the Doctor — Samuel responds that Dirk is because he has more fun doing it. What do you think?
6. The cast (OK, mostly Max) revealed quite a few spoilers, although you wouldn't know it now. "Even this panel has rewatchability!" declares Robert Cooper.
(We'll take this opportunity to also let you know you'll also be able to watch Dirk Gently full episodes the day after they air right here on BBCAmerica.com)
7. Max not only said they kill about 2/3 of the cast (approximately), but that the show will take away people you like. And hopefully you'll watch to see what they do to the people left. Fair.
8. While reminiscing about being in The History Boys with stars like Jamie Parker, James Corden, and Dominic Cooper, Samuel subtly hinted that he wouldn't mind being in a Harry Potter play. We're subtly hinting that we would totally watch it.
9. Elijah Wood got slightly embarrassed when a fan asked a question about the BBC Radio version of Dirk Gently and he realized his friend Billy Boyd played his character. "Shows you how much I keep up with my friends," he says. Billy, you should expect a call from Elijah real soon.
10. Audience members (nay, one audience member) inexplicably booed for the show's location — Seattle, Washington. When  Max reveals that it was originally set in San Diego, Seattle got booed again. We can only assume the phantom booer has a grunge, we mean grudge against the city. Har-har.
11. Max Landis warns that he's about to say something controversial.: "You can't do Douglas Adams by doing Douglas Adams." He went on to say that the show is an impressionist version of the book rather than a strict adaptation. He didn't want to "cut the fat" like other versions have. "Douglas Adams is not chicken breast; Douglas Adams is pork belly." This made us quite hungry.
And to satiate our hunger, we got to watch a sneak peek at the show.
[bbca_video_embed media_id="730602051522" video_id="QNRe3bUQ3X0R"]
We can't wait for its October 22nd premiere.