First Look: Dan Stevens' Face is Murderous in Still for Horror Film 'Apostle'
September 4, 2018
Dan Stevens (Legion, Downton Abbey) has completed filming on writer-director Gareth Evans' horror film Apostle, and a newly released image of Stevens in action is.... chilling.
The folks over at Empire have just shared an exclusive photo via Twitter earlier today (September 4):
https://twitter.com/empiremagazine/status/1036956899407736832
He may look menacing in the picture, but don't be misled. Stevens' character isn't actually the baddie. He plays a preacher by the name of Thomas Richardson, whose sister has been kidnapped by a religious cult and he's dead set on ensuring her safe return — the key word being "dead." He definitely has a killer look in his eye, and it doesn't seem like he's above murder, if that's what it calls for to get his sister back. The cult is led by a charismatic prophet, played by Michael Sheen (Good Omens).
The official description says the film is "a harrowing occult fable where the only thing more horrifying than madness is the sinister reality behind it."
Evans, who also wrote and directed The Raid and The Raid 2, talked to Empire magazine, describing the film as "survival horror." The Welsh director said he's "aiming for British horror" and points to earlier films like The Devils, The Witchfinder General and The Wicker Man.
Apostle is set in the early 1900s, but we'll have to wait for the first trailer to see what cinematic techniques he uses to give the movie that "old school" feel.
While flagged as a "British" film, it will be releasing via Netflix in the U.S. on October 12, according to the movie poster:
[caption id="attachment_434404" align="alignnone" width="691"]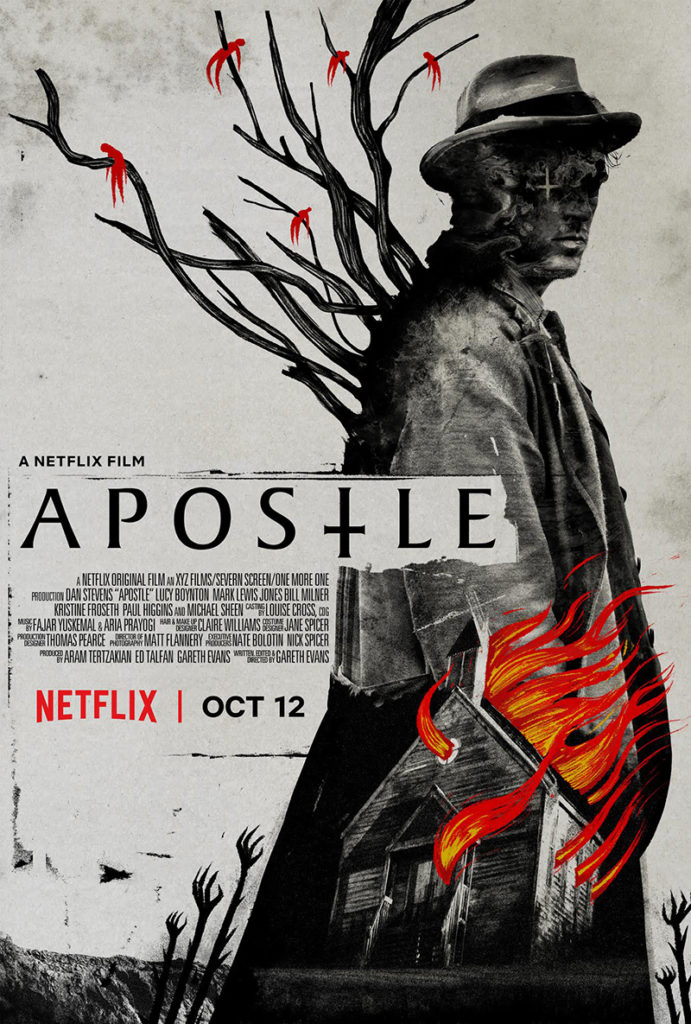 (Photo: Netflix)[/caption]
Are you ready to see Dan Stevens in a new role?