First Look: Cillian Murphy is Back as Tommy Shelby for More 'Peaky Blinders'
Cillian Murphy has climbed back on the horse as Tommy Shelby, as filming on season five of Peaky Blinders gets underway.
The first photo of the Dunkirk star in character has been released, showing Tommy in smart attire, but still wearing the peaked hat that gave his gang their nickname.
[caption id="attachment_436334" align="alignnone" width="640"]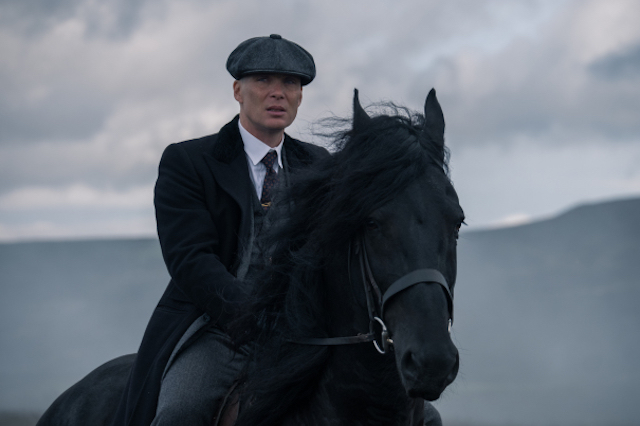 Cillian Murphy as Tommy Shelby in season 5 of 'Peaky Blinders'. (Photo: Matt Squire | © Caryn Mandabach Productions Ltd 2017)[/caption]
According to Deadline, the new season will see the Shelby crime family get back together amid the fallout from the Wall Street Crash of 1929.
Here's the official synopsis: "Series five of Steven Knight's crime family saga finds the world thrown into turmoil by the financial crash of 1929. Opportunity and misfortune are everywhere. When Tommy Shelby MP (Cillian Murphy) is approached by a charismatic politician with a bold vision for Britain, he realizes that his response will affect not just his family's future but that of the entire nation."
The new season is filming now in Manchester, England, with lots of familiar faces returning, including Helen Crory as Aunt Polly, Paul Anderson as Arthur Jr, Sophie Rundle as Ada, Kate Phillips as Linda, and Natasha O'Keeffe as Lizzie, as well as Aiden Gillan and Jack Rowan as father and son fixers Aberama and Bonnie Gold.
Season five also sees the return of other Peaky regulars Charlie Murphy (Jessie), Kingsley Ben-Adir (Colonel Ben Younger), Harry Kirton (Finn Shelby), Packy Lee (Johnny Dogs), Ned Dennehy (Charlie Strong), Ian Peck (Charlie's assistant Curly) and poet/musician Benjamin Zephaniah as Jeremiah Jesus.
No word yet on whether Tom Hardy will be reprising his role of rival gang leader Alfie Solomons: It's unlikely, given the, uh, events of season four, but we live in hope.
Season five of Peaky Blinders is due to start streaming in the U.S. in early 2019.
Are you excited to see Tommy back in the saddle?