Exclusive Interview: Mat Fraser on Curating Authentic Disabled Stories for BBC America's Groundbreaking 'CripTales' Series
To mark National Disability Employment Awareness Month, BBC America is premiering CripTales, a collection of six short films each written by a disabled writer and performed by a disabled actor. Curated by British actor, writer, and activist Mat Fraser – whose résumé includes appearances on American Horror Story, Silent Witness, and His Dark Materials – they tell a broad range of stories with authenticity, warmth, wit, and poignancy. Fraser himself plays a present-day actor dreading his latest audition, while rising star Ruth Madeley (Years and Years, BBC America's upcoming The Watch) portrays a woman in 1968 contemplating the future of her pregnancy.
All six films are available to stream now for free as part of AMC's Visibility Collection, which also includes This Close, a comedy-drama series from deaf creators Shoshannah Stern and Josh Feldman, and Push Girls, a reality series following four women living with paralysis. To find out more about the groundbreaking CripTales series and what Fraser hopes it will achieve, we gave the super-passionate creative a call at his home in New York City.
How did you go about curating these short films? What was your starting point?
I realized quite quickly that we couldn't commission them by asking people to write about a particular impairment – that would just be so wrong. So what we did was this: we found six brilliant writers and asked them what they wanted to write about. Everybody wanted to do something that covered a slightly different situation and required an actor with a different impairment, so we let that be the way we decided. Yes, I did have misgivings about there not being any representation of little people or visually impaired people or deaf people. But for example, Genevieve Barr, a very talented writer who is deaf herself, she chose to write about abortion. It's very rare that you get a disabled woman – let alone Ruth Madeley – looking straight to camera and doing a brilliantly-written monologue about would-be disabled mothers, abortion, religion, disability, and who has the right to have a baby, all wrapped up in a story that's set just after abortion became legal in the U.K. That's incredibly powerful, so I was never going to say, 'Could you do something deaf instead?' So that's how we decided what the six monologues should be. Had we had 15 monologues [to commission], I'd perhaps have been tempted to apportion them slightly differently.
Are there any of the films that you think viewers will find especially eye-opening?
I love all of them for different reasons, but as someone who wants to see authentic, different stories around disability portrayed to their optimum power, I have to say I'm most proud of Hamish by Jack Thorne – a very famous writer who is disabled. It depicts a young gay man in a small village getting his first electric wheelchair and suddenly, you know, he doesn't have to be pushed around by his mum. He can do what he wants for the first time – and boy does he go and do what he wants! It's a fairly raunchy tale, it's a gay tale, and it's so different from anything we've seen before. [The actor] Robert Softley Gale has fair-to-middling cerebral palsy, which does affect his voice, and he's from Glasgow, which means his accent might be difficult for anybody from outside of that region to understand. A lot of round-robin emails went around between me, the producers, and Softley Gale, who had the final say, and ultimately we agreed to use creative subtitles in his piece. So all in all, it's some of the most special television I've ever seen. But honestly, I'm incredibly proud of all of them and could eulogize about each of them individually.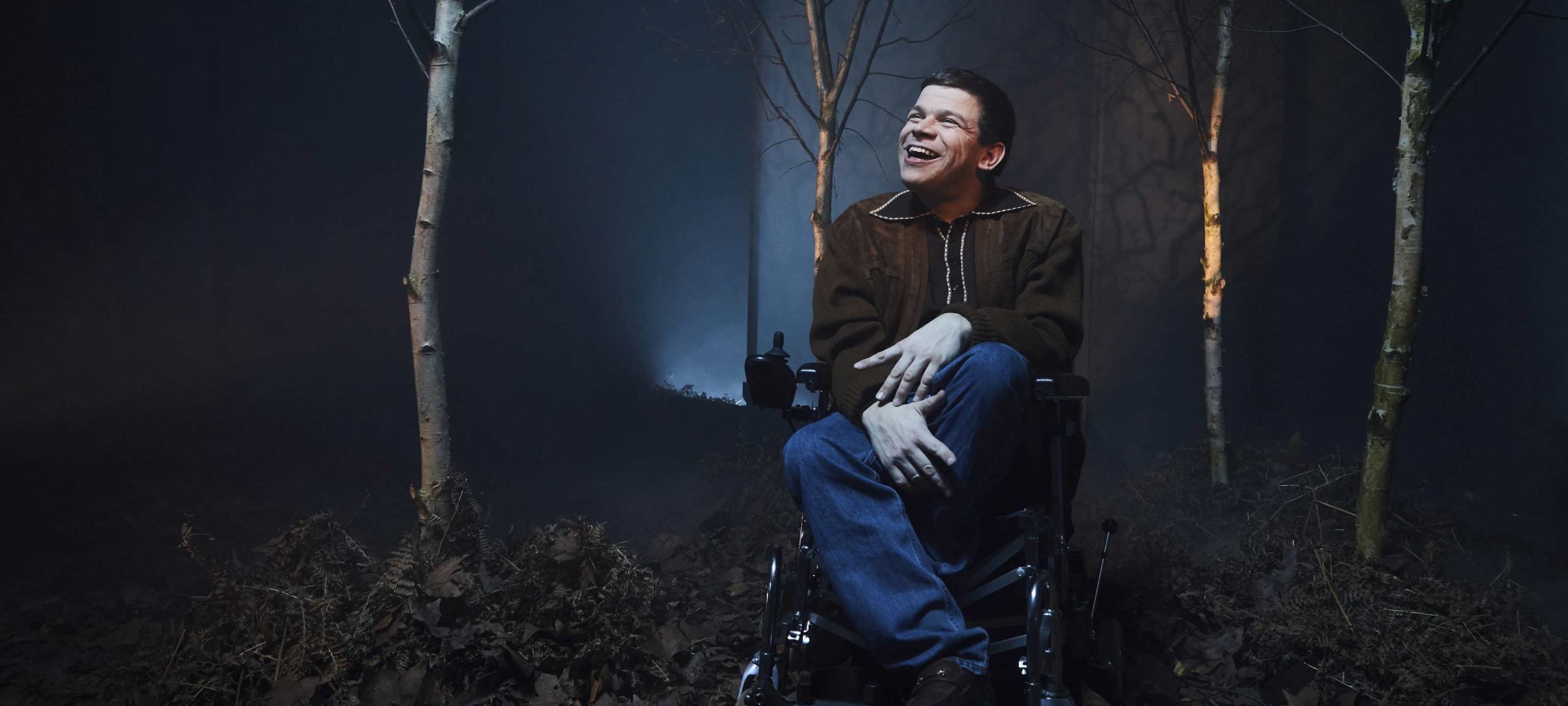 Times have changed and the industry is finally evolving, but how do you feel about the many able-bodied actors over the years who've played disabled characters, and often won acclaim for it?
I could list 'em all, mate, you know what I mean? It's my M.O. But I'm not going to, I'm just going to say: 'That's boring, that's the past, what about the future?' Yeah, sure, we needed Sandy from ['60s and '70s British soap opera] Crossroads to play a wheelchair-using receptionist, because for some reason they couldn't cast an actor who was a real wheelchair user. But nobody would do that now. Yes, it was a product of its time, but I wouldn't say it was necessary because it was never necessary to not have a disabled actor playing a disabled character. But it was what happened. I'm not going to bang on about it and get super-angry about it now. I mean, I was a little disappointed about a feature film that came out in the last six months, Come As You Are, which featured able-bodied actors playing disabled characters. But I'm much more interested in looking forward and telling you about how amazing CripTales is.
They're not just great disabled stories – they're great stories, period.
Absolutely. I challenge anyone who watches these monologues to think, 'I'd rather we go back to when writers who aren't disabled wrote disabled characters and able-bodied actors played them.' Commissioning editors should be getting in touch with these disabled writers and saying, 'Let's turn the page and make something exciting with disabled actors.' It was the BBC drama department who – alone in the world – actually said a few years ago: 'You know what, we want authenticity.' So it's not just if you're playing Glaswegian, you should probably come from Glasgow; it's if you're playing a disabled character, you should definitely be a disabled actor. I'm not going to bang on about the politics of it all, but boy do the results show that this is the right thing to do. You can't tell me that Ruth Madeley in Years and Years isn't a fantastic actress who brings a disabled physical status as merely one of the things she brings to the role – along with her wonderful acting.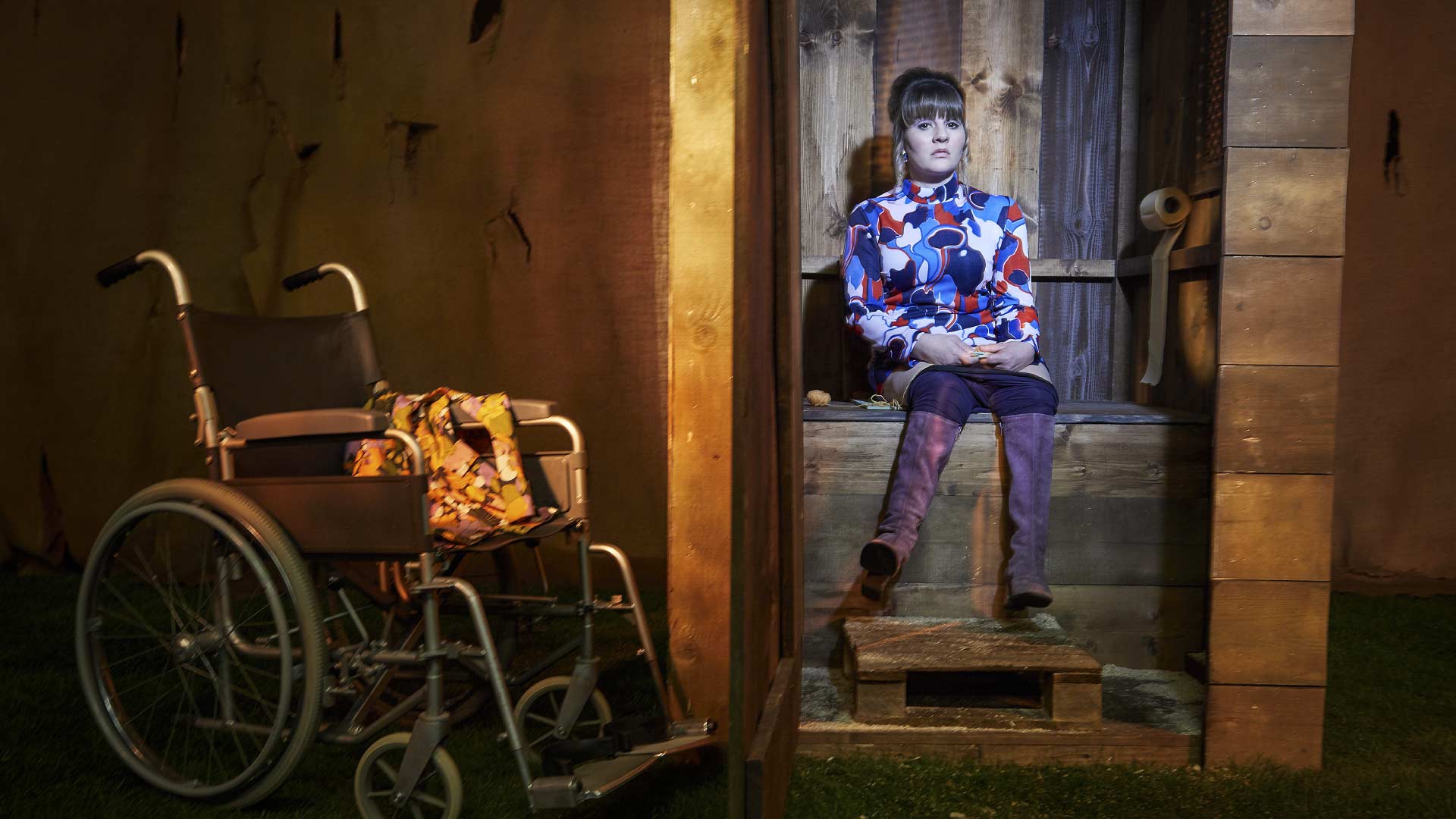 What do you ultimately hope that CripTales achieves?
Oh, it's clear to me. I want every single individual – every single disabled creative that's been involved in CripTales – to get one more job in the television industry. If the BBC were to come to me and say, 'OK, let's do disability duologues now,' I'd jump at the job! But also, let's try and spread disabled talent throughout the network. We're all good at what we do. We just want to be given the work and then we can help you make some really good drama. And you know, I say this to people who are chasing awards – people who want to make 'the show that changed the world.' We all know the tired old cliché that if you want an Oscar, you should play a disabled person. But what people haven't realized is this: the first few dramas that have disabled actors showing heroic leadership and traits we haven't allowed them to show before, they are going to clean up at the awards. I'm ever the champion of this, and it's my raison d'être and I love it. You know, the trouble with me is that I am an actor and a writer, but I'm also an activist, and sometimes all of that gets a bit mixed up. But luckily I down't write awful, overbearing, politicized scripts anymore that are just about the construct of disability!
Stream CripTales and the rest of the Visibility Collection free on BBCAmerica.com and apps.
Which short film was the most eye-opening for you?