'Doctor Who's Day Roundup: That's a Wrap!
Welcome to the latest Doctor Who's Day roundup, your one-stop-shop for all the latest news, fun and creativity bursting out of the TARDIS doors and onto your screens.
And we start this week with an exciting moment, as Season 11 of Doctor Who has officially completed shooting!
https://www.instagram.com/p/BmBvrYugcC9/
Of course, there's still plenty of work still to do to get the season completed before it lands on BBC America this fall. But this is a landmark moment for the first season to star Jodie Whittaker as the Doctor, and the first under new head writer and executive producer Chris Chibnall. It's getting closer, and we can't wait…
Here's what else the universe has had to offer this week:
• We got a look at the special t-shirts worn by the cast and crew during the making of Season 11. And yes, we want one:
https://twitter.com/Slippery_Jack/status/1025078639149375489
• After last week's announcement of no fewer than 13 variant covers for Titan Comics' upcoming Thirteenth Doctor comic book series, we've now seen several of the covers revealed as the issues have become available for pre-order.
They include this fantastic painting by Alice Xhang: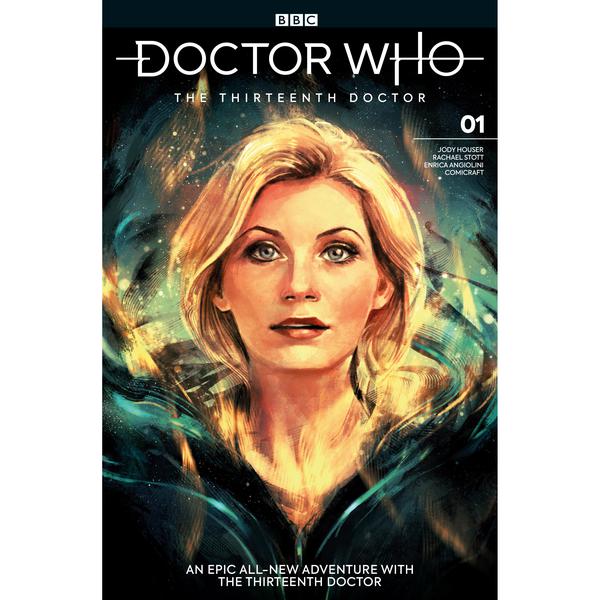 One by regular series artist Rachael Stott: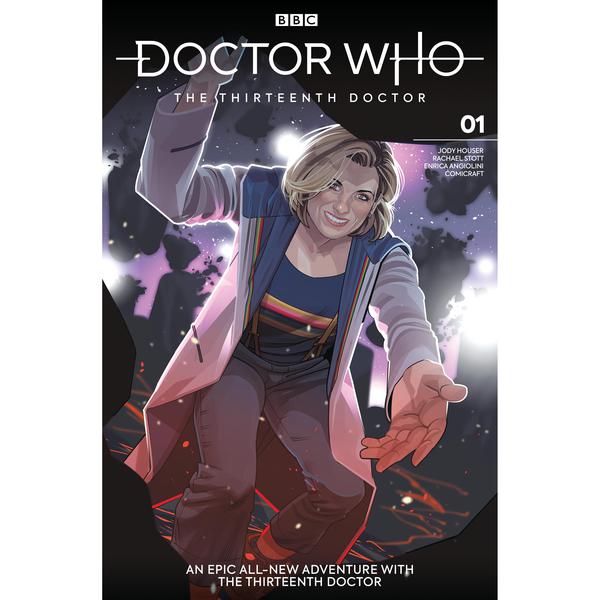 A cosplay cover featuring Athena Stamos: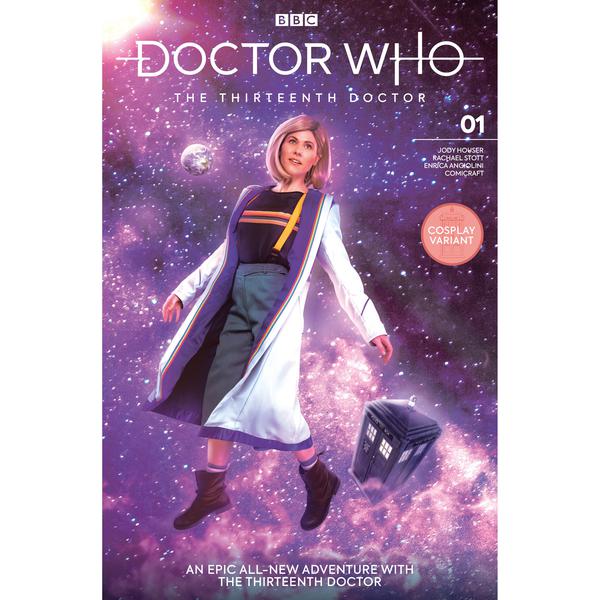 A lovely cartoony take by Katie Cook: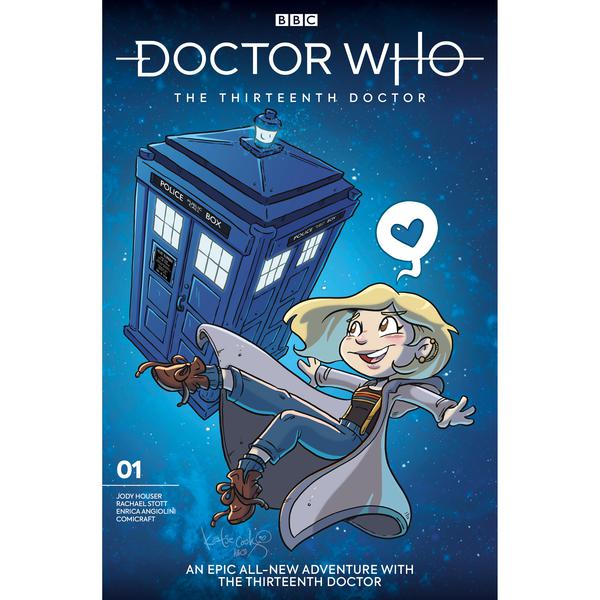 And delightfully, a cover featuring Doctor Puppet, by Alisa Stern: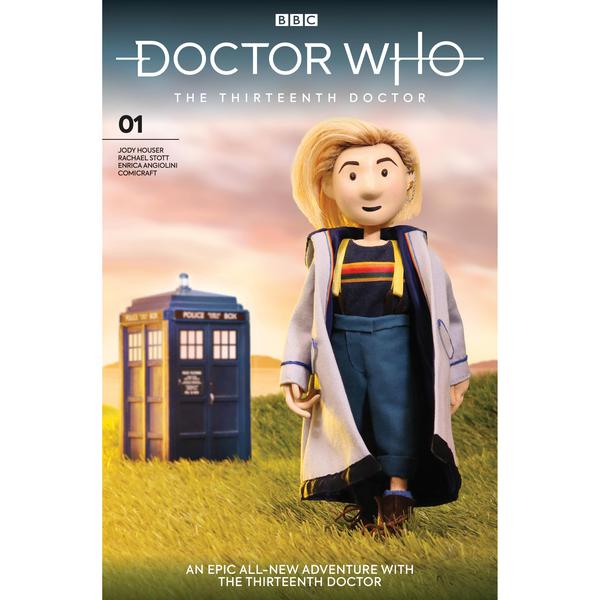 Alisa shared a behind-the-scenes snap of the making of her cover, too:
https://twitter.com/TheDoctorPuppet/status/1025073436673146880
And if you're unfamiliar with the process of ordering comics, here's a handy multi-tweet guide (click through to read the full set):
https://twitter.com/DWComicArt/status/1026524341675143169
• If you prefer your illustrated Doctor Who stories to be more picture-book in nature, then you'll be pleased to know that One Doctor Two Hearts: A Doctor Who Counting Book is now available to buy! Suitable for small children and not-so-small non-children alike….
• The Fan Show went digging behind the sofa and found this long-awaited artefact: the third chapter of Steven Moffat's epic "exit interview" upon leaving the show! So settle in and get ready for the new era by saying farewell to the old era with 24 minutes of chat, including revelations about who the Season 9 companion might have been…
https://www.youtube.com/watch?v=styqnGNTffM
• And in current showrunner news, speaking to Digital Spy, Chris Chibnall has elaborated further on his desire to keep the plot details of Season 11 as secretive as possible.
• The latest Doctor Who Magazine Special Edition is out this week, and is all about… fandom! It's got insight into the histories of online and offline fandom, a look at conventions, and plenty more besides:
https://twitter.com/DWMtweets/status/1026362836132528128
• Celebrating five years since Peter Capaldi was cast as the Doctor this week, designer Stuart Manning shared some of his favorite moments from working on photoshoots with the Twelfth Doctor:
https://twitter.com/stuart_manning/status/1025733474001604608
• We asked last week if any fans at the London Film and Comic-Con had managed to bag more than five out of the incredible nine former Doctors who were in attendance… and sure enough, some of you did. Here's Dean, who got all nine:
https://twitter.com/017c9d83dc67424/status/1024781325922910209
https://twitter.com/017c9d83dc67424/status/1024781525697605632
... and Adam, who bagged all nine Doctors and a Moffat. Incredible work!
https://twitter.com/Muzzy88/status/1024091879854489600
https://twitter.com/Muzzy88/status/1024091927124140032
• Maybe the funniest thing we've seen all week, the "musicless video" viral trend applied to the opening titles of early '80s spinoff K9 and Company by Pip Madeley:
https://twitter.com/pipmadeley/status/1024706628984229893
• It's another of those brilliant photo treatments from Clayton Hickman, this time going all the way back to the very beginning:
https://twitter.com/claytonhickman/status/1026156261484777472
• And Clayton worked with Si Hodges to restore this Peter Davison photo, last seen adorning a record sleeve:
https://twitter.com/SiHodges79/status/1025447367208828937
• Fanart corner now, and a Japanese-inspired Thirteen:
http://artycomicfangirl.tumblr.com/post/176238620729/are-you-ready-folks-ready-for-a-new-adventure
• A neat sketchy take on Jodie:
https://prickleybitch.tumblr.com/post/176293574928/13
• More cartoony takes on the Doctor…
http://shroominthealmighty.tumblr.com/post/176669046271/13th-doctor-waiting-patiently-to-see-jodie-in
https://madwoman-with-a-box.tumblr.com/post/176511543080/me-after-seeing-one-entire-minute-of-footage-of
… and the entire new TARDIS crew!
http://tomhortons.tumblr.com/post/176109210338/yo-catch-me-with-that-sdcc-hype-commission
• And a digitally-painted Tenth Doctor:
https://mad-girl-with-a-box14.tumblr.com/post/176375051194
• A lovely montage of Doctor Who opening titles here – spot the joins! – set to the epic version of the theme from "The Day of the Doctor":
https://www.youtube.com/watch?v=yR8cPXOb_6A
• And finally, we'd love to know the timey-wimey story behind the apparent appearance of a bunch of TARDISes in mid-air in Manchester:
https://twitter.com/Wigan_Steven/status/1026050164044300289
Is this an upcoming Season 11 plot? Or just some half-built doors that look familiar to our far-too-Who-obsessed eyes…?
TTFN!