Doctor Who: Where Have We Seen the Doctor's New Friends Before?
Jodie Whittaker won't be embarking on her Doctor Who journey alone. Joining her in the TARDIS, starting this Sunday (Oct. 7), will be Bradley Walsh as Graham, Tosin Cole as Ryan and Mandip Gill as Yasmin, with Sharon D. Clarke taking a recurring role.
"We're thrilled to welcome Mandip, Tosin and Bradley to the Doctor Who family,"  says new head writer and executive producer Chris Chibnall. "They're three of Britain's brightest talents and we can't wait to see them dive into brand new adventures with Jodie's Doctor. Alongside them, we're delighted that Sharon D. Clarke is also joining the show."
And if you're wondering exactly where you may have seen these faces before, here are a few hints.
Bradley Walsh is the best known face to British viewers. He's an all-round entertainer, comedian, former professional soccer player, actor and singer:
https://www.youtube.com/watch?v=Gi0Ia2Bxo2U
Who had a best-selling album out, in 2016:
https://youtu.be/YuWOG6Yvp-g
Currently he's enjoying great success as host of the game show The Chase:
https://www.youtube.com/watch?v=_RfI_dn1i1Q
And he was the U.K. host of Wheel of Fortune in the late '90s... complete with a sort of box of his own:
https://youtu.be/sjMYiAOkprY
He established his acting chops in 2004, playing Danny Baldwin in the iconic British soap Coronation Street:
https://www.youtube.com/watch?v=dmvQn6jzk9Q
He's a confirmed Whovian, having taken a ringmaster role in The Sarah Jane Adventures:
https://www.youtube.com/watch?v=KNS2S9dfpAg
And he's starred in Law & Order: UK, alongside fellow TARDIS traveler Freema Agyeman:
https://www.youtube.com/watch?v=go8iTJEYw8M
Mandip Gill is a graduate of the youth-oriented British soap opera Hollyoaks, having made a big splash with her appearance as homeless teen Phoebe Jackson:
https://www.youtube.com/watch?v=uV4Yqqy6KFg
There followed a series of medical roles, including the BBC's daytime soap Doctors, and cameo appearances in the medical drama, Casualty, and the The Good Karma Hospital. And last year she played a junior registrar in Kay Mellor's drama Love, Lies and Records:
[caption id="attachment_415003" align="aligncenter" width="1920"]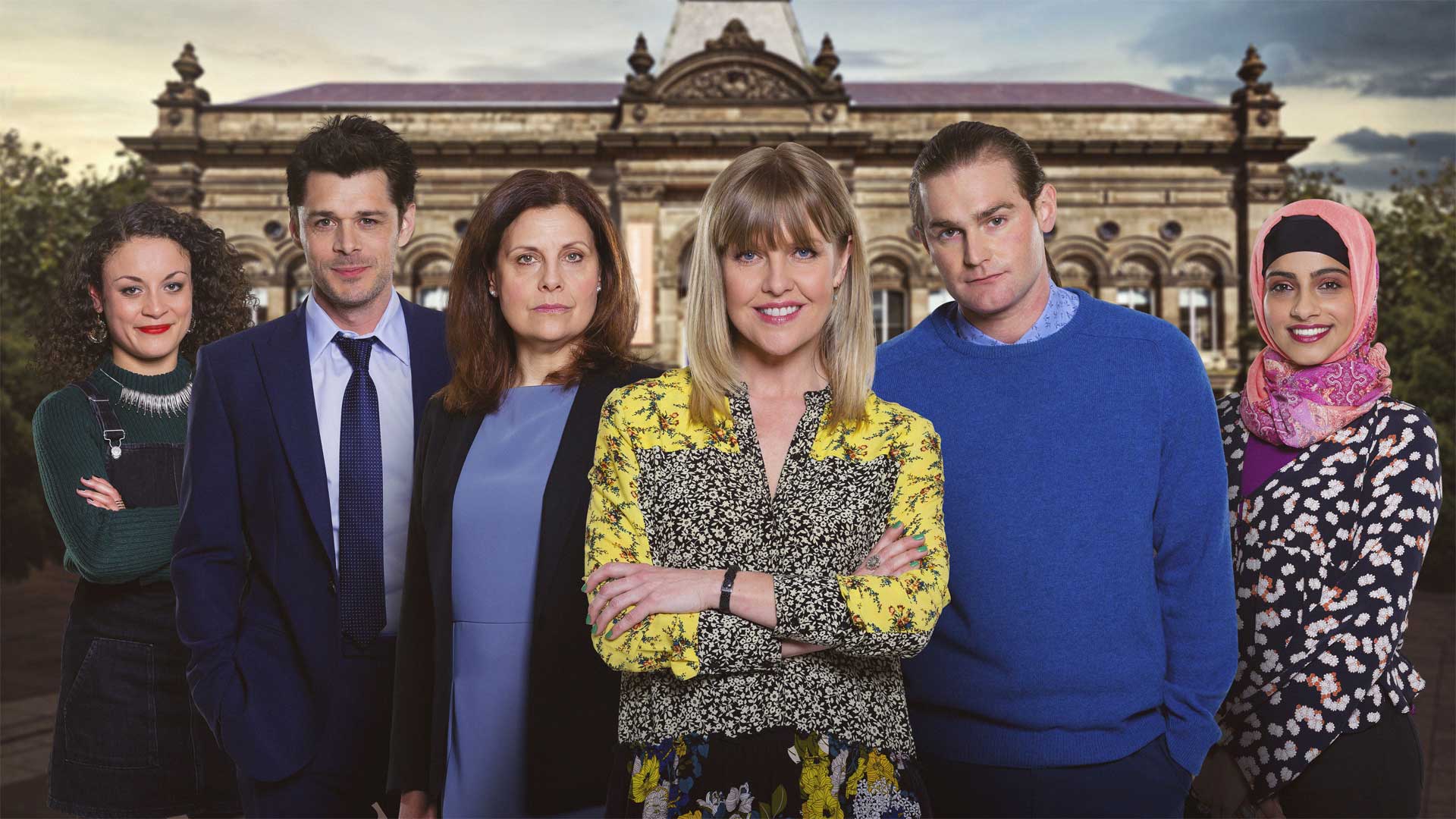 (Photo: BBC)[/caption]
Tosin Cole is another Hollyoaks star, although Doctor Who is not his first appearance in an enormous sci-fi franchise:
https://twitter.com/WHOsbands/status/922219399003754496
https://www.youtube.com/watch?v=jKFdwxDTyuI
His first actual franchise appearance was in 2010, playing Sol Levi in the EastEnders spin-off E20:
https://www.youtube.com/watch?v=4VLqAaWgOxo
He later went on to appear in Hollyoaks as Neil Cooper, and his exit from the show was truly explosive:
https://www.youtube.com/watch?v=JTm0NiXHhLY
In 2011, he appeared in the online short Me and My Dad:
https://www.youtube.com/watch?v=ewg-4E6Rrag
This was a year after taking the role of Noah in the BBC online teen drama The Cut:
https://www.youtube.com/watch?v=a4ZWOEIefDE
But you may have seen him more recently as Frank in the Netflix series Burning Sands:
https://www.youtube.com/watch?v=Jf6bpB9czoQ
And it's fair to say he had confidence to burn from the start. Here he is goofing for the camera as a member of Intermission Youth Theatre while getting a makeover in 2011:
https://www.youtube.com/watch?v=OmwQO7S4iFk
Sharon D. Clarke has a fine resume of West End musical roles, including Killer Queen in We Will Rock You and originating Oda Mae Brown in Ghost the Musical, General Cartwright in Guys and Dolls, Joanne Jefferson in Rent, Miss Sherman in Fame and Rafiki in The Lion King. And in 2014 she won Best Supporting Actress at the Olivier Awards for her part in James Baldwin's The Amen Corner.
https://www.youtube.com/watch?v=ZobY801hcQw
Her list of TV cameos takes in some giants of British TV, including The Singing Detective, Death in Paradise, Soldier Soldier, The Bill, Waking the Dead, but she is best known as the singing nurse Lola Griffin in the BBC's medical drama Holby City:
https://www.youtube.com/watch?v=zpT2ldRrAic
And in January 2017 she was awarded an MBE for services to drama. Not the first brush the Doctor has had with royal approval.
Don't miss the Doctor Who premiere simulcast Sunday, October 7 at 1:45 p.m. ET/10:45 a.m. PT, only on BBC America.
Do you feel caught up now?