'Doctor Who': 10 Things You May Not Know About 'Robot of Sherwood'
May 7, 2018
In "Robot of Sherwood" we see the new Twelfth Doctor's flinty veneer and know-all demeanor rub up against the stuff of legend, as he attempts to prove to Clara that there never was a Robin Hood, and fails.
There are also robot knights, a big vat of bubbling metal and a golden arrow, and lots and lots of bickering (but let's be clear, no banter).
Here are a few things to keep an eye out for, the next time you watch:
(The episode is available on iTunes and Amazon.)
Mark Gatiss approached this story with a simple premise, to cram all of the mythology around Robin Hood into one story, but he wasn't trying to make it as humorous as it turned out: "Like 'Victory of the Daleks' was a Second World War movie in 45 minutes, I wanted to do the Doctor and Robin Hood in 45 minutes and to put everything in it, with all that brio – the things that are constant in the single version. In the grand scheme of the 12 episodes, it might be the most light-hearted one this year. The premise is inherently funny, but I didn't think of it as the funnier episode when I was doing it. It's still asking big questions. But it's definitely more frivolous."
As he tries to work out how they ended up in what he considers to be a fake reality, the Doctor's conjecture happens upon two of his previous adventures: "Could be a theme park from the future. Or we might be inside a miniscope". The Third Doctor and Jo Grant found themselves inside a miniscope—a bigger-on-the-inside display case for alien races—in "Carnival of Monsters", and the First Doctor and friends found themselves in a Earth theme park created as part of the Festival of Ghana from the then-impossibly distant future of 1996, in "The Chase".
Fans of classic Doctor Who may well recognize the face of Friar Tuck, as he's played by Trevor Cooper, who appeared as Takis, alongside the Sixth Doctor in the 1985 story "Revelation of the Daleks"). His voice also appears in quite a few Doctor Who audio adventures for Big Finish, including "The Haunting of Thomas Brewster," "The Doomwood Curse," "The Beast of Orlok," and "Judoon in Chains."
[caption id="attachment_425916" align="aligncenter" width="1920"]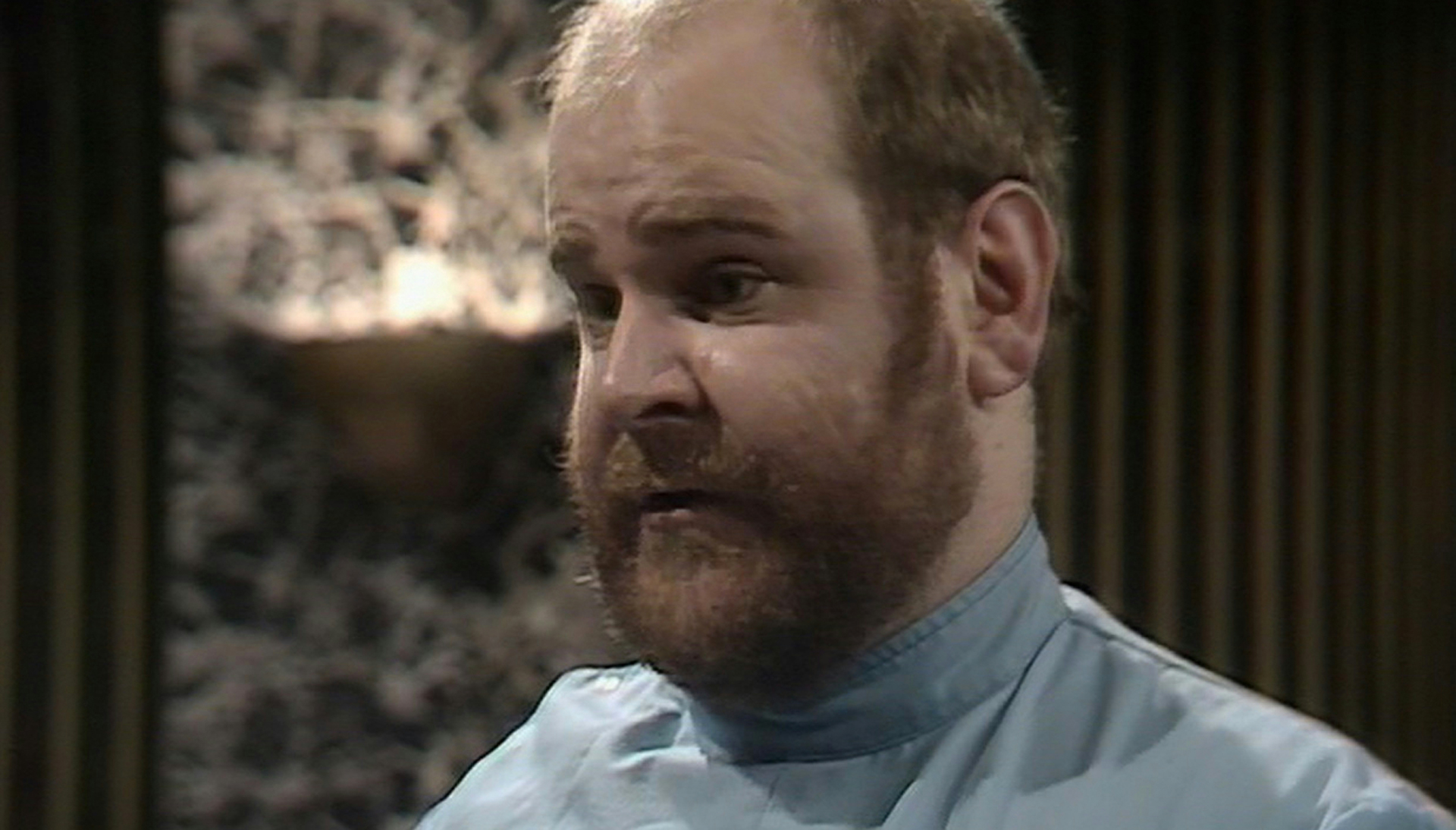 "Revelation of the Daleks" (Photo: BBC)[/caption]
There's a crossover between the worlds of Doctor Who and Roald Dahl in this story, in that the role of Little John is played by Rusty Goffe, whose career includes roles in Flash Gordon and Star Wars, and who appeared as one of the Oompa-Loompas in the original movie adaptation of Dahl's book Charlie and the Chocolate Factory (titled Willy Wonka & The Chocolate Factory).
The Sheriff of Nottingham refers to the Doctor's "tunic" as "an intriguing gallimaufry," using a word which sounds like it was created for the show as a pun on Gallifrey. In fact it dates back to the 1500s, taken from the Old French galimafrée, meaning "unappetizing dish." In cooking this meant a dinner made up of a jumble of haphazardly chosen ingredients, and the word was later used to mean any jumble of objects or ideas collected with no particular purpose in mind.
Another slightly out-of-time quotation from the Sheriff occurs when he refers to England as "this sceptred isle," a line taken from Shakespeare's Richard II. And when he snorts "Who will rid me of this turbulent Doctor?" in exasperation, he's paraphrasing a comment attributed to Henry II, whose ambiguous sigh of "Who will rid me of this turbulent priest?" is thought to have been a contributing factor in the assassination of Thomas Becket, Archbishop of Canterbury, in 1170.
[bbca_video_embed media_id="537820739531" video_id="fJE0j3762hhk"]
Ian Hallard, who plays Alan-a-Dale, is also a veteran of Big Finish productions, although he'll possibly be most familiar to Whovian viewers as director Richard Martin, seen shouting at Daleks on Westminster bridge in Mark Gatiss's Doctor Who biopic An Adventure in Space and Time. As a side note, he's also Mark Gatiss's husband.
One of the images that comes up in the spaceship database concerning Robin Hood is taken from the first TV depiction of the English folk hero filmed by the BBC. The star of the show was none other than Patrick Troughton, otherwise known as the Second Doctor:
[caption id="attachment_425915" align="aligncenter" width="600"]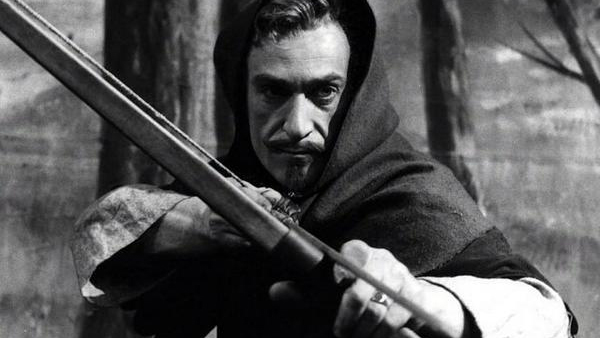 (Photo: BBC)[/caption]
Shortly before this episode was first aired, a scene was removed from the final battle, in which the Sheriff's head was cut off, only to reveal he is actually a robot too. This explains why the Sheriff claims to be "The first of a new breed. Half man, half engine", and how his hands could appear from the vat of molten gold at the end. The scene had been written and filmed some months prior to the high profile murders of journalists James Foley and Steven Sotloff, who were beheaded by ISIS in August and September 2014. On 4 September the BBC announced it would be edited out.
As a continuation of a long tradition of British TV comedy stars appearing in dramatic roles in Doctor Who, Ben Miller's appearance as the Sheriff of Nottingham will have struck a familiar note with British audiences. He's best known as the sketch comedy partner of Alexander Armstrong (the voice of Mr. Smith in The Sarah Jane Adventures and Madge Arwell's husband Reg in "The Doctor, the Widow and the Wardrobe"):
NEXT: 10 things you may not know about "Listen"
Now go back and read the entire 10 Things You May Not Know About Doctor Who archive.