'Doctor Who': 10 Things You May Not Know About 'In the Forest of the Night'
The Earth is once again in peril, and the Doctor and Clara are on hand to try and save the day, but that is not exactly how things pan out. There are nods to classic fairytales and some very familiar London landmarks given a horticultural makeover in this story of love and protection.
Here are a few things to keep an eye out for, the next time you watch:
(The episode is available on iTunes and Amazon.)
Frank Cottrell Boyce, who wrote the script, is a massive fan of the Doctor—"I guess my childhood hero would have to be Doctor Who – Jon Pertwee's Doctor"—As part of a promotional interview for his rebooted series of Chitty Chitty Bang Bang books by Ian Fleming, he compared the two, saying: "Doctor Who has a lot in common with Chitty like the time travel, the fantastic piece of gadgetry, the Sixties… they're really based in the Sixties – whatever they've become, there's something very Sixties about the idea of them both. Writing Doctor Who has been very like writing Chitty. And I loved writing Doctor Who. You can throw any story at them and it'll make sense. You can go to El Dorado or the future or to the Anglo-Saxons and it'll use it for fuel."
The Doctor refers to "The Tunguska Blast, 1908," a huge unexplained explosion in Siberia, 1,000 times more powerful than the atomic bombs dropped on Hiroshima and Nagasaki, which flattened around 80 million trees in an area of around 800 square miles. It appears to have been caused by a flying object—an asteroid or comet—entering Earth's atmosphere and exploding some miles above the surface.
He also refers to Curuçá in Brazil. That's the site of a similar event—commonly assumed to be the impact of a fragmented asteroid—that happened on 13 August, 1930.
There are lots of little nods and references in this story. The girl who spots a red ring in the middle of a cross-section of an ancient tree is called Ruby, Maebh is given a red hooded coat and chased by wolves, to underline Clara's point about fairy-tales. And her surname is Arden, the forest setting for Shakespeare's As You Like It. The tiger appears because of the William Blake poem "The Tyger," that gave this story its title: "Tyger! Tyger! burning bright / In the forests of the night"
In a rare self-referential moment, there's an advert for Doctor Who on the side of the bus Clara, Danny and the children spot as the emerge from their museum sleepover. It's actually a cardboard cutout of a bus:
[caption id="attachment_431212" align="aligncenter" width="1600"]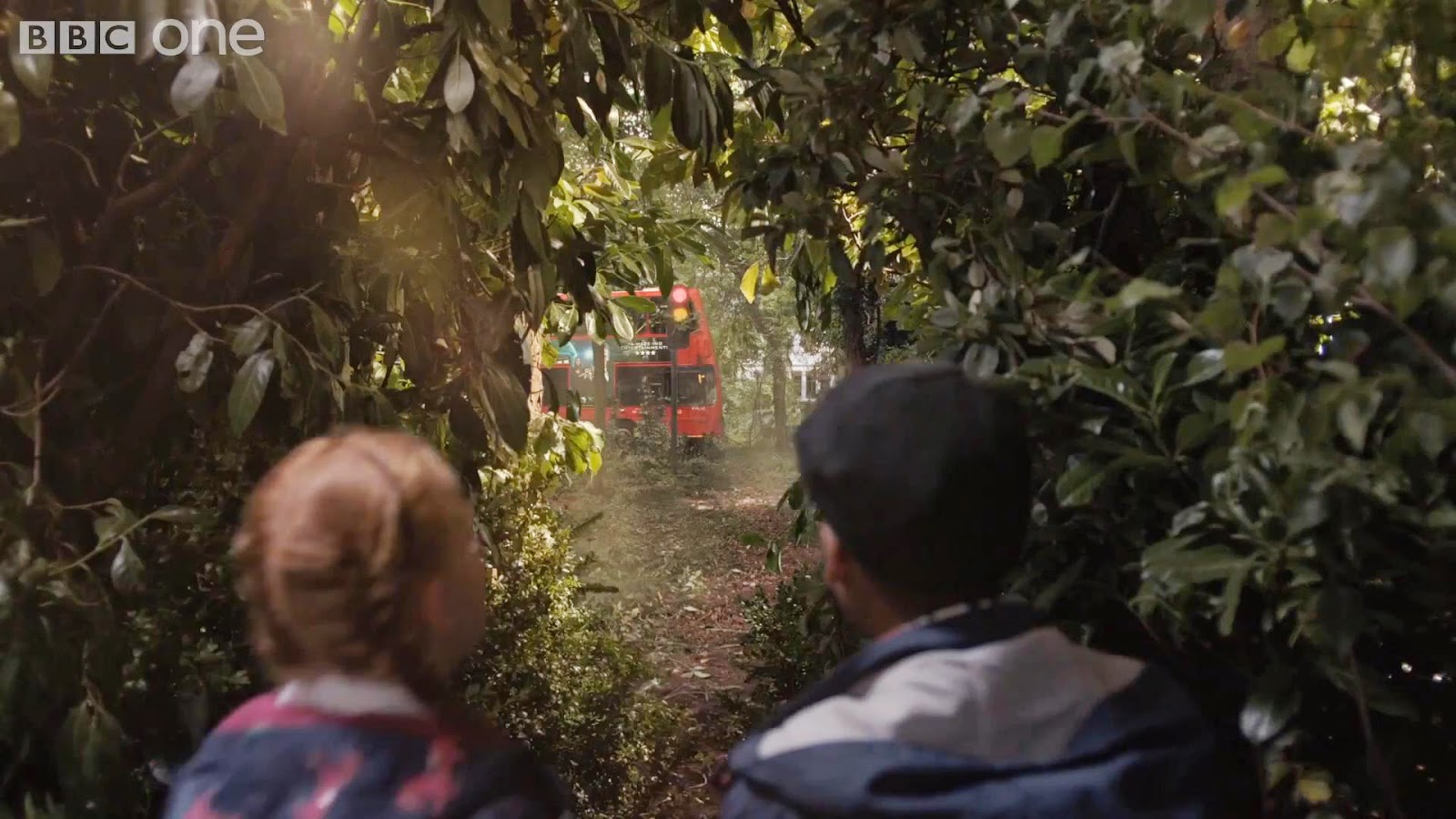 (Photo: BBC)[/caption]
This has happened before, with the Seventh Doctor adventure "Remembrance of the Daleks" showing a TV set on which a continuity annoucer is heard to say "And now for a new science fiction adventure, Doc-" before cutting out.
Possibly as a callback to his military past, Danny has the kids from Coal Hill School singing the song "Everywhere We Go," which has been used as a marching chant for decades. It's been sung by boy scouts, children at camp and supporters of all manner of sporting teams, from cricket to soccer.
The Doctor refers to the new forest as being "like the New Forest, except even newer." And he's really not kidding. The actual New Forest—formerly called Ytene—is an area of woodland and heath that covers south-east Hampshire, was given its name in 1079 by William the Conquerer. It was annexed as a hunting ground, which necessitated the removal of around 20 hamlets and farmsteads. In 1086, the New Forest was recorded (as "Nova Foresta") in Domesday Book, and it is the only area of woodland recorded in full detail by the book.
In other new forestry news, there were plans in announced in January 2018 to plant an entirely new forest of around 50 million trees in northern England.
The idea that humankind will easily forget a cosmic event on this scale has been explored before. In Remembrance of the Daleks, the Doctor explains to Ace that humans prefer not to think about these things, saying: "Do you remember the Zygon gambit with the Loch Ness Monster? Or the Yeti in the Underground? Your species has an amazing capacity for self-deception..."
Clara refers to Oyster Cards, which—to non-London-based Whovians—are the pre-paid tickets people use to travel on the London Underground.
She also rounds on Danny, saying "London has just been taken over by a gigantic forest. Who do you want to talk to, Monty Don?" Monty Don is a British TV presenter and gardening expert, best known for presenting the horticultural BBC TV series Gardners World:
https://www.youtube.com/watch?v=gqdGAsJ2kpQ
NEXT: 10 Things You May Not Know About 'Dark Water'
Now go back and read the entire 10 Things You May Not Know About Doctor Who archive.