Casting News: Gemma Arterton to Play Dusty Springfield in New Biopic
British soul singer Dusty Springfield is getting the biopic treatment, with Gemma Arterton attached to star. Variety reports the Their Finest star will play Dusty in So Much Love, the directorial debut of Carol screenwriter Phyllis Nagy.
Gemma's clearly excited about her casting. "I have been an admirer of Dusty Springfield since I was a teenager," she told Variety, "her effortless husky voice, the way she conveyed emotion through music, how she helped bring Motown to the U.K.
"She was generous, witty, mercurial, shy, extrovert and a true English eccentric. I simply cannot wait to play her."
It's the latest in a slew of interesting roles for Gemma, whose early films included comedies like St. Trinian's (2007) and Tamara Drewe (2010). She's recently received plaudits for her performance as a depressed mother in The Escape alongside Dominic Cooper, and will play Vita Sackville-West in Vita and Virginia, which has its world premiere at the Toronto International Film Festival tonight (September 7).
Dusty Springfield is an equally complicated figure. Described as "an innovative, brilliant artist and a complex, contradictory woman" by screenwriter Nagy, she was born in London in 1939, and became a 1960s icon whose hits included "I Just Don't Know What to Do with Myself" and "Son of a Preacher Man."
[caption id="attachment_434603" align="alignnone" width="640"]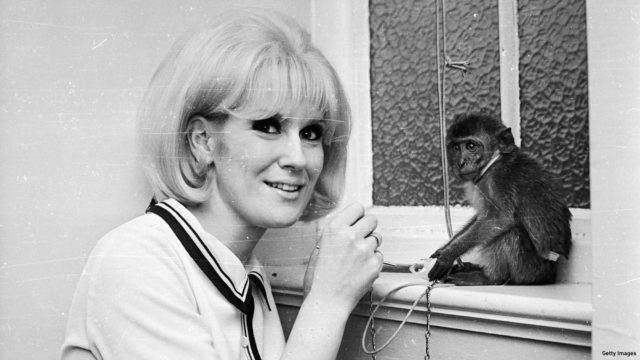 Dusty Springfield and pal in 1966. (Photo: Stan Meagher/Express/Getty Images)[/caption]
The film will follow her odyssey to the city of Memphis, where she recorded her career-defining album Dusty in Memphis in 1968. The official synopsis reads:
"It will follow her as she navigates her way through the politics of the recording studio and the city, and will also explore her encounter with the music of Motown, her stand against apartheid policies during her aborted South African tour and her thorny brushes with men in the music industry."
Producers Elizabeth Karlsen and Stephen Woolley, who also worked on Carol (2015) with Nagy and Byzantium (2012) with Gemma, announced they were proud to tell "a story that places a woman at its center" and reunite with "two great female talents behind and in front of the camera."
Do you like the sound of this movie?