British Icon of the Week: Dame Shirley Bassey, the Eternally Glamorous Voice of Bond
(Photo: Getty Images)
The great Dame Shirley Bassey has just set a new chart record. When her "grand finale" album I Owe It All to You entered the U.K. albums chart at number five last week, she became the first female artist to score a Top 40 album in seven consecutive decades.
"Thank you to Wales! Thank you to the music! And for my fans – I Owe It All To You!" she said in a press statement after hearing the news. To celebrate, here are 10 things we love about the eternally glamorous singer, now 83, who scored her first hits in the late '50s.
1. She's the only singer to have performed more than one Bond theme.
Bassey has actually performed three of them: 1964's "Goldfinger," 1971's "Diamonds Are Forever," and 1977's "Moonraker." "Goldfinger" was the biggest chart hit, peaking at number eight on the U.S. Billboard Hot 100.
2. In 2004, she was voted one of the 10 greatest Black Britons in a BBC poll.
Bassey's incredible success is all the more remarkable given that she came from a humble background and grew up in a time of prevalent and unashamed racism. The daughter of an English mother and Nigerian father, she was born in Tiger Bay, a working-class neighborhood of Cardiff, then moved with her family to nearby Splott. Her father left when she was two, leaving her mother to raise Bassey and her six siblings as a single parent. After leaving school at 14, Bassey worked in a factory and sang in pubs and clubs during the evenings until her career really took off.
When the BBC announced it was making a TV movie about her life in 2011, biographer John Williams said of Bassey: "In 1954 she's a mixed race pregnant teenager, waiting tables and heading down the same road as her mother. By 1964, she's singing the theme tune to Goldfinger and is a glamourpuss who's number one on both sides of the Atlantic. If that's not worthy of a film, I don't know what is."
Check out Bassey singing the biographical song "The Girl from Tiger Bay" – written for her by Welsh band Manic Street Preachers – at the BBC Electric Proms in 2009.
3. In 2000, Queen Elizabeth II awarded her a Damehood for services to the performing arts.
And Bassey is definitely happy for you to use her formal title. Asked in 2009 how people refer to her now, she told The Guardian: "Anything. Everybody enjoys making their own up. DSB, Dame Bassey, which is so awful because you don't say Dame Bassey. Dame Shirley, of course. And my friends call me Dame!"
4. When she played Glastonbury Festival in 2007, she did it in a very Bassey way.
The U.K.'s most iconic music festival is known for being wet and muddy, so Bassey arrived wearing Wellington boots... customized, naturally.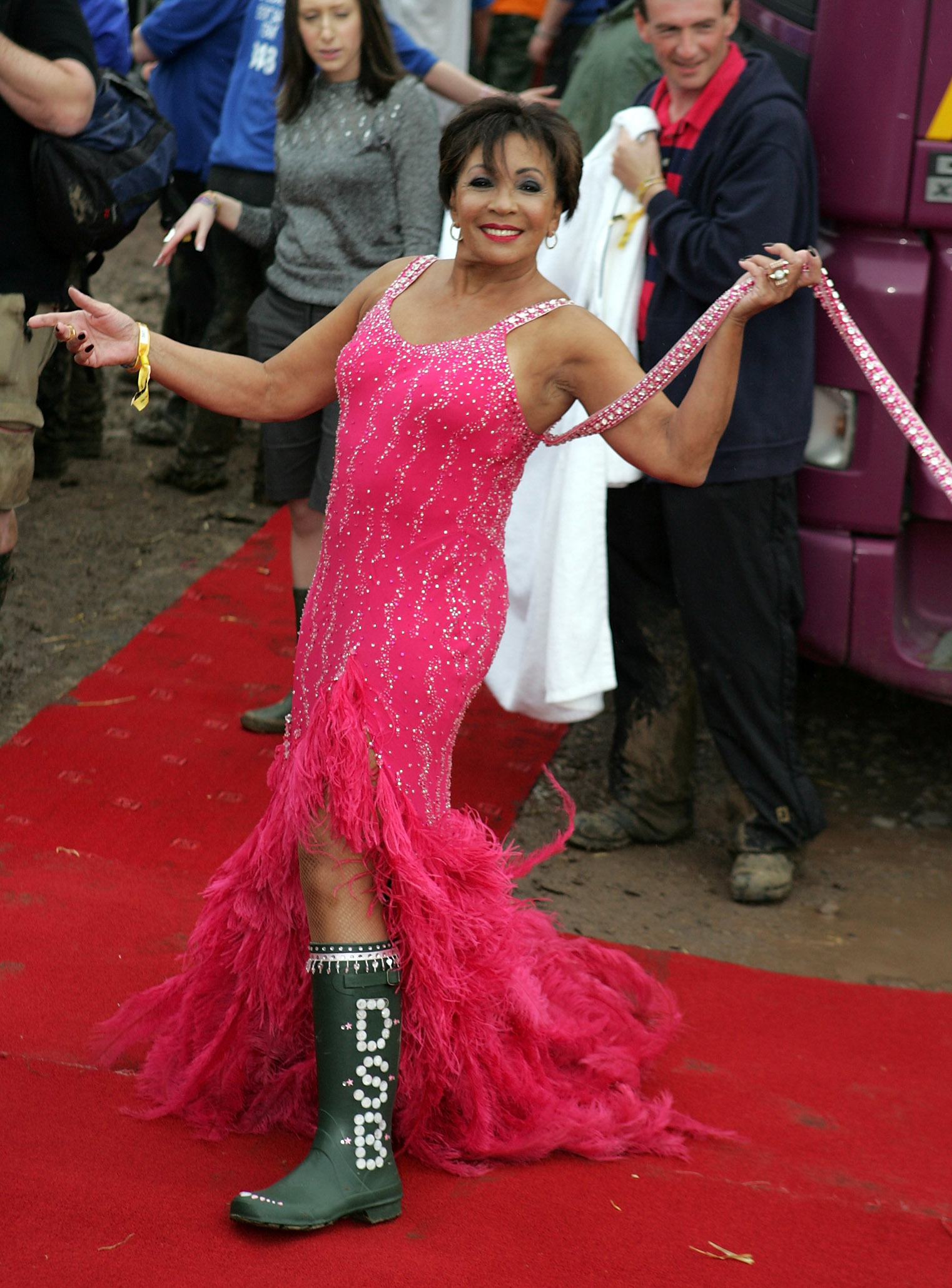 (Photo: Getty Images)
5. She has impeccable comic timing.
When Little Britain's David Walliams performed "Moonraker" for her on The Graham Norton Show, Bassey's playful response was spot-on.
6. She's not afraid of a bit of musical experimentation.
In 1997, Bassey teamed up with electronic music duo Propellerheads for the dramatic club banger "History Repeating," which became her first UK top 20 single in nearly 25 years. You might recognize it as the opening theme song to Graham Norton's '90s Channel 4 show.
7. In 2006, she covered Pink's "Get the Party Started" – yes, really! – for the Marks & Spencer Christmas TV ad campaign.
Bassey's suitably glitzy rendition was later released as a single, peaking at number three on the U.S. Dance Club Songs chart.
8. She's definitely earned her divaship.
According to showbiz legend, when Bassey's second husband asked her to make a bowl of pasta, she replied: "Listen, baby, I sing for my supper. I bloody well don't have to cook it as well!"
9. She says that when she's not on stage, she's actually kind of casual and low-key.
"I don't enjoy having my boobs exposed offstage. They are for work. People expect to see me in the supermarket in my gown with the split thigh and boobs out," she told The Guardian. "They never will. Unless I'm doing a commercial."
10. And finally, she even makes wearing a Covid-19 face mask look glamorous.
This new press photo, released in October and taken at Bassey's home in Monaco, is quintessential "DSB."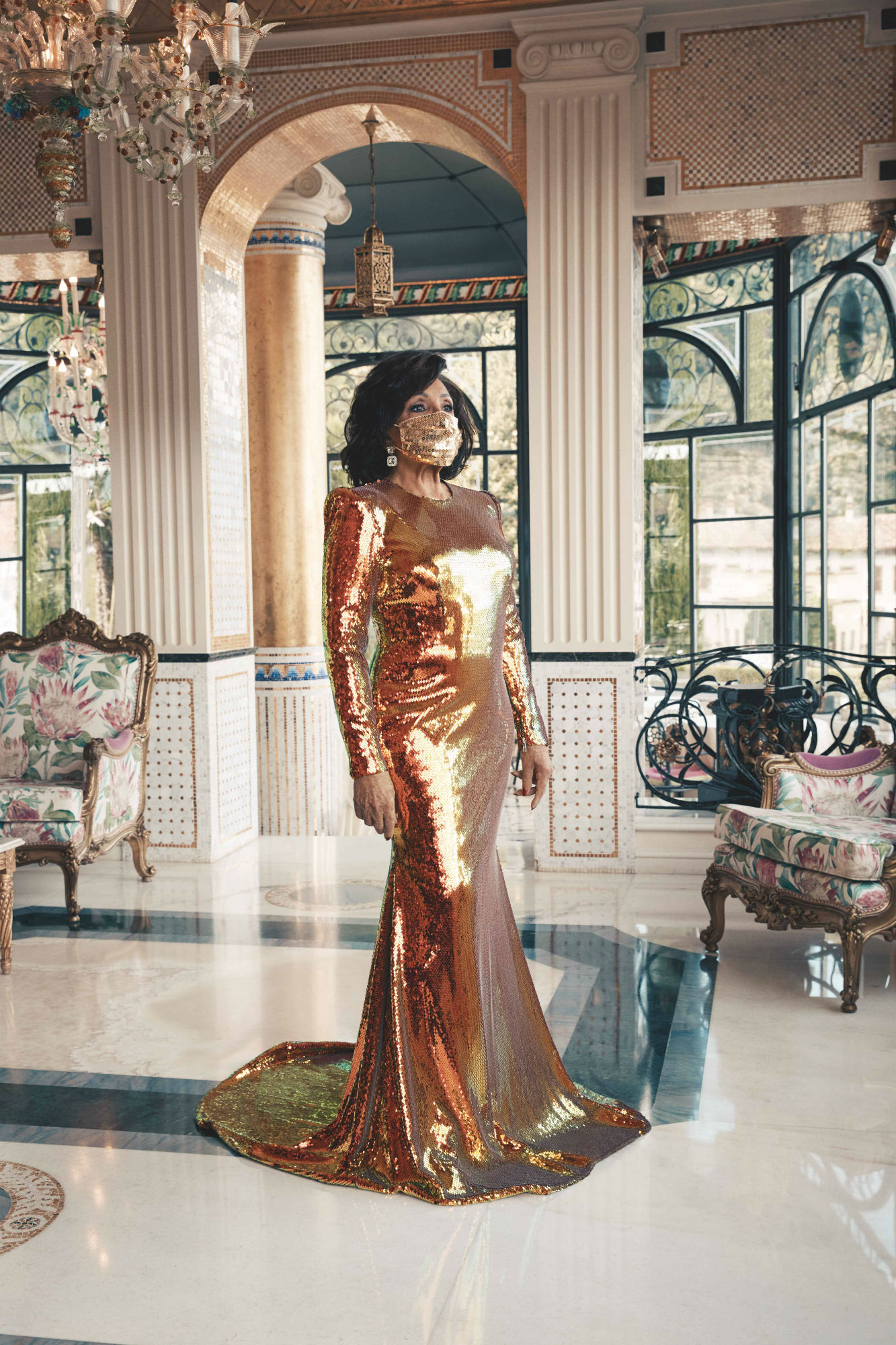 (Photo: Matt Holyoak)
Do you have a favorite Dame Shirley Bassey song or performance?