Benedict Cumberbatch and Claire Foy are Teaming Up for Artist Louis Wain Biopic
July 24, 2019
In 2011, Benedict Cumberbatch (Sherlock) and Claire Foy (The Crown) collaborated on the family drama Wreckers. And here they are again, eight years later, signing up for a new project together.
The two powerhouse actors are set to star in the forthcoming biopic of artist Louis Wain. Wain is best known for his paintings and drawings of anthropomorphized cats doing everyday things like playing golf or having tea.
If it's been a minute since you've seen one of his pieces, here's a look at a sketch of cats commuting via bus:
https://www.instagram.com/p/BkQlhf7hMl0/
From just looking at one of his satirical interpretations of life, we can tell this gent had a sense of humor. And so does Mr. Cumberbatch, which makes him a great choice to take on the iconic artist.
Cumberbatch released a statement about the project, saying, "I am thrilled by the prospect of playing the courageous, playful spirit that is Louis Wain and to be producing such a special film."
Foy will play his wife Emily, who was ten years older than Wain. Shortly after their marriage, Emily was stricken with breast cancer and died three years later. During her illness she was comforted by a cat named Peter, who Wain began to sketch, triggering his interest in the cat world.
[caption id="attachment_448910" align="alignnone" width="1024"]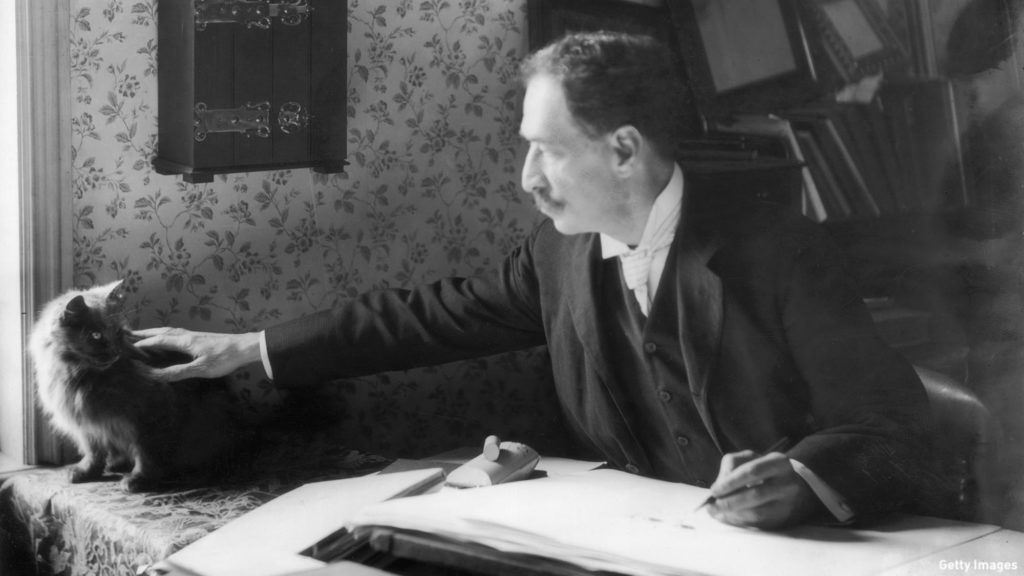 Louis Wain at home with his pet cat (not sure if this is the Peter). (Photo: Getty Images)[/caption]
We can look for the movie to be an "uplifting, playful, thought-provoking tale of resilience, creativity and the enduring power of love," according to Cumberbatch.
The film will begin in 19th century England, with Will Sharpe (Flowers) directing and co-writing with Simon Stephenson (Eleventh Hour).
If you'd like to see more of Wain's work, there is a collection on display at London's Victoria and Albert Museum.
Are you going to the spend the afternoon looking up Louis Wain's cats?? Errr, yeah, us either.