9 Times Tilda Swinton Fascinated Us
Let's be honest. Every time we get word of a new Tilda Swinton film, we just know it'll be as gloriously offbeat as the intriguing indie actress herself. That is most definitely the case with her latest movie — a remake of the 1977 horror film Suspiria — which hits theaters today (October 26) in NYC and L.A., with a wide release to follow on November 2. 
The story revolves around American ballerina (Dakota Johnson), who moves overseas to train with the best of the best, but soon realizes the company is a cover for supernatural goings-on. Swinton plays Madame Blanc, the director of a dance academy in Berlin, Germany.
https://www.youtube.com/watch?v=BY6QKRl56Ok
And if the trailer didn't manage to convince you of Swinton's character's overpowering eeriness, check her out in the first look poster:
https://twitter.com/suspiriamovie/status/1034848161305509888?ref_src=twsrc%5Etfw%7Ctwcamp%5Etweetembed%7Ctwterm%5E1034848161305509888&ref_url=http%3A%2F%2Fwww.bbcamerica.com%2Fanglophenia%2F2018%2F08%2Ffirst-look-tilda-swinton-masters-the-scary-stare-down-in-poster-for-horror-film-suspiria
Swinton is an endlessly fascinating actress and individual, for more reasons than we can list here. But these our top 9:
1. She was a wildly philosophical child
[caption id="attachment_437555" align="alignnone" width="2000"]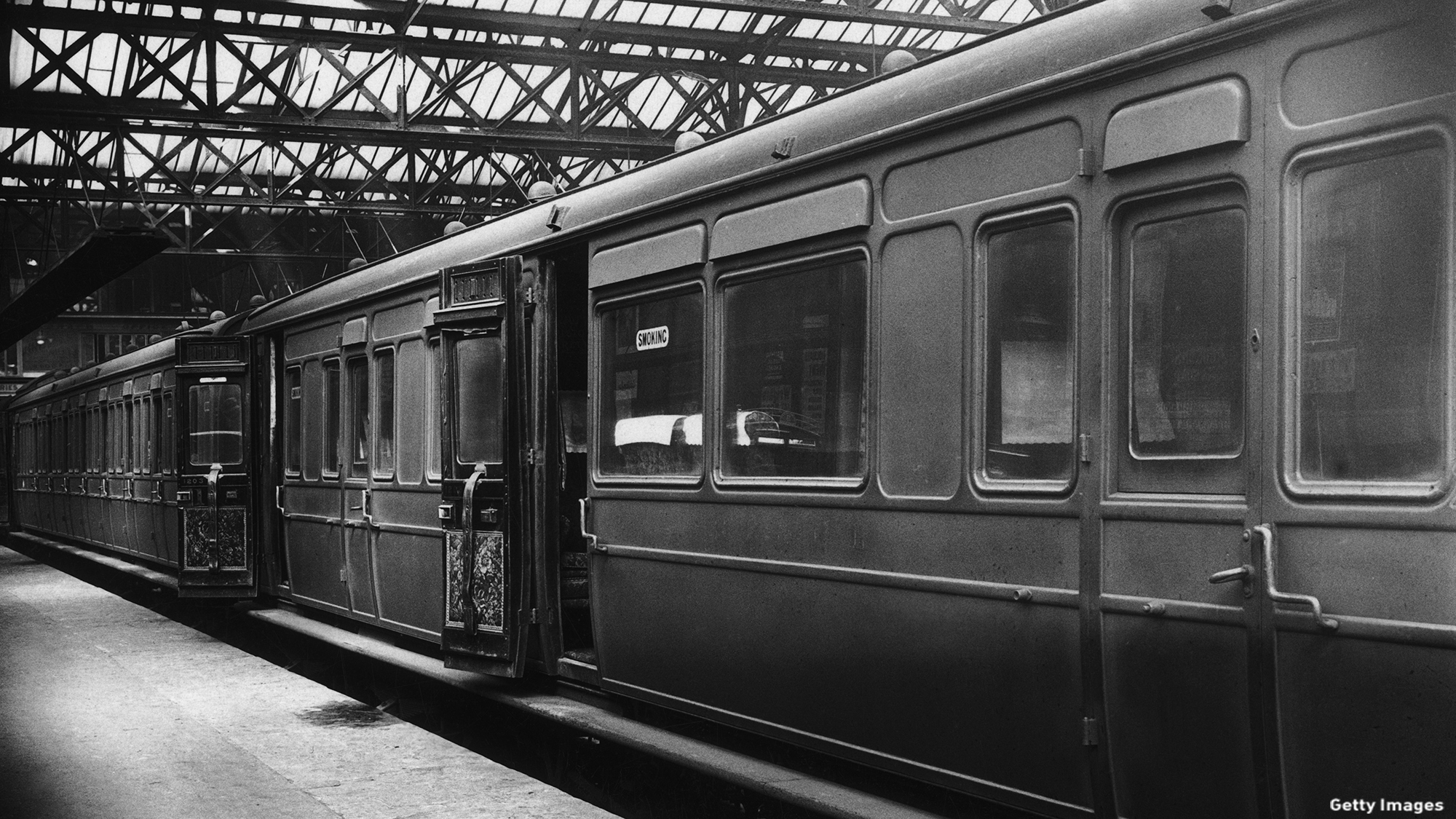 (Photo: Getty Images)[/caption]
In a 2008 interview with The Guardian, Swinton talked about being 10 years old, traveling by train back to boarding school, and feeling utterly miserable. Then she had an "amazing revelation." She realized nobody could tell what she was thinking, really, and that she could feel one way but present herself in another.
Surrounded by strangers, she thought to herself, "Wow, I wonder what's going on in his life, I wonder what's going on in her life. She's just sitting knitting and he's just sitting reading the paper, but he may have just killed somebody." And in a way, she was describing acting, without even knowing it.
2. Bullying drove her to... silence  
https://www.youtube.com/watch?v=bV7Y5cylhNc
In some ways Swinton is just like the rest of us, and as such she struggled through the pitfalls of school life. But, it turns out her education took place at elite British boarding school, West Health, where her classmates included Lady Diana Spencer.
Still, an expensive school didn't deaden the pain of being separated from her family, and she describes being "bullied and homesick." In a 2011 interview, also with The Guardian, she elaborated, saying, "I don't think I spoke for five years." We hope that's an exaggeration, and she did make some friends. She rounds off her recollection by saying, "We managed to survive. Most of us." She's done more than manage... she's thrived. Possibly that period of silence and introspection helped create the enigmatic performer we know today.
And perhaps surviving a tricky childhood helped Swinton prepare for playing the mother of a difficult child. In 2011's We Need to Talk About Kevin, she starred as the mom of an extremely troubled boy, played by Ezra Miller.
3. She sees herself in Virginia Woolf's writing
https://www.youtube.com/watch?v=MorOaD61KUI
In an article Swinton wrote for The Telegraph in 2012, she reveals how as a 17-year-old she read Virginia Woolf's Orlando and felt like she was reading "a biography of my own life." Fifteen years later, she starred in Sally Potter's 1992 film adaptation of the book, in both female and male roles.
Swinton describes Woolf and her writing, and how the novel Orlando came to be. At the end of the piece, she explains how her own early life compares to the gender-switching lead character's, saying, "Like Orlando – like Vita – I had grown up in an old house and looked like the people in the paintings on the stairs, mainly ruffed, mustachioed, velvet-covered men."
4. She doesn't think of herself as an actress 
https://www.youtube.com/watch?v=5kJRYBhG43Q
Despite a diverse filmography, ranging from the experimental to the more mainstream (Michael Clayton), Tilda Swinton doesn't consider herself to be an actor. In a 2014 interview with Variety she said, "I don't know what it would take for me to feel like one. I understand it's a strange thing to say because I do keep saying, 'Yes, I'll dress up and be in your film.' But when I hear proper actors talking about their lives and how they approach their work, I feel like I'm up another tree."
5. She napped publicly for seven days (give or take) 
https://twitter.com/BuzzFeedNews/status/316220556699660290?ref_src=twsrc%5Etfw%7Ctwcamp%5Etweetembed%7Ctwterm%5E316220556699660290&ref_url=http%3A%2F%2Fnewsfeed.time.com%2F2013%2F03%2F25%2Ftilda-swinton-slept-in-a-glass-box-at-the-museum-of-modern-art%2F
If she's set on convincing the world she's not an actress, this 1995 seven-day public art stunt certainly helped her case. The installation consisted of Swinton laying silently in a glass box at London's Serpentine Gallery. For eight hours a day, she performed The Maybe, described as "an enigmatic and evocative work exploring a series of unanswerable questions from within the confines of a glass case."
The installation was so successful, Swinton slipped back into her glass box at Rome's Museo Baracco in 1996 and at NYC's MoMA in 2013.
This was a very out-of-the-box-while-in-a-box way of defying conformity.
6. She's drawn to hard, broken female characters
https://www.youtube.com/watch?v=VDDWeWknMl0
Swinton's role choices say a lot about her as a person. In the 2008 Guardian interview, she was asked about playing "hard, broken female characters," and she responded by saying, "Well, I have a hand in it, in that I'm drawn to the opportunities to show it. It moves me, I think. I suppose it's an indulgence to play people who are less settled than you are yourself."
Swinton goes out of her way to bring flawed characters to the screen, reminding viewers that nobody is perfect — including Swinton herself.
7. Her acting icon isn't human
https://www.youtube.com/watch?v=CXA2ob_-ze4
In 2017, Swinton swung by The Late Show with Stephen Colbert to talk about her film Okja. Funny enough, when Colbert asked her how she got into acting, she says, "I never really wanted to be an actor. I still don't really want to be an actor." Colbert interrupts her to say, "I have some terrible news..."
While she still drags her feet about committing to her career choice, she has no trouble detailing the role that most stands out to her, which was performed by... a donkey. She's referring to Robert Breton's 1966 film Au Hasard Balthazar.
"I'm not joking," she tells Colbert. "Because you just can't stop looking at the donkey. And there's all the humans around. And you're like, 'No, get out of the way, I'm looking at the donkey.'"
We love how she thinks.
8. She can ditch the weird and play it conventional
https://www.youtube.com/watch?v=y_KP9x80Z9Q
Swinton surprised us all when she popped up in Amy Schumer's 2015 romantic comedy Trainwreck. At the Gotham Independent Film Awards, Schumer described how this came to be.
Writing the script, she described the fiercely powerful, elegant boss character as: "Diana. A goddess. Like Tilda Swinton waiting at baggage claim." But rather than casting an actress like Tilda Swinton, Schumer was able to get the actual Tilda Swinton. Smart move.
The role seems so out of character for Swinton, which makes it all the more fun to watch.
9. Her life trumps her career 
[caption id="attachment_437558" align="alignnone" width="2000"]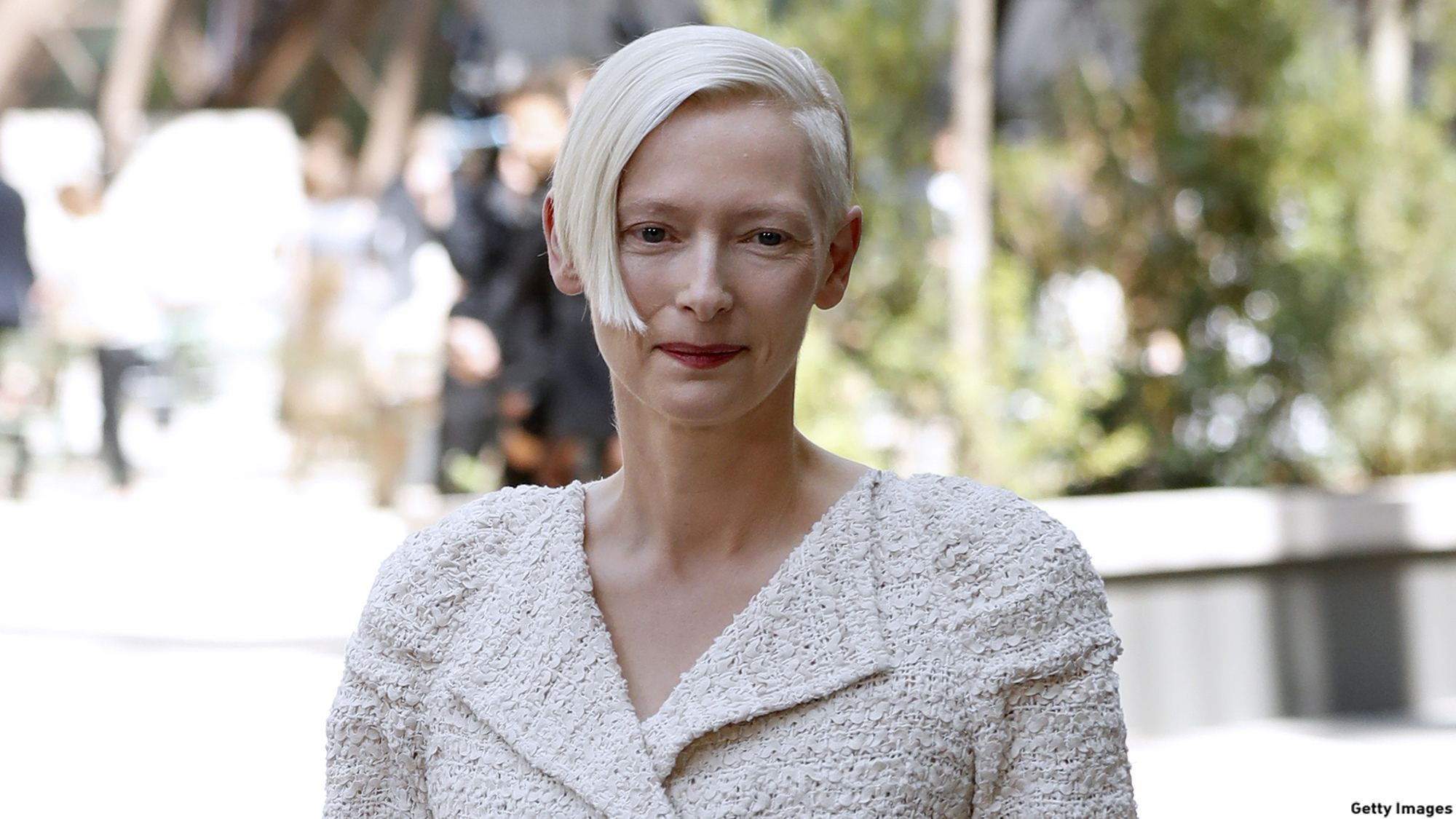 (Photo: Getty Images)[/caption]
In 2014, when Swinton was at the SXSW film festival, she was asked what role she hasn't played and would like to. Naturally, she gave a detailed answer, which encompassed mortality and opportunities, but she summed up with, "So the short answer is I don't have a career, I have a life. I follow my life and the way I'm living it, so no, I don't have an exterior judgment on what would be good or bad for me."
Well, if you're going to ask Tilda Swinton a question, don't expect a breezy, cookie-cutter answer.
Did you learn anything new about Tilda Swinton today?