7 Times Keira Knightley Spoke Up on Topics Close to Her Heart
Keira Knightley (Misbehaviour) recently shared her thoughts on not wanting to film any more sex scenes when working with male directors, and it's getting a lot of attention with headlines swirling around the internet. We give her a lot of credit for standing her ground and making it known. It may even help others in finding their voice and sticking to their convictions.
It made us think, what else makes Knightley tick?
We did some digging and here's what we've come up with:
1. On not letting people see her crack.
In 2018, Knightley spoke to Harper's Bazaar about fighting off the paparazzi's advances, saying, "I think I've always had a f--k you button... It was so obvious that they wanted me to fall and I had a such an 'I'm not going to give you what you want,' [attitude] so there was a sense of battle every day of leaving the house."
Even though it was getting to her, she didn't let them know, saying that she thought to herself, "'I know I'm not there yet but I am going to make this through and I am going to keep standing and you are not going to take me down'. There was a real fight at that period."
2. On protesting Photoshopping.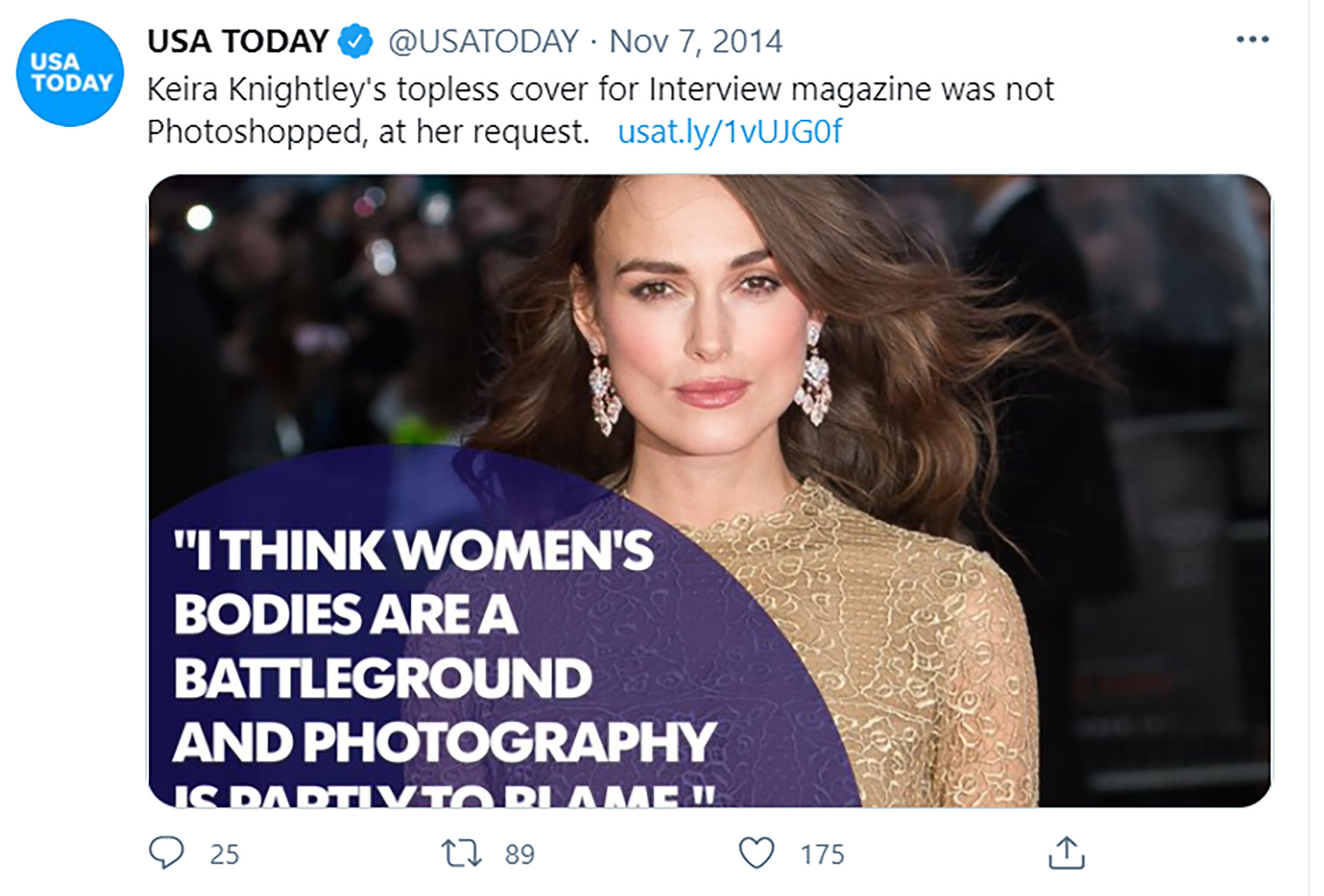 (Photo: Twitter)
Knightley has undressed for roles in the past and in some situations it was taken advantage of, with her saying in a 2014 interview with London's The Times, "I've had my body manipulated so many different times for so many different reasons, whether it's paparazzi photographers or for film posters," reported by MTV
She took control of the situation, volunteering to pose topless for Interview magazine, but only if it was agreed upon in advance that they couldn't make any changes. It was a form of protest, with Knightley recapping the conversation, saying in the Times interview, "That [shoot] was one of the ones where I said: 'OK, I'm fine doing the topless shot so long as you don't make them any bigger or retouch.'"
3. On women being seen and having voice.
Knightley doesn't just stick up for herself, she sticks up for women in general. In a 2018 interview with Elle magazine, she spoke about women in moviemaking, saying, "We have to have the agency to tell our stories ourselves with female writers, female directors, female producers above the line, below the line, but certainly not towing the damn line. We need the freedom to take time for motherhood, and for fatherhood, without being judged. To demand pay equality and close the gender gap in a million different ways. It is not about finding our voice. It is about claiming our voice."
Knightley was on her press tour for film Collette, which revolves around 19th century writer Sidonie-Gabrielle Colette, who was coerced to write under her husband's name and he get the credit. She fought to make it known who in fact was the true talent. It seems Collette inspired Knightley and in turn, Knightley is inspiring others.
4. On deciding to be happy.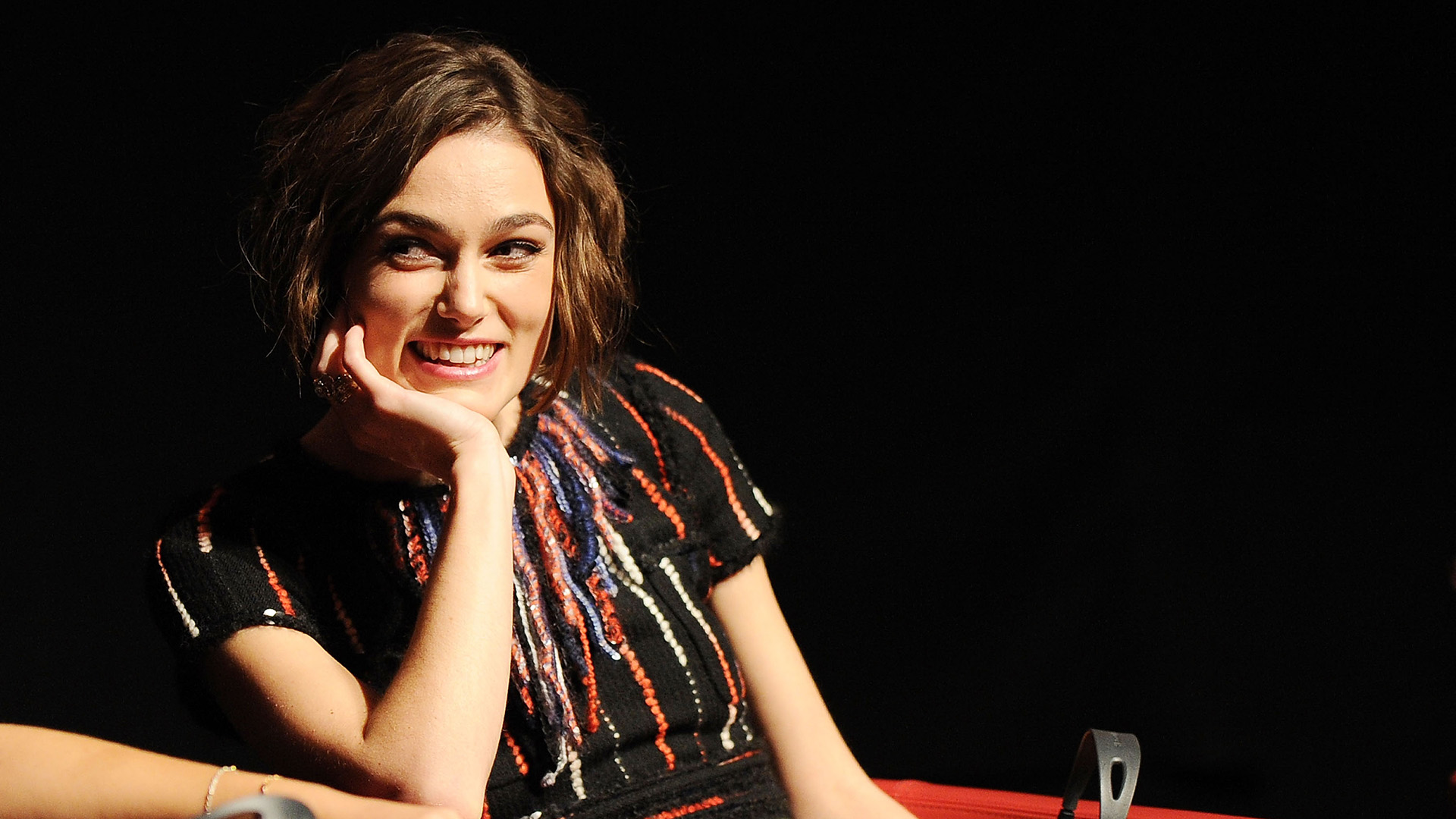 (Photo: Getty Images)
In 2014, The Guardian quoted Knightley from earlier that year, saying, "Up to 25, I was pretty neurotic." She elaborated on that statement during a sitdown with the paper, saying, "It absolutely was. It was my 25th birthday. I remember it so clearly. I suddenly woke up at 25 and was like… It's all OK. We went bowling. We had a really silly party with karaoke, which I hate, and loads of balloons. And it was just excellent. Lots of cupcakes. Lots of booze. And suddenly there was just that dawning… And that's what's happened since. It was exactly the right way to go."
The Guardian interpreted her self-proclaimed neuroticism as her taking things too seriously. And, possibly, not being as easy going as she may have thought. It sounds like Knightley is very self-aware and has been for a while now.
5. On being a wife.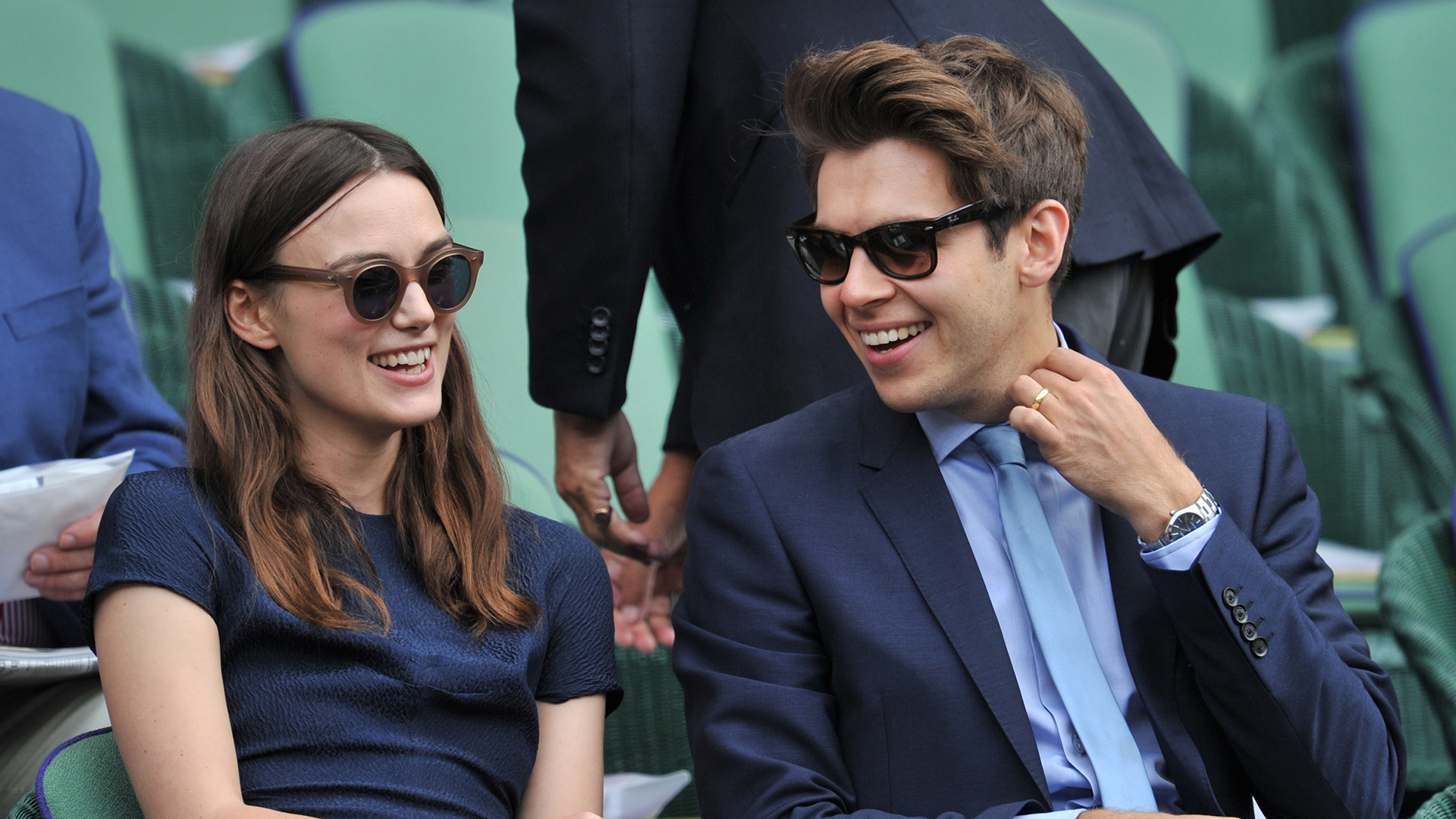 (Photo: Getty Images)
As a result of her quarter life awakening, and enjoying life more, Knightley found love and married in 2013. With her husband James Righton being a musician, in a 2014 interview with Glamour magazine, she was asked if she goes on tour with him. At the time, she said, "Yeah, a little bit but not always. You want to be slightly part of each other's world so you can see what makes them tick. If one person is on tour for three months and the other's on a film set, your lives become very separate. It's tricky. You should have your own thing, but equally you have to build a life together.''
"Tricky" is a great way to describe balancing work and home life, and she seems to be really sensible about it.
6. On being a mother.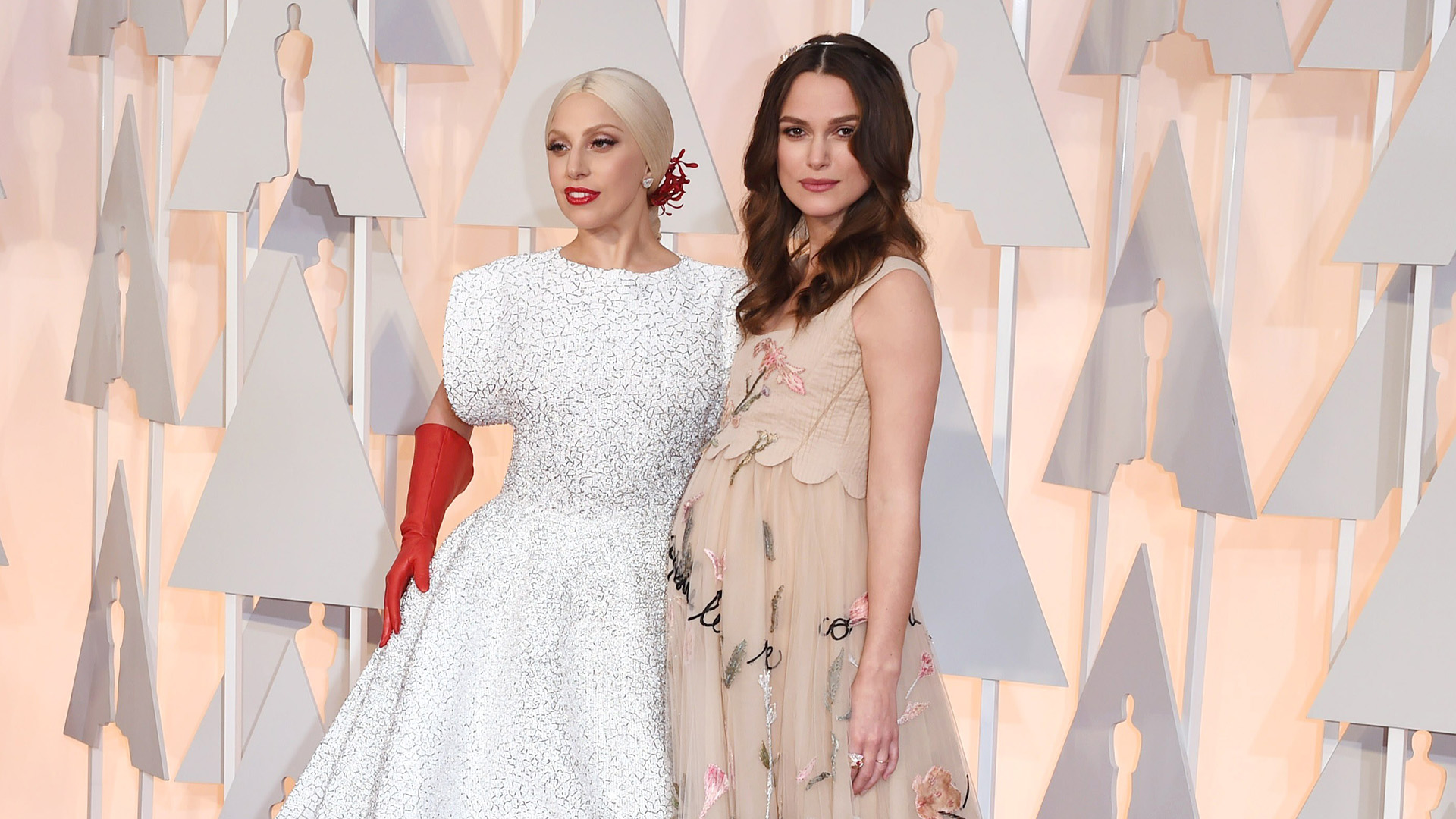 (Photo: Getty Images)
In 2015, Knightley had her first child, a baby girl. And, sticking to the theme of this write-up, she talked candidly about it. While Knightley has resources, she still finds motherhood challenging, saying in a 2019 interview with Balance magazine, "I don't think we give women enough credit for the physical and emotional marathon they go through when becoming a mother. I come from a place of amazing privilege. I have an incredible support system; I've been unbelievably lucky in my career; I can afford good childcare, and yet I still find it really f--king difficult."
She rounds out the above, saying, "I have to remind myself that I haven't failed, I'm just doing what I can do, but it's not easy." For moms — or mums — out there, if you're having self-doubt, it's not just you.
7. On choosing roles.
Knightley took part in a BFI London Film Festival panel in 2018, and talked about what she looks for in a character. She started off by addressing past and present, saying, "As soon as I could start choosing my own roles, as opposed than getting what I went up for and was lucky enough to get from auditions, I was led towards powerful creatures, women I wanted to be or explore, even in their frailty," reports The Independent.
"I have always wanted to be the lead and a lot of times it could have been more money to play the second fiddle and play the wife and the girlfriend, but I never wanted to do that." She elaborates, saying, "When I'm looking for roles, that is what I want to see, because that is what I identify with, I don't identify with just the supportive wife or just the supportive mother, I want to see the whole picture."
Do you look at Keira Knightley a little differently now?