6 Co-Stars 'Broadchurch's David Tennant and Olivia Colman Have in Common
With the final season of Broadchurch, starring David Tennant and Olivia Colman, premiering tonight (June 28) on BBC America at 10/9c, we want to take a peek back at some of their earlier performances.
They're hot stuff and we're sure plenty of actors out there would put these two right at the top of their dream co-star list. But not all that many have had the pleasure of working with BOTH these Anglo fan favorites. Aside from the other stars of Broadchurch, can you come up with a list of actors who've worked with Tennant and Colman?
It's not as easy as it seems, but don't worry, we've done the hard work so you don't have to:
1. Colin Farrell
[caption id="attachment_403290" align="alignnone" width="2000"]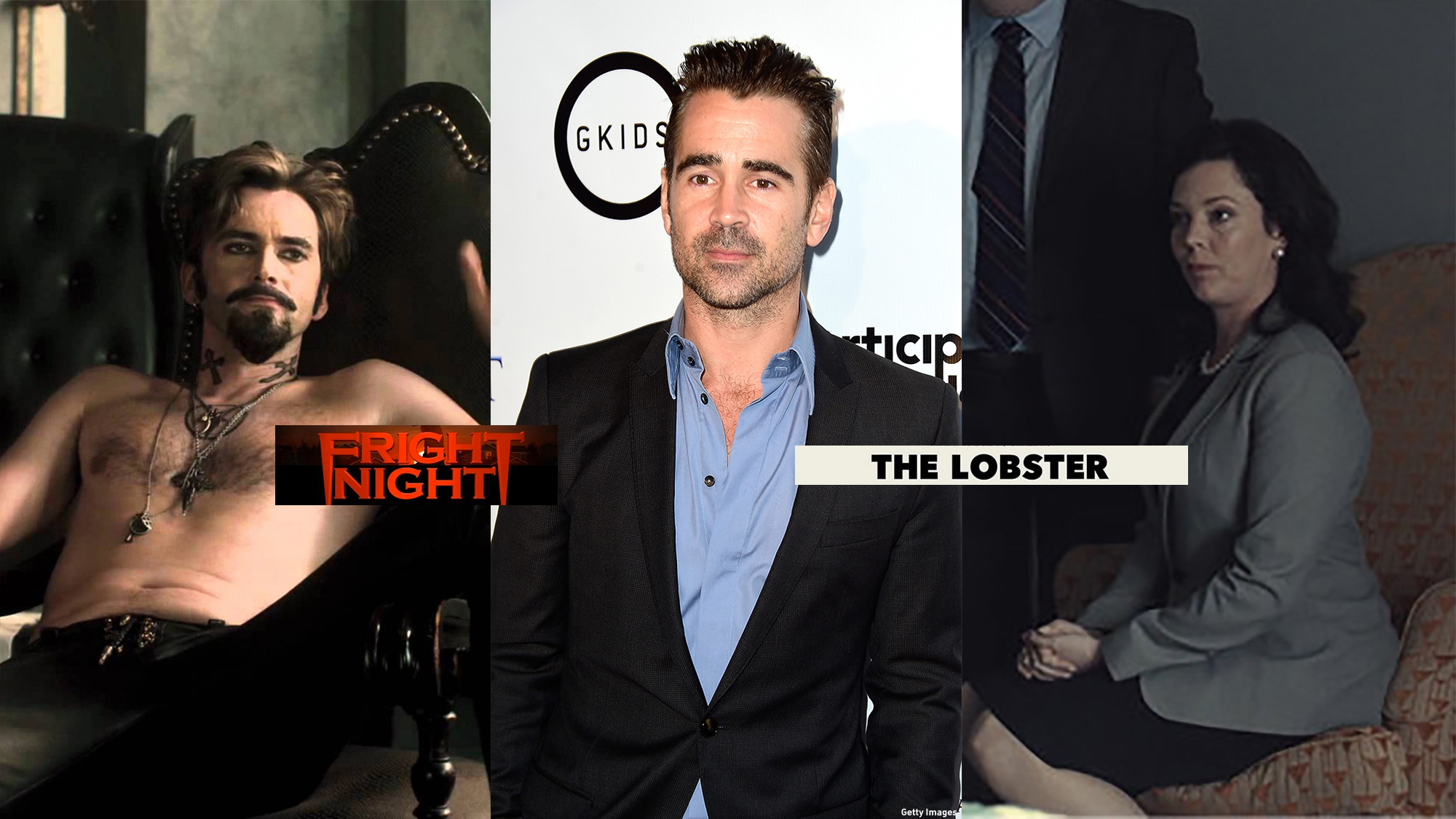 (Photos: Dreamworks/Getty Images/Picture House)[/caption]
If you've seen 2011's Fright Night, starring Anton Yelchin and Colin Farrell, three-quarters of the way through the film, you may have been like, "Oh, there's David Tennant!" He sort of popped up unexpected as a rock n' roll vampire killer, with Farrell in the role of bloodsucker. Farrell also starred in the 2015 sleeper hit The Lobster, taking on the part of a single man tasked with finding a mate within 45 days or ultimately being turned into an animal of his choice. Colman co-stars opposite Farrell as the manager of the hotel, where the singletons live until their outcome is determined.
2. Karen Gillan 
[caption id="attachment_403566" align="alignnone" width="2000"]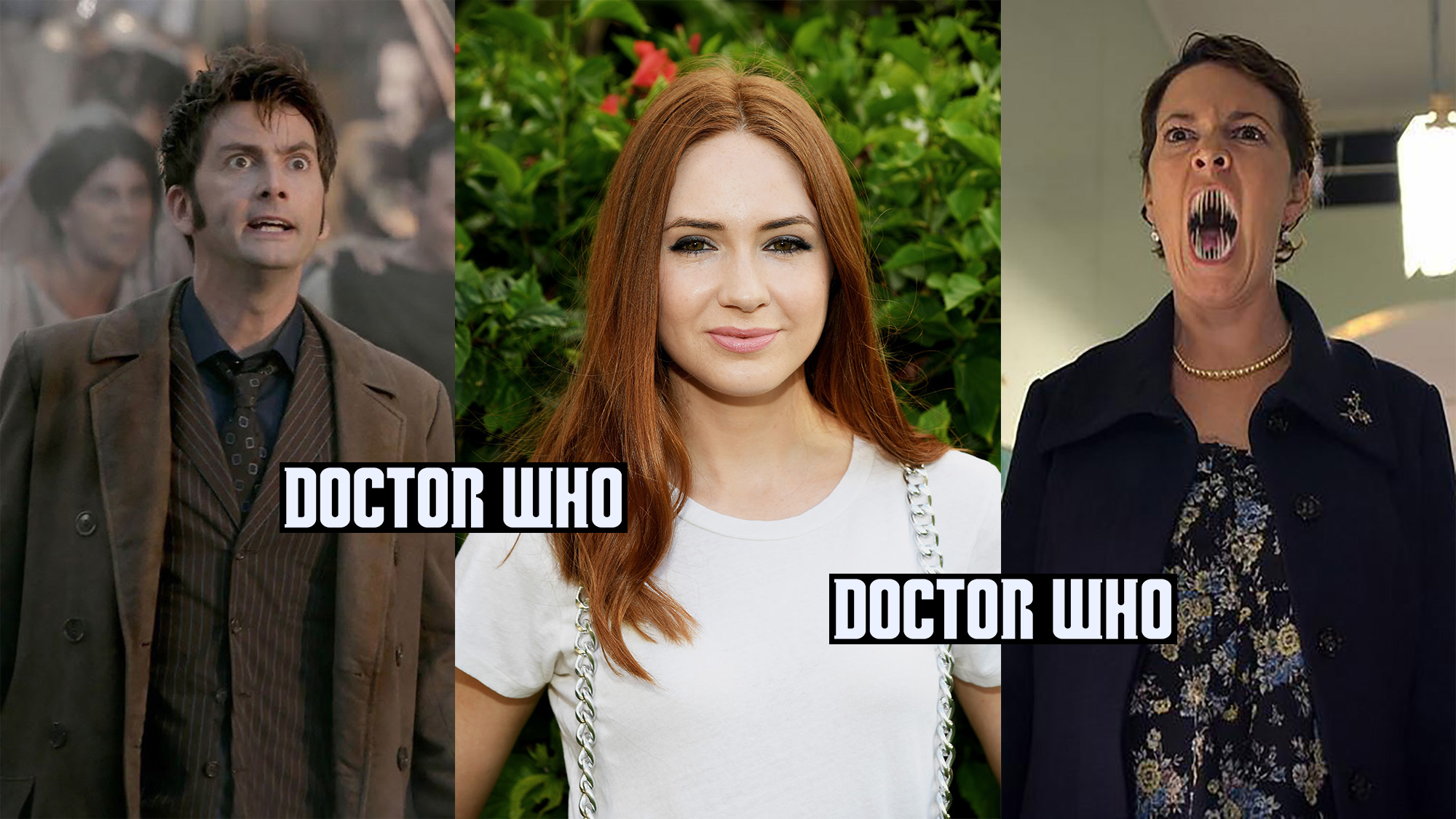 (Photos: BBC/Getty Image/BBC)[/caption]
Does it count if all three actors starred in the same TV program? Yes! It always counts when it involves Doctor Who. Tennant took on the role of the Tenth Doctor in 2005. Karen Gillan joined the series full-time, as the Eleventh Doctor's (Matt Smith) companion in 2008. But, prior to starring as Amy Pond, she had already stepped into the Whoniverse, starring opposite Tennant in the episode, "The Fires of Pompeii," set in Rome, AD 79, as a soothsayer. When Colman worked with Gillan on Doctor Who in 2010, Gillan was officially on deck as the Doctor's companion. The two starred in "The Eleventh Hour," with Colman taking on the role of a mother of two children, who was in a coma. Clearly, based on the above right photo, there's more to her character's story than being bedridden.
3. David Morissey 
[caption id="attachment_403482" align="alignnone" width="2000"]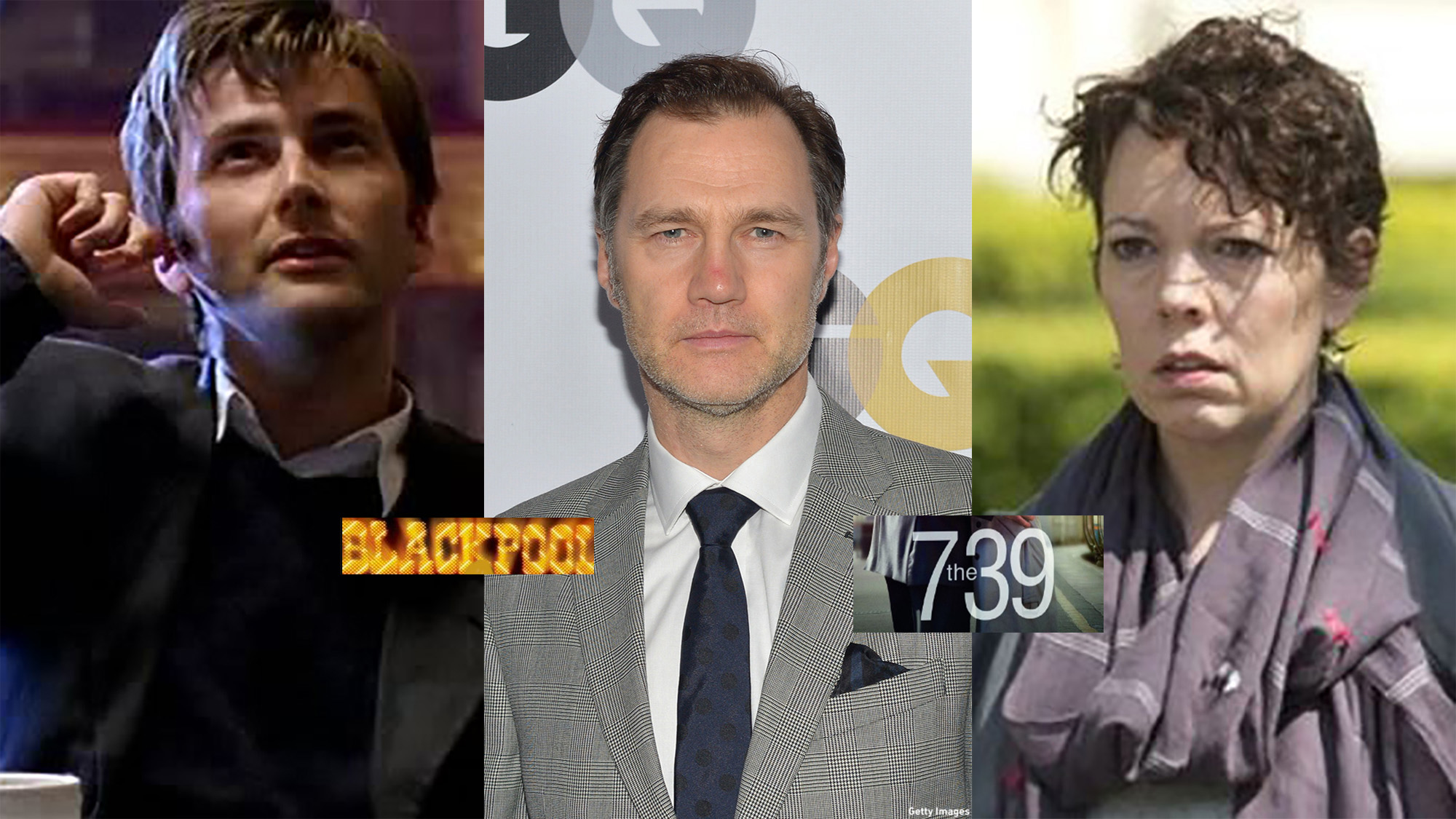 (Photos: BBC/Getty Images/BBC)[/caption]
In 2004's comedy-musical Blackpool, Tennant portrays DI Peter Carlisle. He's investigating the murder of a young man at an arcade in Blackpool, England, owned by Ripley Holden. David Morrissey plays Holden, who wants to turn his arcade into a Las Vegas-style casino. Ten years later, in 2014 both Morrissey and Colman starred in the made-for-TV film 7.39. The two portray a seemingly happy married couple, with the word "seemingly" stressed. Morrissey's character meets a young woman on his commuter train and the two start up a relationship.
4. Richard E. Grant 
[caption id="attachment_403555" align="alignnone" width="1937"]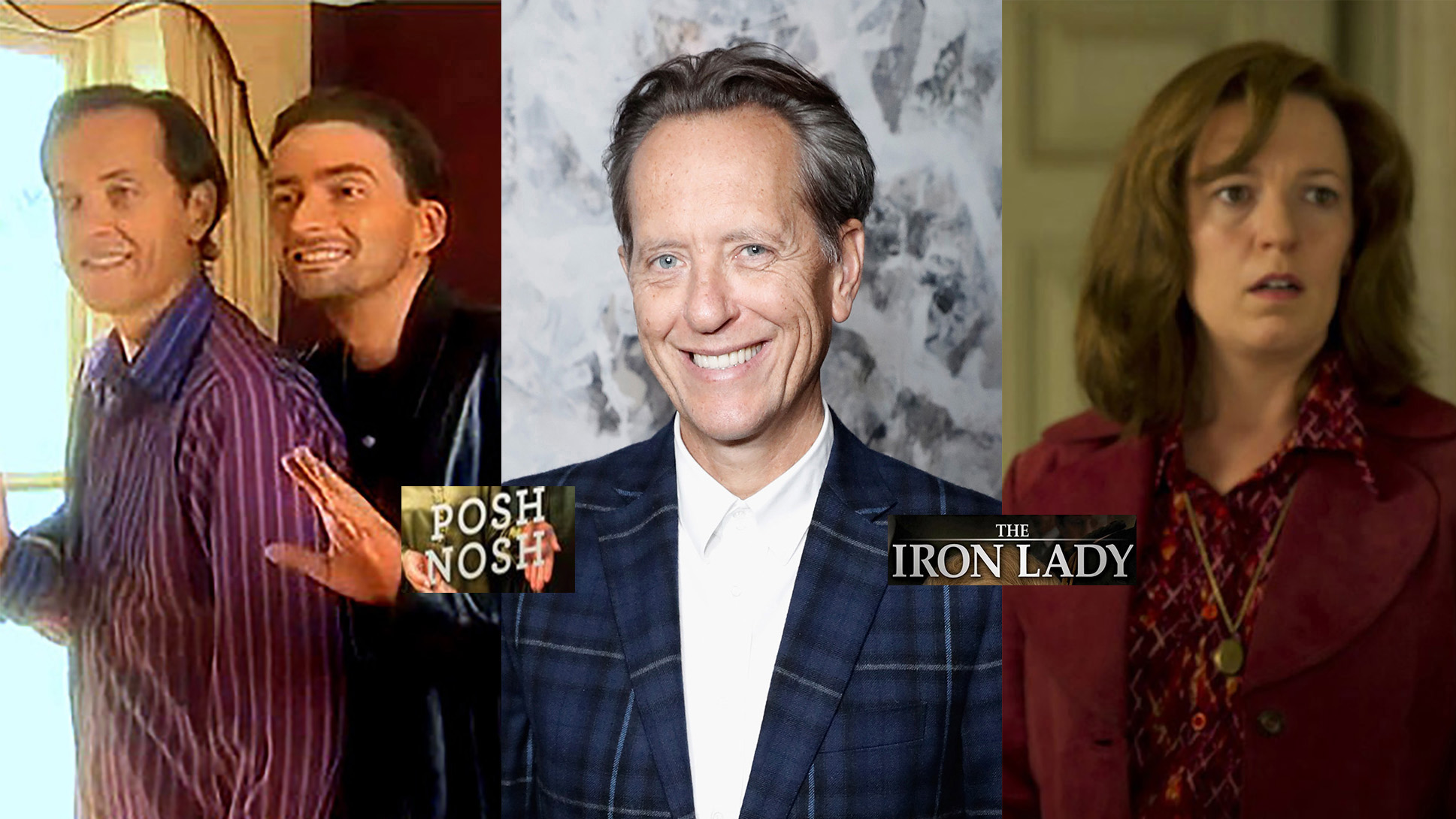 (Photos: BBC/Getty Images/Pathé)[/caption]
Tennant joined Richard E. Grant in the foodie-inspired TV series Posh Nosh in 2003. Grant and Arabella Weir portray an uppity married couple, Simon and Minty Marmont, who are both chefs and restaurant owners. They are all about the food, with the patrons coming a firm second — or maybe even third. The point being... the food came first. Tennant stars as Simon's tennis coach José Luis, who Mr. Marmont may or may not have been smitten with. We also saw Grant in the 2011 biopic The Iron Lady, depicting the final years of Margaret Thatcher's life. He portrays real-life British politician Michael Heseltine. Colman stars as Thatcher's daughter, Carol Thatcher, with Meryl Streep in the title role.
5. Jessica Hynes 
[caption id="attachment_403494" align="alignnone" width="2000"]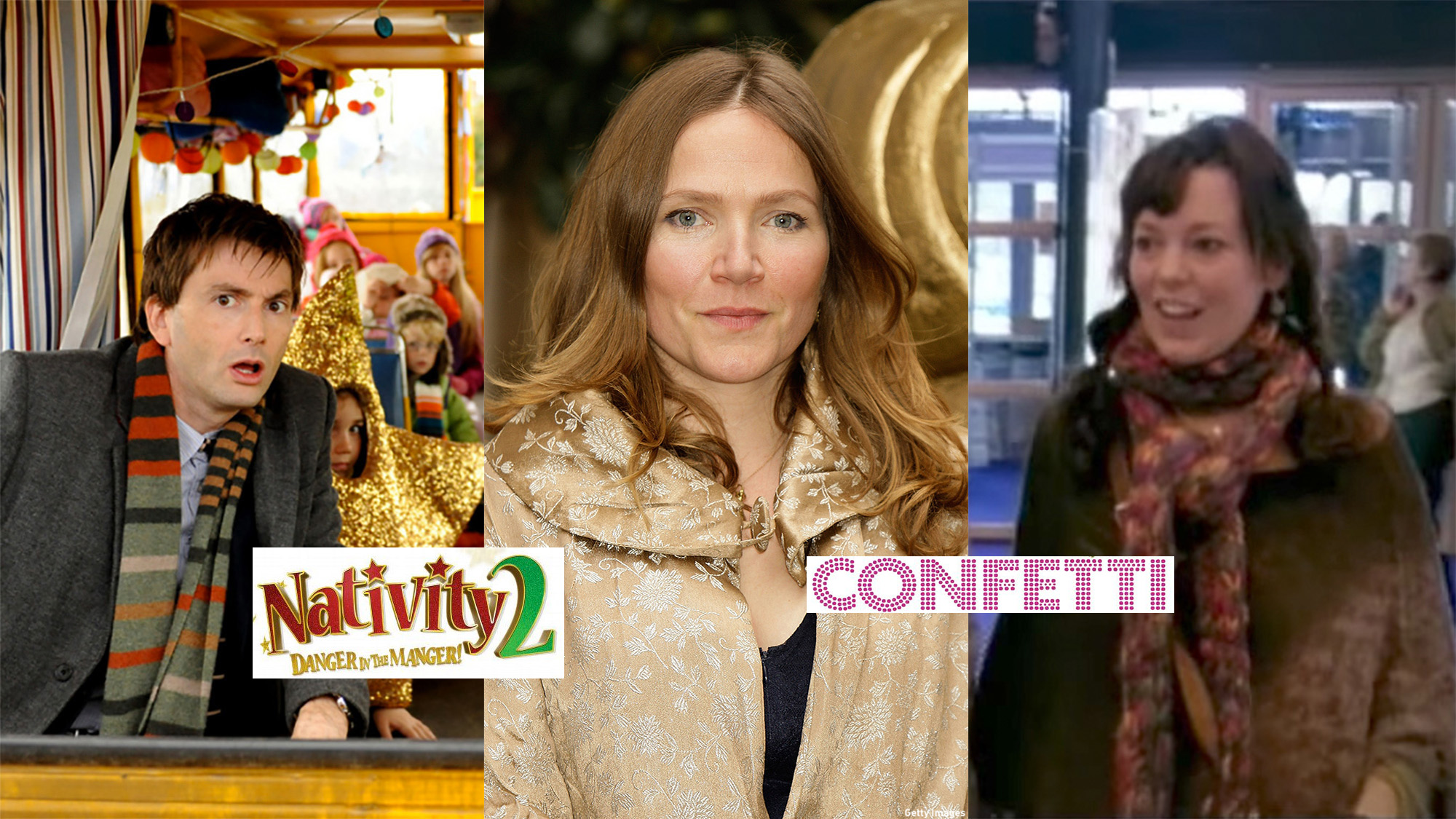 (Photos: Moviehouse Entertainment/Getty Images/BBC Films)[/caption]
Yep, that's right, 2009's Nativity, starring Martin Freeman, has a sequel, starring "our" David. It's called, Nativity 2: Danger in the Manger (2012), and Tennant plays a new teacher who helps his class enter a singing competition. Jessica Hynes takes on the role of Angel Matthews — the host of the over-the-top, but wonderfully adorable children's sing-off. She also starred opposite Tennant in the Doctor Who episodes, "Human Nature/The Family of Blood," and "The End of Time: Part Two." Prior to Nativity 2, Hynes joined Colman in the 2006 romantic comedy/musical Confetti. Coincidentally, this film also revolves around a competition, but with three couples wanting to win a wedding. Colman plays one half of a nudist couple, with Robert Webb (Peep Show) being her happily t0-get-nekkid-anywhere partner. The two actresses also worked on Twenty Twelve, a sitcom about the team behind the production of the 2012 Olympics held in London and the follow-up series, W1A, which, coincidentally, Tennant narrated both. Bonus Mention: Marc Wootton also starred in both Nativity 2 and Confetti, so we're adding him to the list unofficially (because the rest is so very official).
6. Jim Broadbent 
[caption id="attachment_403568" align="alignnone" width="2000"]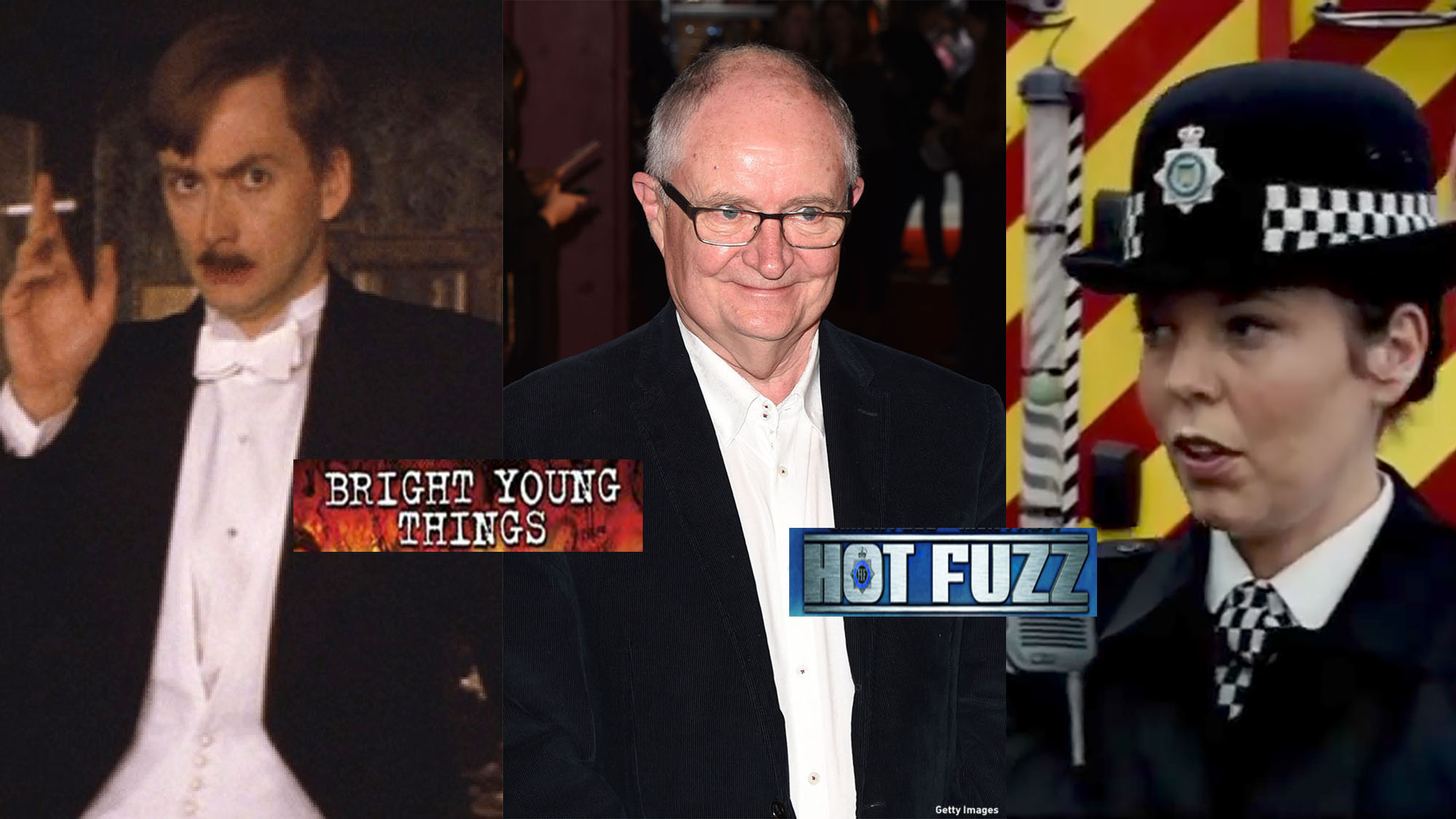 (Photos: Film Consortium/Getty Images/Universal Pictures)[/caption]
Tennant and Jim Broadbent were part of the ensemble cast for 2003's film adaptation of Evelyn Waugh's novel Vile Bodies, named Bright Young Things. We should mention, it also stars Richard E. Grant... you see how this game works, right? The story is set in 1930s London, revolving around a young novelist (Stephen Campbell Moore), his fiancée (Emily Mortimer) and their gaggle of friends. Tennant takes on the role of Ginger Littlejohn, with Broadbent playing the Major. And what did Broadbent work on with Colman? Well, more than one project it turns out. We had Hot Fuzz in mind, with Colman taking on the role of PC Doris Thatcher and Broadbent starring as Inspector Frank Butterman. They also collaborated on The Iron Lady and Exile, both out in 2011.
So, in other words, these lucky six (plus Marc Wootton, who landed a spot at the last minute) have had the chance to work with two of our very favorites. Now, if only we could take a peek at their notes on the experiences... surely all good reviews.
We hope our amateur investigation of who knows who will help put you in the mood for a little more Tennant and Colman as they get their collaboration back on in the FINAL season of Broadchurch, starting tonight [insert squeal].
Fingers crossed this isn't the last time we'll see the Broadchurch co-stars together, and we're not the only ones looking forward to more joint ventures, with Colman telling TV Times,"We plan to work together in panto in our 80s!"
Let's hope we don't have to wait THAT long.
Can you think of anyone else who's starred with both Tennant and Colman?