10 Things You Never Knew About Orlando Bloom
The always charming Orlando Bloom makes an appearance on The Graham Norton Show this week, discussing his upcoming projects, lockdown life, and the way he's gently encouraging his baby daughter, Daisy Dove Bloom, whom he and fiancée Katy Perry welcomed last August, to say "daddy."
Ahead of the episode, which airs Friday at 11pm on BBC America, here are some things you might not know about the actor known for his roles as Legolas in Lord of the Rings, Will Turner in Pirates of the Caribbean, and Philo in Carnival Row.
1. His full name is Orlando Jonathan Blanchard Copeland Bloom.
Copeland is his mother's maiden name, and Bloom is related through her to the award-winning photographer and explorer Sebastian Copeland, who is known for his work on climate change.
Oh, and in case you were wondering, Bloom was named after the 16th century composer Orlando Gibbons.
2. He grew up thinking his biological father was anti-Apartheid writer Harry Bloom, his mother's husband, who died when he was four.
"I created an idea of Harry Bloom. The father figure in my mind was probably an amalgamation of characters I read about and watched on TV and in movies like Indiana Jones and Superman," Bloom told The Times last year.
3. But when he was 13, his mother revealed that his biological father was actually Colin Stone, a businessman and family friend.
"We would always spend weekends with him. He was trying to be there for me in his own way, but he was busy," Bloom told The Times. "When I first found out, I was like: 'Great, when can I move in with you?' But that didn't happen. He was married. And that was quite hard for me."
4. He was diagnosed with dyslexia when he was seven years old.
In this video for the charity Made By Dyslexia, Bloom recalls how it affected him at school, saying: "I was an angry child at times. I was frustrated with the learning disability. It makes you feel stupid – you just don't feel smart. Somewhere in me I knew that I was smart, I knew I wasn't thick, but I was just really struggling with spelling and writing."
Happily, he also explains that he now regards his dyslexia as a positive thing. "I know the way I think about things is not the most direct route but I also know it means everything is possible and that is the sort of thinking that leaders have," he adds.
5. He broke his back when he was 20 – four years before he landed his breakthrough role in Lord of the Rings – and nearly died.
Bloom recalled the traumatic experience on Instagram last April, when the British government was urging people to stay home to halt the spread of Covid-19 and reduce strain on the country's National Health Service (NHS).
"The NHS saved my life when I was 20 after I fell from a 3rd floor window and broke my back," Bloom wrote in a poignant post. "Having lived in the US for nearly 20 years now it's one of the public services from home I'll always respect the most."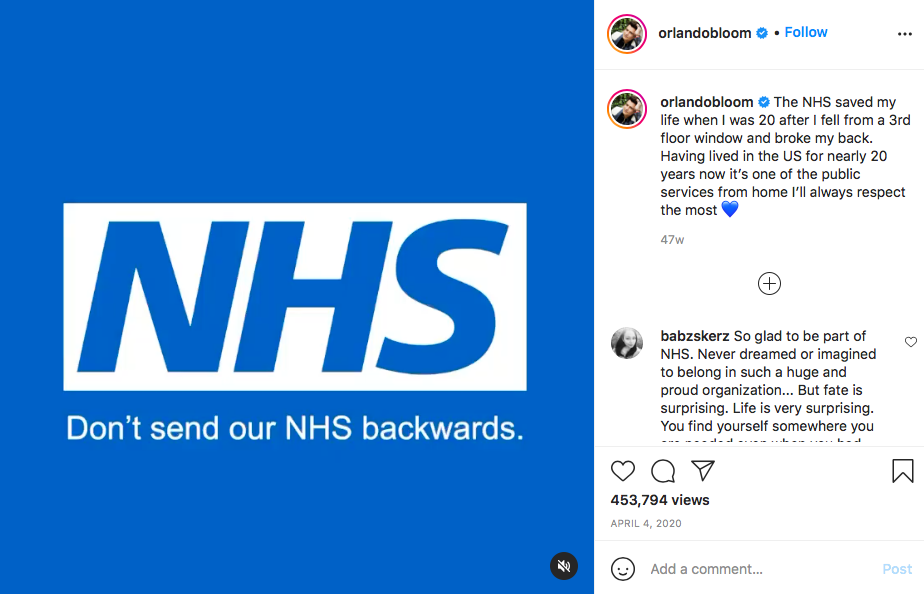 6. He made his acting debut in a 1994 episode of weekly medical drama series Casualty.
Bloom, 17 at the time, played a construction site laborer who sustains a gruesome arm injury. The show's makeup team definitely did a great job here, so don't watch this clip if the sight of blood makes you queasy.
7. He was cast opposite Carey Mulligan and Peter Sarsgaard in 2009's An Education, but dropped out just before shooting started.
According to ComingSoon.net, scheduling clashes were to blame, and he was quickly replaced by Dominic Cooper.
8. In 2009, his Hollywood Hills home was burglarized by the infamous "Bling Ring," a posse of teenage thieves who targeted L.A.-based celebrities.
Sofia Coppola later turned their story into an acclaimed movie starring Emma Watson and Katie Chang, which Bloom could have appeared in. "Paris Hilton asked if she could do a cameo in the film and because she asked they then asked me if I would [do a] cameo," he told The Independent in 2014. "I said 'no', not because I don't think she is a wonderful director – I'd love to work with her by the way – but because it was too close to home."
9. He's practiced Buddhism every day since he was 16.
"I did religious studies [at school] so I understood about Christianity, and I think faith is an important part of life," he told the Texarkana Gazette in 2019. "And for me, when I was introduced to the Buddhist philosophy and way of thinking, it felt almost scientific."
Explaining that he believes Buddhism him teaches the art of living, he added: "And nobody really teaches you the art of living, although within the Bible, there's the Ten Commandments. There's all sorts of ideas of how one should live in order to live a happy life. For me, the idea of cause-and-effect, which is a very fundamental principle within the Buddhist teaching and my Buddhist practice, it almost felt like what goes up must come down. So if you do good, you get good."
10. He was celibate for six months – very much by choice – before he met fiancée Katy Perry in 2016.
"If you want to be serious about a relationship, go celibate for a few months and figure it out," he told The Times, explaining that he found it an overwhelmingly positive experience. "I was really enjoying the way I was relating to women, and to the feminine within myself," Bloom added. "I know that sounds crazy."
Do you have a favorite Orlando Bloom role to date?