10 Things You Never Knew About Gordon Ramsay
Gordon Ramsay, the chef with a tongue more lacerating than a steak knife, is a guest on this week's episode of The Graham Norton Show. It airs Friday at 11pm EST on BBC America, so why not brush up on your Ramsay knowledge before he settles down for a typically straight-shooting chat.
1. His original dream was to become a professional soccer player – and he came pretty close to achieving it.
As a teenager, Ramsay was signed as a trialist by Rangers F.C., Scotland's most successful football club. But he says he only ever played two matches for the team, both non-league friendlies, and gave up his sporting career at 18 because of a persistent knee injury.
"I started to play a lot of football as a school kid. I did very well," he told the Observer Sport Monthly in 2001. "I was a naturally aggressive left-back, a cut-throat tackler. You may have got past once but there was never, ever, ever a second occasion. And I was fast, I was a great 100m sprinter."
2. He had a really tough childhood marred by domestic violence.
"Growing up, my father was less than a perfect role model," he told CNN in 2007. "I watched how he battled alcoholism and how he became terribly violent with my mum, to the point where she feared for her life. Every time he got violent, any present that my brother, sisters, or I had given mum would be smashed, simply because he knew it belonged to her. There were instances when the police were called to take him away; mum was taken to the hospital while we kids were taken to a children's home."
Ramsay and his wife Tana now serve as ambassadors for Women's Aid, a British charity that works to end domestic violence against women and children.
3. He's a fitness fanatic who likes to compete in Ironman triathlon events.
For the record, each Ironman event comprises a 2.4 mile swim, an 112 mile bicycle ride, and a 26.22 mile run – in that order. "I'm a workaholic and training is my release. When lockdown struck I didn't want to sit there, put weight on and veg out, getting angry with the Government," he told The Sun this week. "I also have that stern warning of my father dying at 53 [from a heart attack] and I look at my kids and know I can't leave them rudderless."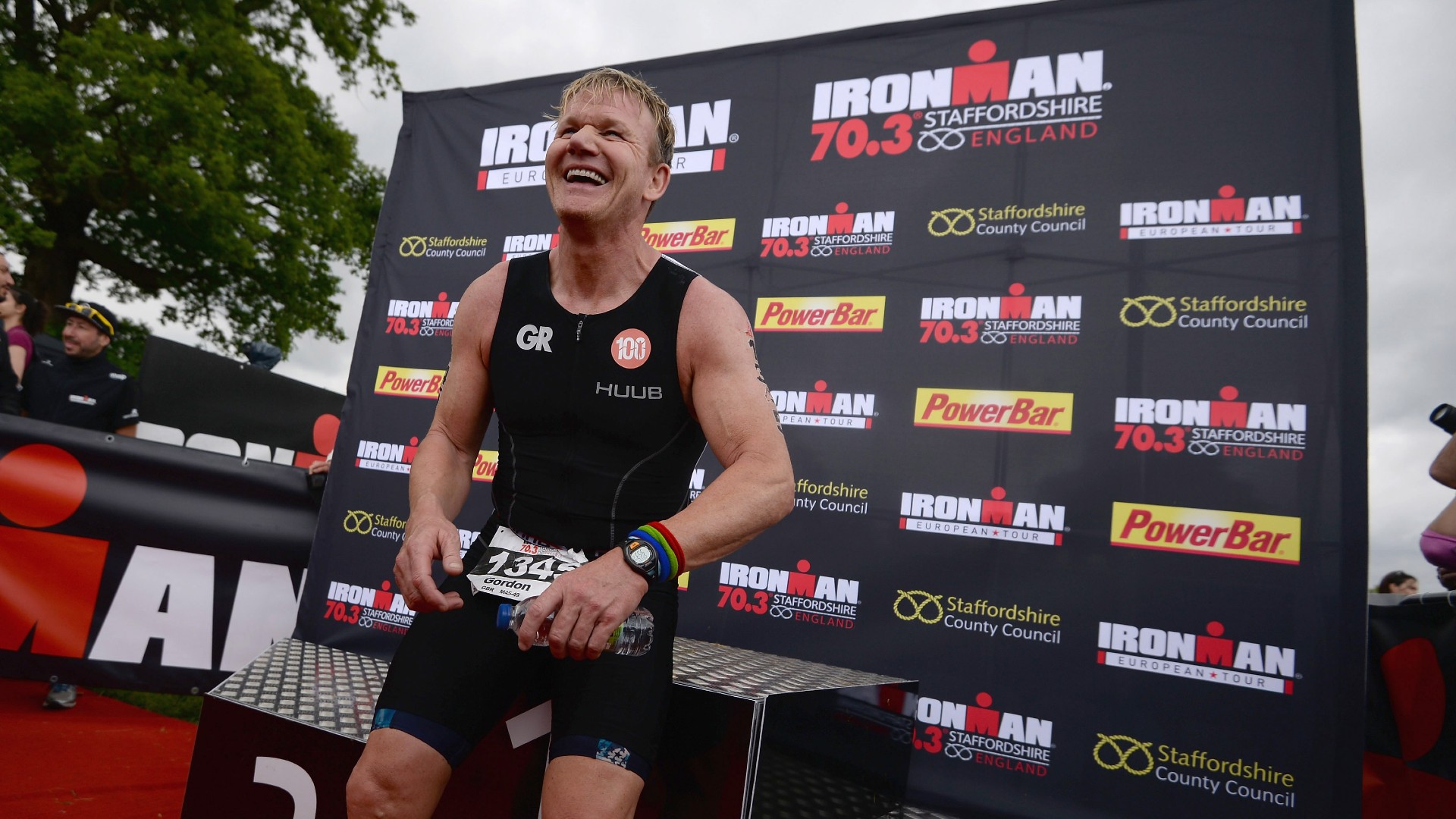 4. His global hospitality chain, Gordon Ramsay Restaurants, now has 35 restaurants worldwide.
According to the company website, 18 of these restaurants are in London, 10 are in the U.S. including five in Las Vegas, and the rest are in France, Dubai, Singapore, Malaysia, and China.
His flagship venue, Restaurant Gordon Ramsay in London's Chelsea, has held three Michelin stars – the industry's top honor – for 19 years.
5. He doesn't eat three meals a day.
"I like the Asian approach of four, five meals a day – small meals – because by the time I get to an entree, I'm full," he told Delish in 2019. "I like eating small bits and moving on. I'm pretty picky on that front."
"Admittedly, it's the world's worst eating habits, because you're constantly grazing," he added. "Chefs, we graze. We'd be lying to say we cook dinner before we eat dinner. You need to have that emptiness in your stomach to get into tasting, constantly, everything."
6. He also never eats plane food – because, he says, he used to advise Singapore Airlines on its in-flight menu.
"The biggest complaint I get from members of staff on BA [British Airways] is they say to me, 'Oh, you're not eating,' he told The Times in 2017. "And I say, 'No! Because I know how long ago that s**t was cooked. I'm not that f***ing stupid.' Everything is braised, everything is overcooked. It's for health and safety reasons. It's not their fault, but everything has to have the s**t cooked out of it. Even a piece of salmon has to be cooked for 12 hours."
7. He once ejected British food critic A.A. Gill, his wife, and their dining companion – none other than Dame Joan Collins – from his Chelsea restaurant after they'd ordered their food.
Ramsay said at the time that he did so because Gill had insulted a waiter, though The Scotsman reports that Gill had recently been scathing about Ramsay in a restaurant review. Still, whatever the truth of the matter, he and Collins later made up on an episode of Ramsay's TV show The F Word, when he taught Collins how to make a perfect omelette.
8. His go-to dish when dining out is beef wellington... but it wouldn't be his last meal.
"Sea bass is the king of fish, so my idea of the perfect last meal would be a beautiful fillet, pan-fried with a light sorrel sauce, or served roasted with artichokes and a chive crème fraîche," he told Bon Appetit in 2017.
To be fair, it does sound pretty delicious, doesn't it?
9. In 2009, he underwent a cosmetic procedure to fill in scars on his chin.
"I've got four children, and they've become: 'Dad, why have you got so many wrinkles on your face when Clementine's daddy has no wrinkles?' The lines were pretty horrific, like Scarface, and I was never embarrassed by it but my children helped me become more paranoid about it," he told The Guardian the following year.
"You've seen the articles: craggy face, map of Wales, ugly, deflated rugby ball. There's only so much s**t you want to take," Ramsay continued. "I woke up in the morning and Matilda was trying to squeeze pound coins in there. In LA it was all 'Omigod, when did you go through the windscreen?' You put up with it, but then you get f**king sick of it. I listened to what Simon Cowell said, and he said, 'Get it done, it'll make you look more…'"
10. Oh, and he estimates that he swears around 150 times a day.
Check out some bleeped-out highlights courtesy of BBC America below.
Are you a fan of Gordon Ramsay's fiery approach to cooking?