10 Things You Never Knew About Emilia Clarke
Game of Thrones fave Emilia Clarke guests on this week's episode of The Graham Norton Show to chat about her role in Last Christmas, the upcoming rom-com co-written by Dame Emma Thompson, featuring the music of George Michael and Wham!. Ahead of her appearance, here are some things you might not know about the actress whose full name is the very proper-sounding Emilia Isobel Euphemia Rose Clarke.
1. She turned down the lead in Fifty Shades of Grey.
"I really wanted to work with [director] Sam Taylor-Johnson because she's f**king amazing," Clarke told Marie Claire in 2015. "But there is a huge amount of nudity in the film. I'll never say, 'I'm never doing nudity,' because I've already done it, but I thought I might get stuck in a pigeonhole that I would have struggled to get out of."
2. Her first screen role came in an episode of U.K. daytime soap Doctors.
Clarke played Saskia Mayer, a university student being stalked by her own father! Check out a clip below.
https://www.youtube.com/watch?v=1ShNYLM7DBo
3. Earlier this year, she revealed that she survived two life-threatening aneurysms during the early years of Game of Thrones.
Clarke underwent three hours of brain surgery after the first aneurysm, but suffered a second aneurysm requiring "intrusive" surgery around two years later. "The recovery was even more painful than it had been after the first surgery," Clarke wrote in a courageous personal essay for The New Yorker. "I looked as though I had been through a war more gruesome than any that Daenerys experienced. I emerged from the operation with a drain coming out of my head. Bits of my skull had been replaced by titanium. These days, you can't see the scar that curves from my scalp to my ear, but I didn't know at first that it wouldn't be visible."
4. Shockingly, she wasn't actually the original Daenerys.
Fellow English actress Tamzin Merchant (The Tudors, Carnival Row) played the Dragon Queen in HBO's unaired Game of Thrones pilot. Unhappy with various elements of the episode, showrunners David Benioff and D. B. Weiss went back to the drawing board and made several changes, including casting Clarke as the Daenerys we know and love.
5. During her time at a boarding school in Oxford, she coxed (or steered) the men's eight rowing team.
But lost her job when she steered the boat the wrong way during a prestigious race at Henley Regatta!
6. She has a dog named Roxy.
Who is pretty adorable, tbh.
[caption id="attachment_452691" align="alignnone" width="1024"]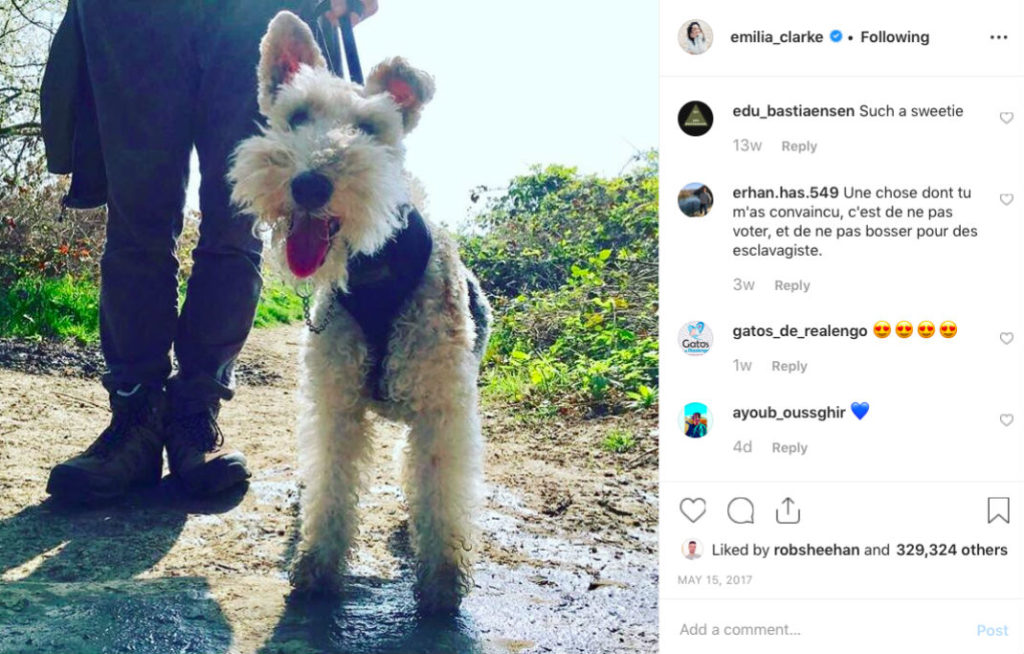 Photo: @emiliaclarke[/caption]
7. Her dad, who sadly died of cancer in 2016, was a theater sound engineer who gave her down-to-earth advice about pursuing an acting career.
"He was crew, not cast; there's a big divide," Clarke told Esquire in 2015. "He wanted me to be very realistic about the whole thing, about how nobody makes any money. The only line you'll ever need to learn, he told me, is, 'Do you want fries with that?'"
Incidentally, her brother, Bennett Clarke, is now a crew member, too, who worked in the camera department on Game of Thrones.
8. She almost landed some other sizeable genre roles.
She was in the running to play Sharon Carter in Captain America, a role which went to Emily VanCamp, and Enchantress in Suicide Squad, which Cara Delevingne ultimately landed.
9. Her maternal grandmother was half-Indian, but had to hide her true identity because she was born as a result of a secret affair.
"The fact that [my grandmother] had to hide her skin color, essentially, and try desperately to fit in with everyone else must've been incredibly difficult," Clarke told Vanity Fair last year, adding that her family has a "history of fighters."
10. She became a little bit emotional when she met Beyoncé earlier this year.
Clarke reveals all in this lovely preview clip from Friday's episode of The Graham Norton Show, which airs 11/10c on BBC America.
https://www.youtube.com/watch?v=3bog3hsZL9c
What's been your favorite Emilia Clarke moment?