10 Things You Never Knew About 'A Discovery of Witches' Star Matthew Goode
(Photo: Getty Images)
You'll know Matthew Goode from his impressive work in everything from Downton Abbey to The Crown, and The Good Wife to The Imitation Game. You might also know him from ITV and Hulu's The Wine Show, on which he and Matthew Rhys celebrate great Chardonnay and knock back quality Rioja.
Now he's starring in season two of A Discovery of Witches, the mesmerizing supernatural drama series available on Sundance Now. Before you pay a return visit to its intriguing world of witches and vampires, why not get to know Goode a little better?
1. He's played some upper-crust roles, but he's not from a grand background.
"I'm not posh, not in the slightest," he told the Toronto Star in 2011. "My parents spent some money on my education, but I wasn't born to the purple. My dad was a geologist and my mum was a nurse who directed amateur theatrics. She was an orphan, was my mum, and she always had it in her head that she was really Laurence Olivier's love child."
2. His half-sister Sally Meen is a well-known '90s TV presenter.
She used to deliver the weather forecasts on ITV morning show GMTV.
3. When he was six, he played a singing mouse in a school production of The Wind in the Willows.
Sadly, no footage of this early performance exists, but you can watch Goode reading from the classic children's book below.
4. He's pals with Benedict Cumberbatch and Jamie Dornan.
But don't go presuming the trio are besties. "I wouldn't say we're best friends. We're very acquainted," Goode told the New York Times last year. "I play golf with Jamie. And I see Ben a bit. But I think they would have raised eyebrows if they were like: 'My best friend's Goodie? I mean, I like him.' And I love them both very much. They're very nice people."
5. He's a keen golfer.
Here he is enjoying a round with Dornan.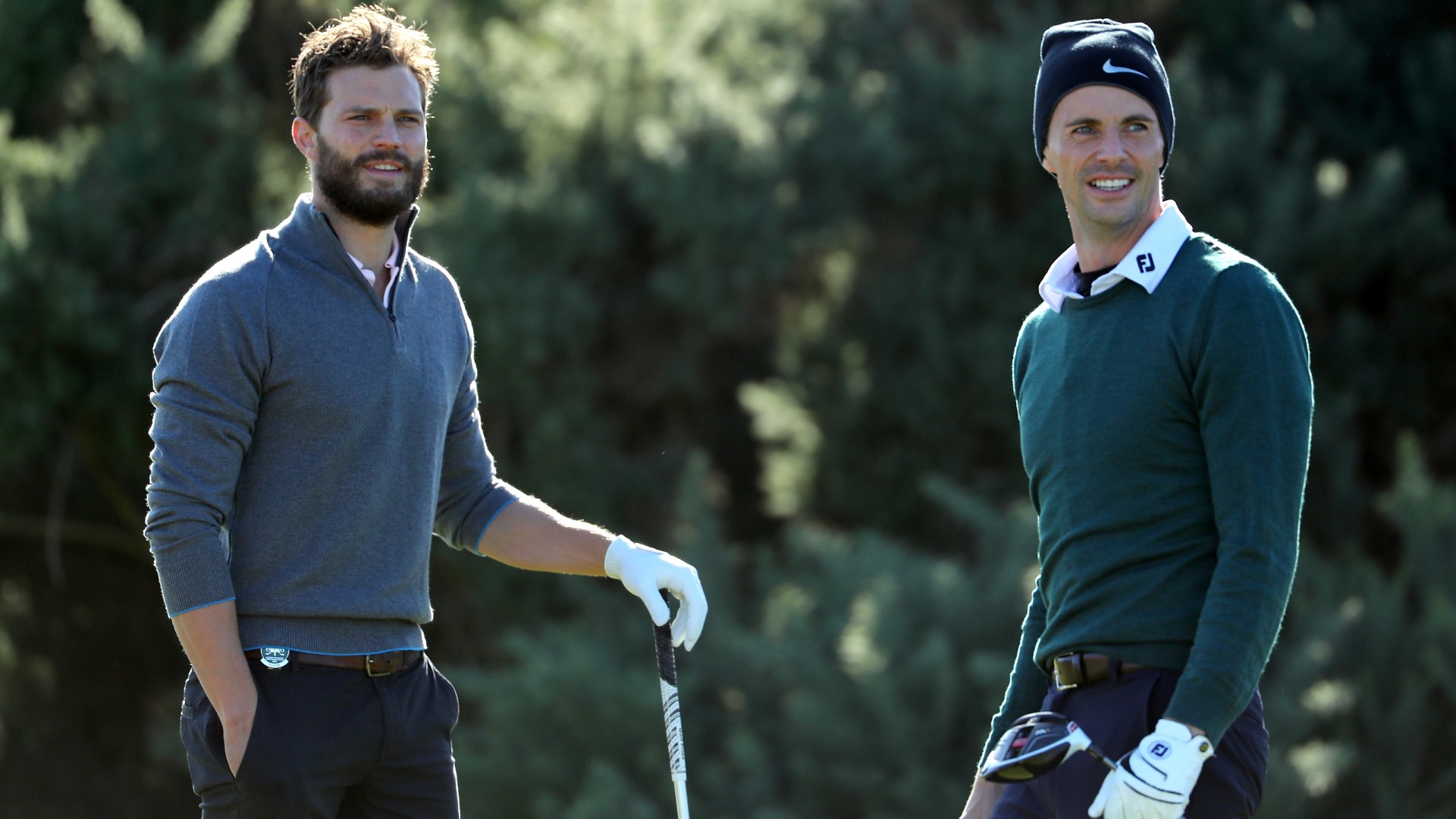 (Photo: Getty Images)
6. He wasn't always as smooth as the characters he tends to play.
"My parents didn't necessarily have the greatest relationship and that meant I wasn't great with girls at school," he told The Guardian in 2008. "I didn't see them as friends; I'd try and kiss them, but as I thought swearing was the way to be attractive, that didn't really work. At university I got more comfortable in my own skin. Then at drama school in London I met people who were cool. I had flatmates who wouldn't let me go out in chinos and check shirts, which is no bad thing."
7. He lives in Surrey, near London, with wife Sophie and their three children.
Asked the secret of a good marriage, he told Red: "A good cellar. Somewhere you can store wine. And not being in each other's pockets the whole time. You have to have something for yourself. I've always had a hobby. When the kids go to school, I go fishing. Sophie used to ride a lot when she was a child and she recently got back into that. So we have a bit of fun on the side."
8. He's turned down some pretty big roles... but you'll have to guess which ones.
"I'm not necessarily everybody's go-to actor. I've had parts in The Imitation Game, the American legal drama The Good Wife and Downton Abbey, so it's been a good couple of years, but I'm picky," he told The Times in 2016. "I won't say what roles I've turned down, but if I told you some of the bigger movies have been 'comic-booky,' you might be able to guess. I've regretted saying no to some jobs, but if you keep looking back, you'll trip over your own, vain shadow."
9. He got into wine at a young age.
"My father was incredibly keen and passionate about wine and thought that his children should have an idea about it," he told Vulture. "We were always allowed to try a little bit with our meals, like at Christmas time, when we were around 12 or 13 or maybe even a bit younger. In his mind, it was a good idea for a young gentleman or a young lady to have a little bit of background and knowledge of these things. And if we didn't like it, we didn't like it, and I loved him for that. People might frown upon giving alcohol to children, and that's completely understandable, but I think it made me more responsible rather than less."
10. And finally, joining A Discovery of Witches kind of righted a career wrong for him.
"It's very much something I'd never done, I had a lot of friends who were involved with Harry Potter and I think I felt sort of maligned about that, so I was quite interested in the genre. This is very different," he told Good Housekeeping ahead of the season 1 premiere. "What's great about it is that it's set now, in the real world and because it's written by a historian there are so many layers and it's very nuanced. It's a fascinating world."
Do you have a favorite Matthew Goode role?