10 Reasons Why 'Line of Duty' is Your New Favorite Crime Series
Since it debuted in 2012, Line of Duty has become one of the biggest shows on British TV – it's been voted the U.K.'s third greatest crime drama of all time behind Inspector Morse and Foyle's War, but ahead of Happy Valley. The most recent season had nearly 13 million viewers glued to their screens each week. Beginning this Saturday, April 4, at 10pm EST, AMC is showing the first three seasons on U.S. TV for the first time.
https://www.youtube.com/watch?v=rQ98VaOoz94
Here's why you'll want to make a regular Saturday night date for it.
1. It's written and created by the mastermind behind Bodyguard.
Line of Duty's Jed Mercurio went on to create Bodyguard, the police thriller starring Keeley Hawes and Richard Madden that became a Golden Globe-winning U.K. TV phenomenon. If you've watched Bodyguard, you'll know that Mercurio is prepared to take narrative risks that few other TV writers would dare to try.
2. It's not about catching criminals, but exposing dodgy police officers.
Each season of Line of Duty follows AC-12, a police anti-corruption unit comprising Superintendent Ted Hastings (Adrian Dunbar), D.C. Kate Fleming (Vicky McClure), and D.S. Steve Arnott (Martin Compston), as they investigate a different senior officer suspected of improper conduct. Season one centers on their investigation into the working practices of D.C.I. Tony Gates (Fear the Walking Dead's Lennie James), an award-winning officer whose success rate seems too good to be true.
3. It attracts some fantastic British actors.
Season one also features Gina McKee (Notting Hill, Bodyguard) and Neil Morrissey (Men Behaving Badly, The Night Manager). Then, season two introduces Keeley Hawes as D.C.I. Lindsay Denton, an officer trying to prove she hasn't taken a bribe after all her fellow officers are killed in a botched operation. In season three, you'll meet D.S. Sam Railston, who's played by A Discovery of Witches' Aiysha Hart.
4. Lindsay Denton is an instantly iconic TV character.
Is she guilty? Is she innocent? Either way, you'll find her all too relatable at all times.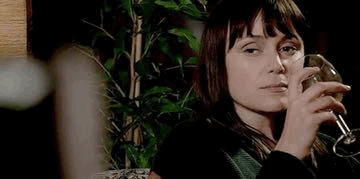 5. It's a series that revels in moral "gray areas."
In Line of Duty, characters who look like good guys sometimes have shady secrets, and folks you presume are bad guys often have motivations that are kind of understandable. Basically, don't write off anyone in this show until the season finale.
6. It really keeps you guessing.
Even the cast don't necessarily know what's going to happen next: each six-episode season is shot in two separate blocks, so the leads are kept on their toes as much as viewers. McClure has said the cast "panic" when they're given a script because they have no clue what might become of their characters.
7. There's a mysterious character called "The Caddy" who's a creepy presence throughout the first three seasons.
Without giving too much away, "The Caddy" appears to be a key figure in the O.C.G. (Organized Crime Group) that AC-12 suspects of bribing several officers. But no one's quite sure who (s)he is, or whether (s)he's been under their noses the whole time.
8. It features some incredible and surprising police interrogation scenes.
Are you sitting comfortably? Because you'll need to concentrate.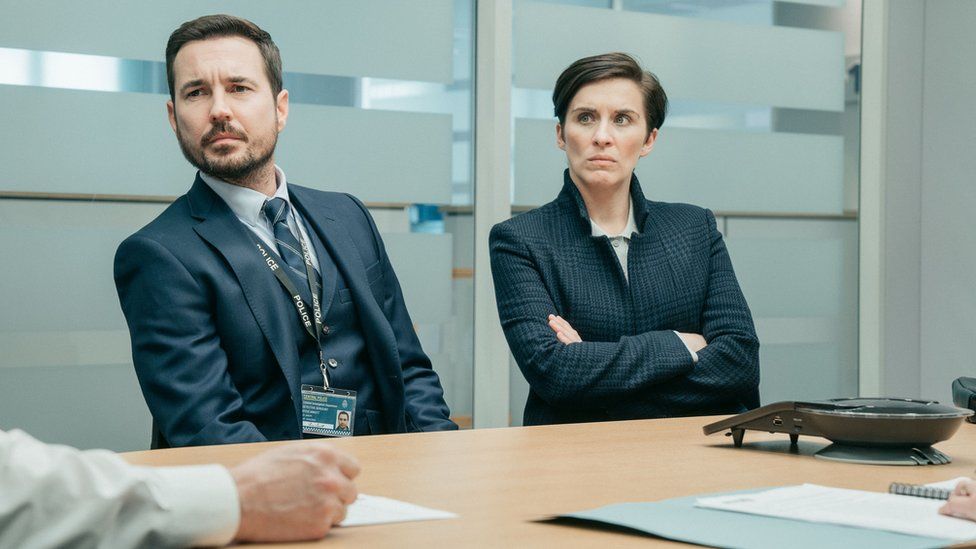 9. If you get hooked, there's lots more to come.
Season four's suspected corrupt officer, D.C.I. Roz Huntley, is played by Westworld's Thandie Newton, while season five centers on D.S. John Corbett (The Irishman's Stephen Graham), an undercover officer who may be in too deep. A sixth season is in production, too, though it's currently halted due to Coronavirus
10. It's also very funny.
Try not to use this classic Kate Fleming line in your next conference call...
https://twitter.com/BBCOne/status/1125129307951595527?s=20
If that weren't enough to pique your interest, our sister blog AMC Talk has their own POV on the series.
Line of Duty begins Saturday at 10pm EST on AMC.
Is Line of Duty going on your watch list?