10 Reasons We Love Sir David Attenborough
We're heading into another episode of BBC America's five-part animal documentary Dynasties this coming Saturday, February 9 at 9/8c. Sir David Attenborough narrates and takes us on adventures we might not have been able to experience otherwise. In each episode of Dynasties he introduces us to a hero of the animal kingdom.
We appreciate Attenborough for his multitude of accomplishments, but... we'd like to dig a little deeper as to why he's just so darn likable.
Here are 10 reasons why we enjoy the company of this amazing man:
1. His voice.
https://www.youtube.com/watch?time_continue=11&v=enu-qR0H_uk
Shall we start off with the obvious? Attenborough has such a soothing voice, it really brings us into the story. And, when entering the animal kingdom, the story might take a turn for the worse... say an animal is in danger, but, with Attenborough on hand, he can help usher the viewer through the distress of it all. His voice is praised so much so, that BBC radio DJ Greg James asked him to provide a voiceover for Adele's music video "Hello," which you can check out in the above clip.
2. He knows his stuff. 
https://www.youtube.com/watch?v=8ltsM-LoBGQ
Of course, it's not just about inflection (how the voice goes up and down). One can have a calming timbre, but there's more to it than that. Attenborough clearly knows his stuff. He studied at the University of Cambridge's Clare College. His area of focus included geology and zoology, graduating in 1947. In the above clip, Attenborough walks us through museum animal collections and how to navigate all the information made available.
3. He is genuinely interested in the subject matter. 
https://www.youtube.com/watch?v=zxEtvPuCgAw
He's been doing this since he was a kid. Attenborough grew up on a college campus, where his father was an administrator. He spent time collecting fossils and other specimens in the area. In the above clip Attenborough talks about his love of fossils. He opens up a fossil, being the first person to see it in four million years. Seeing fossil finding through Attenborough's POV helps us understand the draw.
4. He's humble. 
[caption id="attachment_442170" align="alignnone" width="1958"]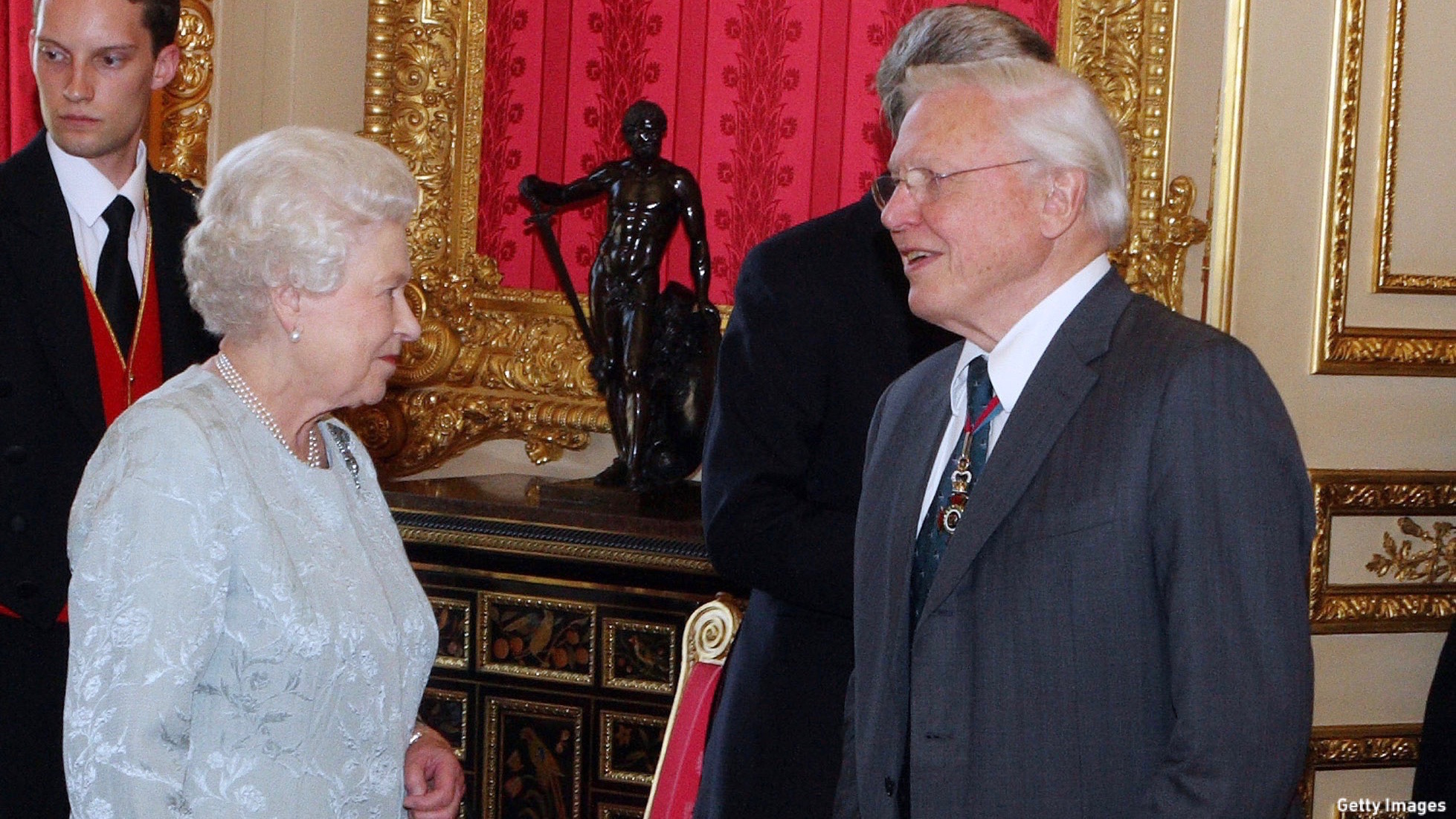 In 2011, David Attenborough was greeted by Queen Elizabeth II at a reception for the Order of Merit at Windsor Castle.[/caption]
Attenborough has nine titles that follow his name. Nine!? That's a lot. And, you would never know it. He doesn't lead with his accomplishments, like, "Hello, I'm David Attenborough, did I mention that I have been awarded The Most Excellent Order of the British Empire?" Since he doesn't wear his metals on his sleeve, we will have the honor of listing them off here: OM (Order of Merit), CH (Order of the Companions of Honour), CVO (The Royal Victorian Order), CBE (The Most Excellent Order of the British Empire), FRS (Fellowship of the Royal Society), FLS (The Linnean Society of London), FZS (The Zoological Society of London), FSA (The Society of Antiquaries of London), and FRSGS (The Royal Scottish Geographical Society). He really wouldn't have the time to rattle all of these off at a dinner party.
5. He's funny. 
https://www.youtube.com/watch?time_continue=24&v=ndMKTnSRsKM
Sometimes academics can come across as stuffy. Not this one. While Attenborough takes his work seriously, he also has fun at it. In the above clip, he approaches a sloth, saying, "This is one animal I don't have to sneak up on," because the sloth is a slow moving creature. In a kind, but playful way, Attenborough greets the tree dweller with a, "Boo!"
6. He's crafty. 
https://www.youtube.com/watch?time_continue=9&v=_UH-6r5jrGI
Attenborough gets up close and personal with the animals he's observing. But, sometimes they are hard to find. He doesn't just talk the talk, but he howls the howl. In the above, he explains that if animals are to work in a team, they have to be able to communicate with each other. He takes it a step further, saying it's possible for humans to communicate with animals, too. He gives out his best howl in an attempt to attract nearby wolves. That is a bold effort!! Most people would go the other direction. And, we're happy to report, he did get a response.
7. He's caring.
https://www.youtube.com/watch?time_continue=28&v=NeaAZ1On-w8
It can probably go unsaid that a man who works with animals his whole life is caring, but... we want to say it. In 1979, Attenborough made a visit to a family of gorillas and we see him playing with the two baby gorillas. In the above clip from 2007, he watches the footage of the visit and is asked what he was thinking at the time. And he says, "Bliss." He's called out for having a slight grimace on his face, but that's because one of the babies was taking off his shoe. He was having trouble balancing play time and presenting, but he pulled it off. 
8. He's reasonable. 
[bbca_video_embed media_id="1393119299885" video_id="n00C_iuKlvS_"]
The five-part series Dynasties examines animals on the verge of extinction, who are at a crucial point in life. Attenborough understands the importance of conservation, but also suggests we look at the entire picture, including the beauty and wonder of wildlife (in addition to the danger). Earlier this year, he said in an interview with The Observer, "We do have a problem. Every time the bell rings, every time that image [of a threatened animal] comes up, do you say 'remember, they are in danger'? How often do you say this without becoming a real turn-off? It would be irresponsible to ignore it, but equally I believe we have a responsibility to make programs that look at all the rest of the aspects and not just this one," reported by The Guardian. 
9. His reputation proceeds him. 
When we hear David Attenborough is attached to a program, we can trust it will be good. Simply because we trust him. He has proven himself over and over again. In 2017, CNN's Christiane Amanpou featured him in the series My Hero. She said of the decision, "He's my hero. He's not a young man anymore, but he's still fighting the good fight." At 92, he's got this.
10. He gives us hope. 
https://www.youtube.com/watch?v=Q-_xBlKe1iU
In 2015, President Barack Obama invited Attenborough to The White House for a sit down to discuss the future of the planet. Obama asked Attenborough, "With the prospects of climate change and rising populations, do you get a sense that we are going to be able to get ahead of these problems?" Attenborough talks about how urban civilizations are cut off from the natural world and are not taking the time to provide protection. But, he continues on to discuss how small children are continuously interested in nature and how we need to hold onto that as adults.
If you'd like more David Attenborough, watch BBC America's Dynasties this Saturday, February 9, at 9/8c. 
On a scale of meow to growl how much do you love Sir David Attenborough??