10 Reasons We Love Returning 'Doctor Who' Favorite John Barrowman
(Photo: Getty Images)
One of Doctor Who's all-time faves, John Barrowman's Captain Jack Harkness, returns to the Whoniverse in "Revolution of the Daleks," the show's festive special airing New Year's Day at 8pm EST on BBC America.
To whet your appetite, here's a suitably fabulous celebration of the versatile actor, singer, author, and TV presenter who's also known for his roles in Arrow and Desperate Housewives.
1. His Doctor Who character is a real pioneer.
When he made his Doctor Who debut in 2005, Captain Jack Harkness was hailed as the show's first openly non-heterosexual character. Fans then got to see more of Captain Jack's bisexuality in Torchwood, the spin-off series Barrowman starred in from 2006 to 2011.
2. He's co-written his own comic.
It's called Acursian and stars none other than... John Barrowman!
According to cult book store Forbidden Planet, the comic's plot synopsis is as follows: "Acursian is a time-traveling magical journey set between 1745 and present day that follows Charlie Stewart, a dislikeable lawyer whose bloodline is cursed by the Gods after Charlie's ancestor, Prince Charles Edward Stewart, makes a deal with Bregon, the god of war. The exchange quickly backfires with Bregon stealing three talismans from his sisters, the Goddesses of fate and time, and a battle soon ensues."
3. He speaks in both an American and a Scottish accent.
During a 2019 interview with Scottish newspaper the Sunday Post, Barrowman admitted that he's still sensitive to criticism of the way he switches between accents.
"It bothers me a lot. They're not criticizing the accent, they're criticizing me," he said. "They might not understand why I do it – and I couldn't give a damn if they agree with it or not. When I went to America as an eight-year-old, I already knew I was somewhat different. Although I didn't know what gay was, I knew I was going to be bullied for it. And when I started speaking Scottish, boys in the class began making fun of me.
"I wasn't having that and I wanted to fit in," he continued, "so I consciously learned an American accent, which I speak with those who aren't Scottish. For most of my 51 years I've had to explain myself and it gets irksome. Being Scottish is a massive part of me. I'm proud of my heritage and where I was born. I will never forget that."
You can hear Barrowman's Scottish accent in full swing in this recent U.K. TV interview with fellow Scot Lorraine Kelly.
4. He's an acclaimed stage actor.
Barrowman worked prolifically on stage in the '90s, appearing in the West End and Broadway productions of Sunset Boulevard, the West End productions of Beauty and the Beast, The Phantom of the Opera, and Hair, and the Broadway production of Stephen Sondheim's Putting It Together.
His most recent West End credit came in a 2009 production of La Cage Aux Folles – check out his emotional rendition of the musical's signature song "I Am What I Am."
5. He's a successful recording artist.
In the U.K., Barrowman has six Top 40 albums to his name, including last year's holiday collection A Fabulous Christmas. In 2008, He even recorded a song written for him by Take That star Gary Barlow: the anthemic soft rock ballad "What About Us?"
6. He put in a stint as a kids' TV presenter.
From 1993 to 1995, Barrowman co-hosted BBC One's much loved Saturday morning show Live & Kicking. As its title suggests, the show was broadcast live and incorporated a fizzy mix of viewer phone-ins, playful pranks, comedy bits, competitions, and links to cartoons.
7. He has a fantastic sense of humor and definitely knows how to laugh at himself.
During a recent interview with The Independent, Barrowman recalled being told by a reporter that he had effectively "come out" by referring to his partner Scott Gill as his "boyfriend." Barrowman's response: "I told him, 'Well let me remind you, I'm a man who lives in Kensington-Chelsea in my late twenties, I live in a townhouse with another man, we have three beautifully groomed dogs, nice physiques… and I'm in MUSICAL THEATRE! What more of a clue did you need?'"
8. He's a terrific dancer.
Barrowman appeared on the 2011 Christmas episode of Strictly Come Dancing – the U.K.'s version of Dancing with the Stars – and finished first after dazzling the judges with his Quickstep to "Sleigh Ride."
9. He's been honored by Queen Elizabeth II.
Barrowman was awarded an MBE for services to charity and light entertainment in 2014. Ever the proud Scot, he wore a kilt to his investiture, at which he was accompanied by his parents and husband Scott.
[caption id="attachment_470269" align="alignnone" width="1920"]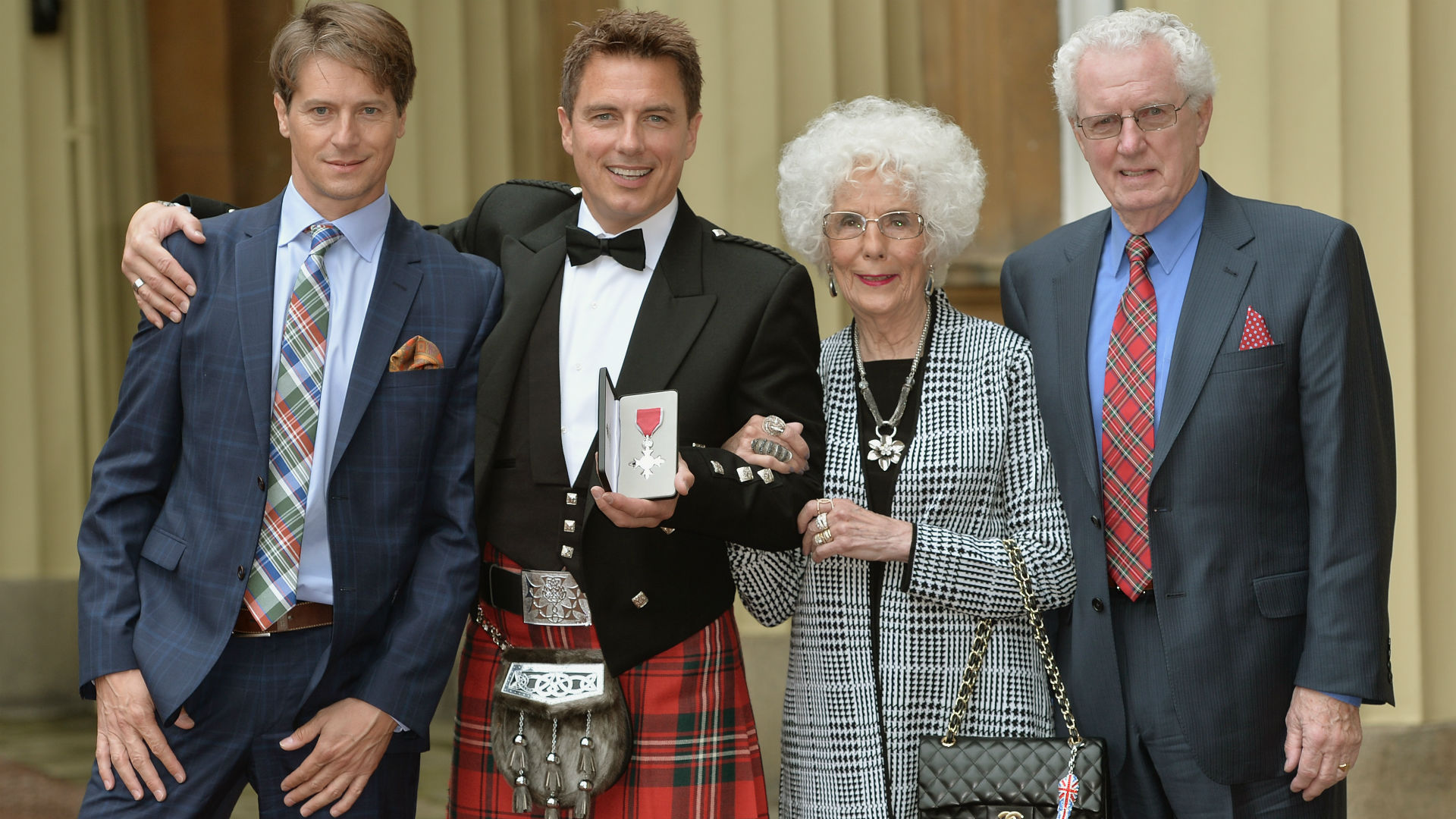 (Photo: Getty Images)[/caption]
10. He's game for anything.
Case in point: Barrowman's appearance on risqué U.K. game show Celebrity Juice, where his pants split during a challenge and he remained completely unfazed.
Never change, John Barrowman!
Do you have a favorite John Barrowman role or moment?