10 Reasons Karen Gillan is on Our Watch List
Doctor Who alum Karen Gillan is set to star in All Creatures Here Below, releasing this week (May 17). It's a dark and twisted tale of a young couple on the run. They have a baby in tow, who doesn't seem to be theirs.
https://www.youtube.com/watch?v=0AqbsEzVfnk
Gillan has been on our radar for quite a while, and here are 10 reasons why she's staying at the top of the watch list:
1. She's Amy Pond.
https://www.youtube.com/watch?v=_tHichY3l2E
While Gillan may have end her run on Doctor Who in 2013, she will always be Amy Pond to us and fans alike. She met the Doctor as a young girl, growing up knowing he was out there. She was re-introduced to him later in life, when she was in her 20s. Pond had a long-lasting bond with the Time Lord (Matt Smith) and we with her. And, here's a fun fact, Gillan starred in a 2008 DW episode, "The Fires of Pompeii" as a Soothsayer, before taking on the role of companion to the Doctor. 
2. She's racking up the roles. 
https://www.youtube.com/watch?v=TcMBFSGVi1c
Gillan can currently be seen in the blockbuster Avengers: Endgame, reprising her role as Nebula. We can also look for her in the 2019 Jumanji sequel, opposite Dwayne Johnson, Kevin Hart and Jack Black. The project that really has our attention is 2020's Gunpowder Milkshake, which is set to be a female killer-for-hire film. It may be just us, but that appears to be the "in" genre. Our fingers are crossed she's to portray the assassin, but whatever role she takes on, we trust her to kill it.
3. She's writing and directing. 
https://www.youtube.com/watch?v=hmo8fRz09k8
Gillan has proven herself a versatile actress, tackling sci-fi, drama and comedy. She could easily take it easy between projects, and rest on her laurels, but that wouldn't be any fun. Instead, she challenges herself. She began writing and directing film shorts in 2015, with the release of Coward. Just last year she wrote, directed and starred in the feature-length Glasgow-based film The Party's Just Beginning. Being a native of Scotland, this project was close to heart. It follows a young woman struggling with the loss of her best friend, who committed suicide the year prior. 
4. She's really fun.
https://www.youtube.com/watch?v=qJe1MSNsYdg
She's not all work. Gillan is a lot of fun, and we have fun keeping up with her shenanigans. Like the time she swung by Jimmy Kimmel Live! and she sang the holiday classic "Jingle Bells" as Britney Spears. Why? Why not!? 
5. She's dedicated. 
https://www.youtube.com/watch?v=D3DeN_C9SGs
When talking to The Hollywood Reporter she described what went into preparing for the dance-fighting sequence in Jumanji, saying, "So much training. I've never done more for any movie, any Marvel movie, anything. For this I had to get through that whole thing in one take. It required so much rehearsal and I had a lot of help from my stunt double too." Her fight scenes as Nebula aren't to be reckoned with, so that's definitely saying a lot.
6. She's above the superficial. 
https://www.youtube.com/watch?v=CdvfNH3r9N4
In addition to her talent and choices in roles, Gillan is known for her trademark long red locks. For her role in 2014's Guardians of the Galaxy she shaved her head completely. She could've worn a bald cap, but she opted to go the real deal route. One might say "big deal," but for some, it's easy to attach confidence to physical attributes. Gillan on the other hand has said, "It will grow back."
7. She's grateful.
[caption id="attachment_446226" align="alignnone" width="3000"]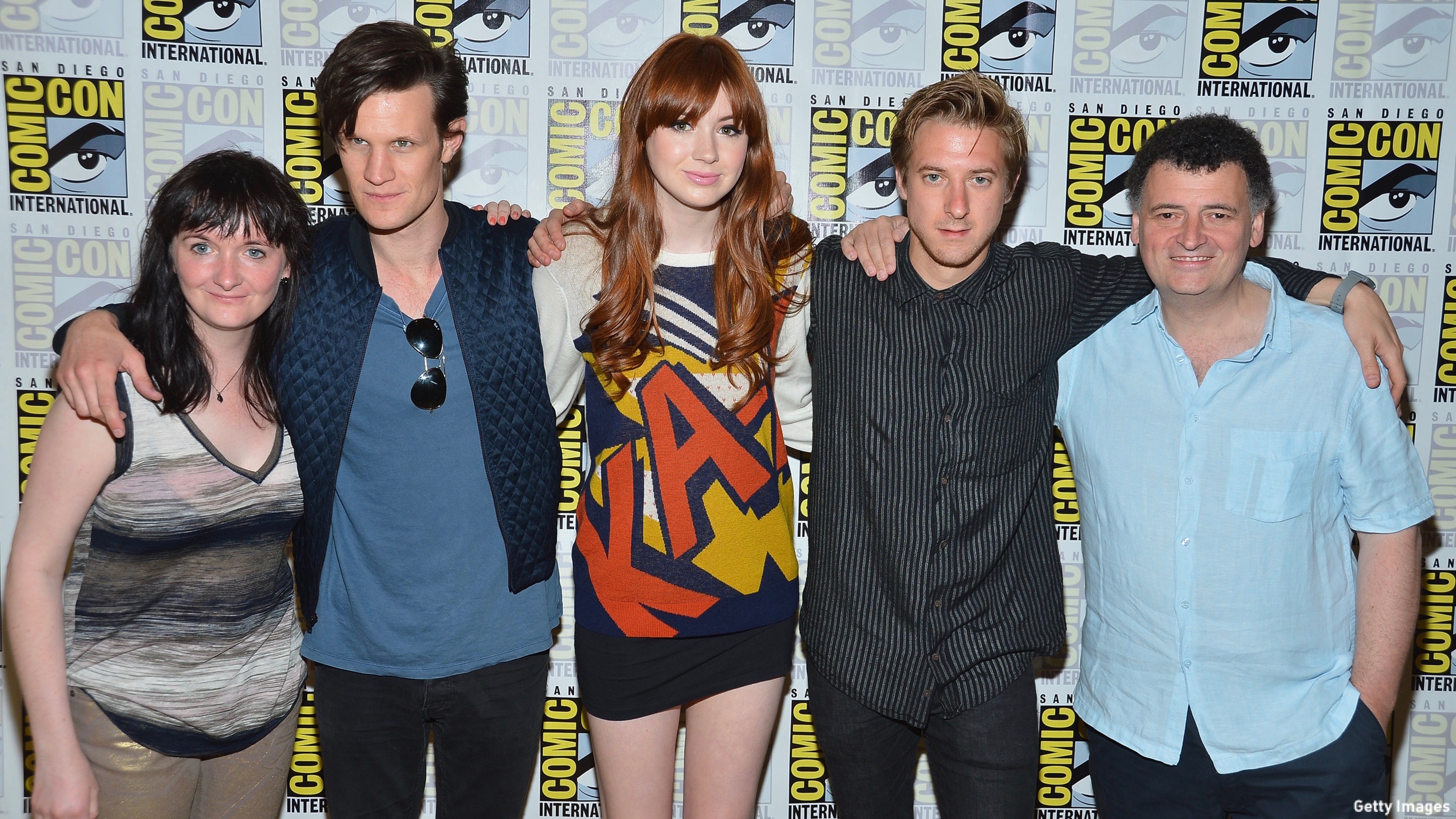 (Photo: Getty Images)[/caption]
In an interview with Radio Times, Gillan asked if she was keeping up with former DW showrunner Steven Moffat. Upon mention of his name, she exclaimed, "I do need to call him and thank him for giving me a career, because he's responsible for it!" We believe in giving credit where due, and it appears she does, too. Maybe that's why she's on our watch list — we have so much in common!! Wink, wink.
8. She's nostalgic. 
https://www.instagram.com/p/BR6FOwEg5et/?utm_source=ig_embed
Gillan uses her Instagram to share snaps from behind the scenes when filming and getting ready for glam events. But, she also takes a moment to go a step further, like posting a grade school picture her mom texted her unexpectedly. The photo is super cute, but it's the caption that's priceless: "My mum just txt me this saying she got a fright." Funny how parents are brazenly honest when kids are grown. 
9. She's a fan of her fans. 
https://www.instagram.com/p/BwmxNhwlolY/
Gillan has walked many red carpets, but she doesn't just wave and send kisses to fans standing by. As seen above, she stops and even takes a photograph. The Instagram post says it all, where she writes, "The best ingredient of all. The fans." If that weren't enough, here's a clip of her chatting with fans outside the studio when arriving to Jimmy Kimmel Live!
10. She's an expert at decompressing. 
https://www.instagram.com/p/BxFt762F3sr/
One can go from project to project, event to event and never take a break... but, that's risking burnout. Gillan took a minute to relax and we're happy to report: she's really good at it. Nuzzling a fluffy blanket, cuddled up on the couch, tuned in to reality TV, she didn't miss the chance to make sure her Jumanji coworkers knew about it.
Do you have any additions to the list!?