10 Horror-Comedy Movies to Get You Ready for Halloween
Halloween is upon us. While some people have been counting down the days since last year and have a costume burning a hole in the closet, other might prefer to stay home and keep cozy on what can be a chilly night.
Whichever way you lean, these 10 scarific movies, that also bring the LOLs, will get you in the mood:
1. Gremlins 
https://www.youtube.com/watch?v=dz5V8KzhQn8
In 1994's Gremlins, Billy Peltzer (Zach Galligan) is given a pet by his father. But this is no innocent cuddly creature. The Mogwai is unlike any animal he's ever seen, and it comes with instructions: 1) Keep him out of the light; 2) Don't get him wet; and 3) Don't (EVER!!) feed him after midnight. Needless to say, these rules are broken and chaos ensues.
2. Beetlejuice 
https://www.youtube.com/watch?v=GuyNP-XyFHs
Beetlejuice! Beetlejuice! Beetle... STOP! Say this name three times and it will unleash an undead troublemaker (Michael Keaton) by the name of Beetle-you-know-what. Tim Burton's 1988 horror-comedy revolves around a young couple (Alex Baldwin, Geena Davis) who are killed in a car accident. They weren't ready to leave the world of the living, so they stay in their home. But when a new family moves in, the ghost couple try to scare them out. The ensemble cast also includes Jeffrey Jones, Catherine O'Hara and Winona Ryder.
3. The Addams Family 
https://www.youtube.com/watch?v=4t2tdKD9tPs
To say The Addams Family are an eccentric bunch would be an understatement. But they're very sweet too. While their obsession with all things death-related might be off-putting to neighbors, they're really pretty harmless. In the 1991 film, Gomez Addams (Raul Julia) and his clan (Angelica Huston, Christina Ricci, Jimmy Workman) invite a man into their home, who they believe is Gomez's long-lost brother. Spoiler Alert: He's not.
4. Hocus Pocus 
https://www.youtube.com/watch?v=2UUMsInka2s
Kenny Ortega's 1993 scare flick Hocus Pocus revolves a teenage boy, Max (Omri Katz), and his little sister, Dani (Thora Birch), who've just been uprooted from L.A. and moved to the town of Salem, MA. Max's crush, Allison (Vinessa Shaw), leads them to a cottage in the woods. Max unintentionally releases three witches (Bette Midler, Sarah Jessica Parker, Kathy Najimy), who go on a terror the night of Halloween.
5. Scary Movie 
https://www.youtube.com/watch?v=_dktIVAfjzY
Have you ever watched a scary movie and found yourself yelling at the screen, "Don't go in the basement!!" or something of the sort? The Wayan brothers — Keenen, Shawn and Marlon — have, and they paid homage to such moments with 2000's Scary Movie. The story revolves around a group of teenagers who killed a man by accident and are being hunted by a serial killer... sound familiar? The ensemble cast is made up of Anna Faris, Carmen Electra and Shannon Elizabeth.
6. Shaun of the Dead 
https://www.youtube.com/watch?v=LIfcaZ4pC-4
Simon Pegg takes on the role of the hapless Shaun, who's on a mission to get his life back together in 2004's Shaun of the Dead. Top of his to-do list is reconciling with his ex-girlfriend, played by Kate Ashfield. That in itself is no easy task, but when their hometown is slowly taken over by the undead, well, survival takes the top slot. Shaun of the Dead also stars Nick Frost, Martin Freeman, Penelope Wilton and Bill Nighy.
7. Jennifer's Body 
https://www.youtube.com/watch?v=C8azftM5puI
Megan Fox stars as the high school "it" girl in 2009's Jennifer's Body. She's the girl every girl wants to be, and the girl every guy wants to be with. She adopts a mouse-y sidekick (Amanda Seyfried) who'll do whatever she says, but her underling soon catches on, telling her guy friend (Johnny Simmons), "Jennifer is evil. No, I mean, she's actually evil. Not high school evil."
8. Fright Night 
https://www.youtube.com/watch?v=txgGhyjPZGg
In 2011's Fright Night, teenager Charley Brewster (Anton Yelchin) suspects his neighbor (Colin Farrell) is a vampire. And, he's right, but he's the only one who knows the truth. The neighbor is making moves on his mom (Toni Collette), so, he really has to do something before things progress. Charley goes in search of vampire killer Peter Vincent (David Tennant) to get some backup.
9. What We Do in the Shadows 
https://www.youtube.com/watch?v=Cv568AzZ-i8
And on the subject of vampire movies, Jemaine Clement, Taika Waititi and Cori Gonzales-Macer portray modern-day bloodsuckers in 2014's What We Do in the Shadows. They struggle with the annoyance of having roommates and adapting to the vampire social scene. For instance, they can't get into nightclubs because they must be officially invited in before entering.
10. The Babysitter 
[caption id="attachment_437873" align="alignnone" width="2000"]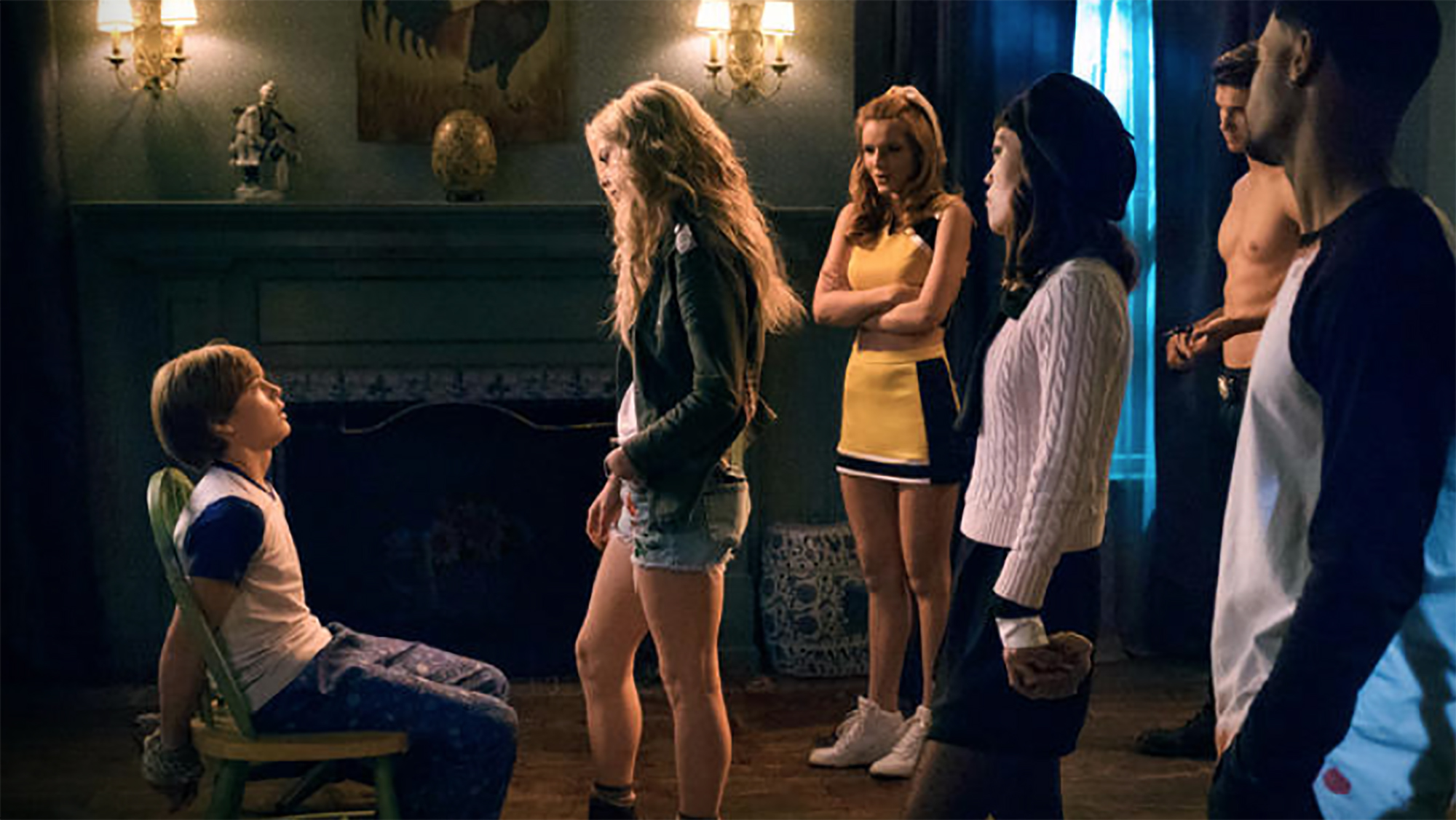 (Photo: Netflix)[/caption]
In 2017's The Babysitter, Judah Lewis plays a 12-year-old tween named Cole, whose parents hire babysitter, Bee (Samara Weaving), to look after him. At first he's completely smitten with her and has absolutely no complaints with his parents leaving him behind. But when he spies on the babysitter one night, her behavior is horrifying. It definitely goes beyond sneaking booze from the liquor cabinet and having boys over. You can watch the NSFW trailer here.
Are you now ready to get your Halloween on!?