About the Show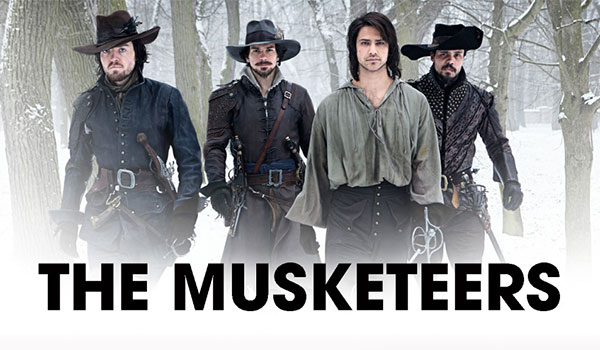 About the Show
BBC AMERICA's drama series, The Musketeers, has thrilled audiences across the globe, having sold to 140 territories, is set on the streets of seventeenth century Paris, where law and order is more of an idea than a reality. Returning for season two is Luke Pasqualino (Skins, The Borgias) as D'Artagnan, Tom Burke (Great Expectations, The Hour) as Athos, Santiago Cabrera(Merlin, Heroes) as Aramis and Howard Charles (Royal Shakespeare Company) as Porthos. They are joined by Marc Warren (Hustle, Mad Dogs) as the Comte De Rochefort. Created by Adrian Hodges (My Week With Marilyn), this is a fresh and contemporary take on the classic characters in the much-loved novel by Alexandre Dumas. The Musketeers premieres Saturday, January 17 at 9:00pm ET on BBC AMERICA.
In this second season, Adrian Hodges says "I think this is a more demanding journey than before, as we've upped the serial element and taken the show in a slightly tough and perhaps more surprising direction. It's everything you might expect but taken a degree or two further than last time. The tone remains the same but this is a darker and sexier Musketeers."
Hodges adds: "Some things have changed, some things remain the same – the four boys, D'Artagnan, Athos, Porthos, and Aramis are still very much at the center of the action, but now they have a new and deadly opponent – the Comte De Rochefort, played by Marc Warren."
Marc Warren's character, Rochefort, is a man nursing many secrets and a very dark past. As the series progresses the true nature of his plotting is revealed and everyone around him is drawn into his sinister web. Ultimately only the Musketeers and their loyal allies and friends stand between him and a desperate act that will change all their lives forever.
Tamla Kari (Cuckoo, The Inbetweeners Movie), Maimie McCoy (Loving Miss Hatto), Hugo Speer (Bedlam), Ryan Gage (The Hobbit: The Desolation of Smaug) and Alexandra Dowling (Agatha Christie: Poirot) also return for another thrilling 10-part season, made by BBC Drama Production and co-produced by BBC AMERICA and BBC WorldWide.
Guest stars include Colin Salmon (Die Another Day, Resident Evil) and Antonia Thomas (Mistfits, The Deep). Colin plays Tariq, a mysterious interloper on the run from Spain, and Antonia plays his daughter Samara, a gusty and resilient young woman whose life is put in danger when her father is exiled.
Jessica Pope is the BBC executive producer, Adrian Hodges is an executive producer and lead writer, and Colin Wratten is producer.