Questions with Matthew Macfadyen
BAFTA-award-winning British actor Matthew Macfadyen portrays Saxon ruler Lord Uhtred in BBC America's The Last Kingdom. Here he discusses falconry, his jealousy over the wardrobe of his Viking counterparts on the show, and filming an epic battle scene outside of Budapest.
What sort of a man is Lord Uhtred?
Matthew Macfadyen: Lord Uhtred is a very hard man and not in the least bit sophisticated. He is, however, a leader, a father, and a toughened warrior. Like a lot of lives lived in that time, his was short, brutish, and hard.
What was the relationship like between Lord Uhtred and the young Uhtred?
Macfadyen: The young Uhtred is rather insolent with his father [and] that makes for a great dynamic. My character, Lord Uhtred, is pretty tough on his kid. He realizes how hard life is so he's tough on young Uhtred in order to make him strong.
Were you prepared for your scenes with the hawk?
Macfadyen: Unfortunately I missed the falconry class at drama school! The hawk was a bit testy and flighty. During one take I had to get off a horse, have the hawk land on my hand, meet my wife, join my brother Aelfric and then walk up some stairs—all of this plus a lot of dialogue! So you could say the hawk made things extra challenging at times.
Was this a time period that you knew anything about?
Macfadyen: This is not a period in history that I knew much about at all. I was slightly upset because the Vikings look a lot cooler than the Saxons, and the other Saxon actors and I felt a bit hard done by. The Vikings have got cool hair with shaved sides, cool tattoos and a kind of Nordic-chic. We're just boring Saxons.
What do you and your fellow Saxons wear?
Macfadyen: I model some moleskin breaches, some very high boots, a leather tunic, an under-tunic, and a cloth outer tunic. In battle I wear chain mail. Luckily it's baby chain mail, which means it's fake and very lightweight. I have a hat that I wear which is slightly different from everyone else's, so I think that must have been to denote me as King. Other than that hat, we all wear pretty much the same.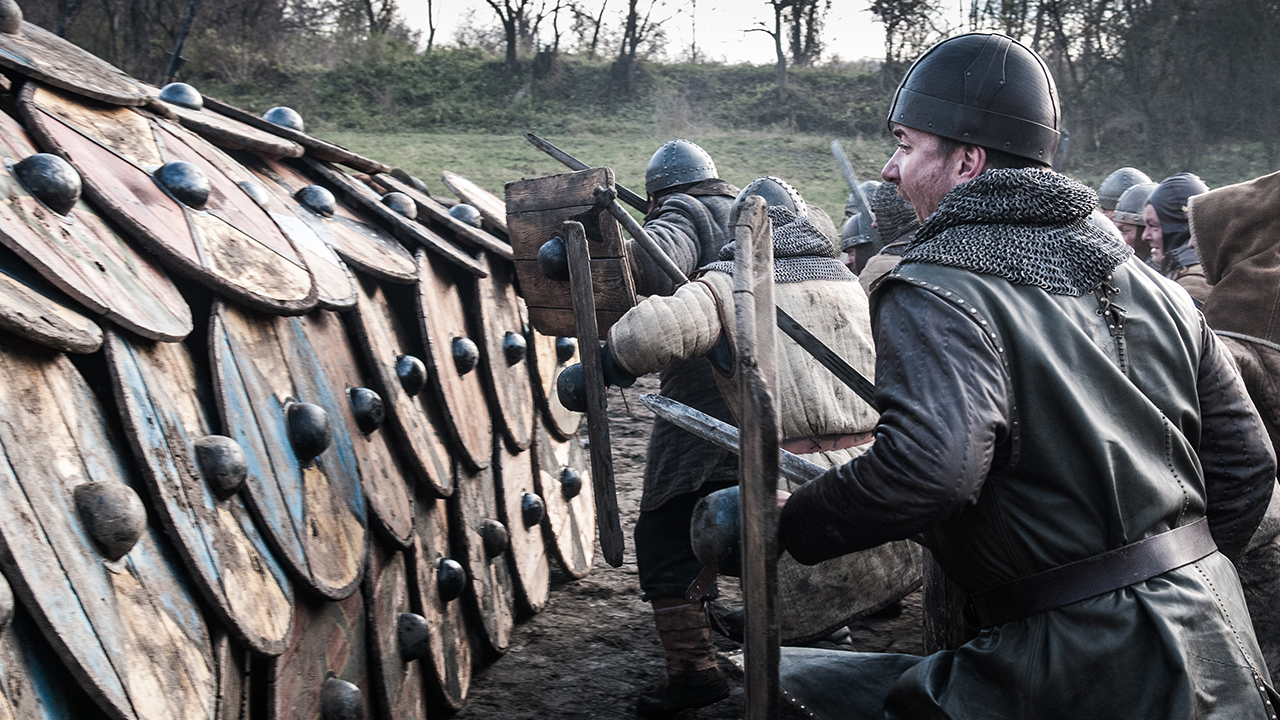 Was it tough to adapt to the costumes and stunts?
Macfadyen: You just have to get used to it all in a short space of time, but that adds to the fun of it. If I'm asked what I did at work I can say, "Well, I jumped off a horse, made friends with a hawk, and waved my sword at somebody!" That's the great thing about being an actor—no two days are the same. You have to just jump into these worlds and hope for the best. You get to learn how to horse-ride and practice sword fighting. It's great fun.
Tell us about your experience filming 'The Last Kingdom'.
Macfadyen: I wish that I'd had longer with Lord Uhtred. We had a huge battle sequence, which on paper was always going to be an incredibly complicated sequence between the Vikings and the Saxons. Nick Murphy (director) had planned it all out beautifully and with military precision. Nick's style is extremely freeing and he likes the filming to be handheld. There's not a great amount of lighting time on Nick's sets, and he tends to try and get it all in one big magic take. It feels very exciting to do that as an actor, and oddly you don't feel like there is a terrible pressure to get it right. I love that about working with Nick.
Was there ever a point when you felt completely immersed and maybe a bit terrified?
Macfadyen: The way we're shooting this, you are right in the middle of the moment. You really don't have to use your imagination very much. At one point we had about one hundred extras, a lot of them brilliant stunt men, and so we were completely immersed in that world.
What was the highlight of filming for you?
Macfadyen: The battle was quite something. It was a wonderful set piece. We were in this beautiful bit of the country just outside Budapest, and the whole thing was just great fun.
Read More