About the Show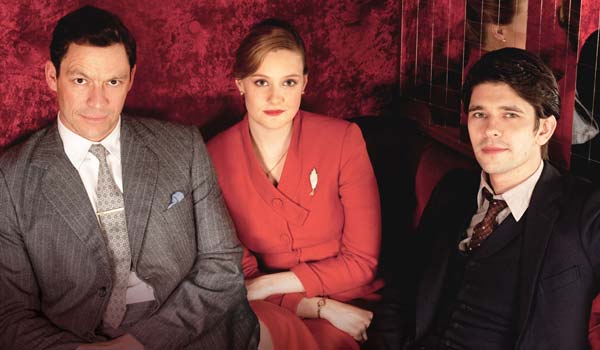 About the Show
Written and created by the award-winning Abi Morgan ("The Invisible Woman," "The Iron Lady," "Shame") and produced by Kudos Film and TV, the new six-parter sees the return of the highly competitive, share-witted and passionate news trio Bel (Romola Garai, "Emma"), Hector (Dominic West, "The Wire") and Freddie (Ben Whishaw,"Bright Star") in an original, edge-of-your-seat spy thriller set in the world of 1950s television journalism. A recent Emmy nominee for Best Miniseries Writing, the next installment of "The Hour" rejoins the team a year later in 1957 where we are introduced to new characters played by Peter Capaldi ("The Thick of It," "The Nativity"), Hannah Tointon ("The Inbetweeners") and Tom Burke ("State of Play").
Jane Featherstone, Creative Director and Executive Producer, Kudos Film and Television, says: "In series two of 'The Hour' we are going to find out what happens next in the lives of our news team, as they engage with a new year full of old flames, new loves, thrilling stories and plenty of scandal. Taking us even deeper into our characters' lives and engaging the viewers with its energy, wit and story, we're chuffed to bits to bits to be able to keep the world alive."
The sequel sees the team still striving to broadcast the stories they believe in, as they grapple with the looming spectre of the Cold War and changing social mores. It will chart political intrigue and corruption against the highly charged backdrop of a country in the grip of unsettling and rapid change. With the space race and nuclear power, Britain seems on the threshold of a new era of modernization, economic optimism, scientific progress and cultural change in the face of new immigration from the Commonwealth. But under the buoyant veneer, our characters become deeply embroiled in cover-ups, sexual intrigues and the resurgence of Mosley's fascism...
Bel Rowly is still single and determined not to get involved with another married man. Clarence is in prison and she must now report to Randall Brown (Peter Capaldi) the eccentric new Head of News. While juggling the sparky relationships around her, she finds out that Hector is being lured to ITV. She fights for her program and finds herself taking on her adversary, Bill Kendall (Tom Burke), a producer whose magnetic charm she can't help but find irresistible.
Hector Madden has risen to the status of a national celebrity, all while maintaining his lifestyle as a happily married man and the face of "The Hour." He is unsettled by Marnie's desire to establish her own career and finds himself drawn to the late night clubs of Soho where he befriends Kiki (Hannah Tointon), a club hostess. No longer happy at "The Hour" under Randall's new regime, he is tempted by other offers, but when a night at the club goes terribly wrong, scandal threatens and Hector must try to stop a news story that could destroy his marriage and his career.
Freddie Lyons, who was fired after Lord Elms' live interview, makes an unexpected return to "The Hour" as co-host after being away for several months -- traveling around the world. He has not lost his passion to investigate and as he becomes embroiled with exposing cover-ups it becomes clear that the ghosts of Freddie's past will not let him go.
Lix is still heading up the foreign desk, fighting for airtime for international stories, but a new side of her is revealed when Randall arrives at "The Hour." Meanwhile, McCain (Julian Rhind-Tutt) is now Head of Press for Macmillan, protecting the recently elected Prime Minister and the closed circle of his cabinet.