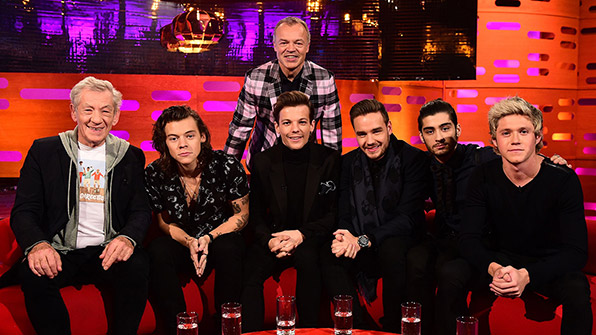 Graham Norton is always host to a wide range of talent, often bringing celebrities together who may not have had the opportunity otherwise. Remember Miriam Margolyes and Will.i.am's affinity for each other? Jonah Hill and Dame Julie Andrews' budding romance? Well, the latest episode is no exception. Legendary actor Sir Ian McKellen shares the red couch with One Direction! And needless to say, he's a Directioner.
Here are some of the highlights of the killer chat show combo:
Here's Sir Ian McKellen dramatically reading the lyrics to "Best Song Ever." He may be reading them, but we're going to assume he knows the lyrics by heart.:

Here's Sir Ian McKellen and Harry Styles cuddling.:

Here's Sir Ian McKellen granting Niall's earlier wish of hearing his iconic 'Gandalf' voice.:

Here's Sir Ian McKellen hearing about the significance of Zayn Malik's rogue hair strand.:

So, our only question is: when is Sir Ian going to go on tour with the group?!