Here are more behind-the-scenes secrets from our very own Orphan Black production team!

LONDON EXTERIORS
Most of the London footage you see in the episode is a combination of stock footage and our actors on location here in Toronto, in and around the University of Toronto campus, with London streets placed in the background, similar to how we shot the final Helena scene in 210 when she is taken and loaded on to the army plane. Luckily our VFX supervisor was in London on vacation when we were trying to find plates to put into our exteriors and Geoff Scott was able to shoot all of the perfect London plates that we needed himself.
BAYONET PUB
This set was a combination of interior work done in Toronto and exterior work shot in London. It is a real pub in Toronto—The Wild Rose, and other than a few sign changes it was pretty much art directed as it came. The exterior is from a real pub in London that Geoff Scott scouted and shot for us. We married the two together and VFX-ed the sign on the exterior to match our pubs name.
KENDALL MALONE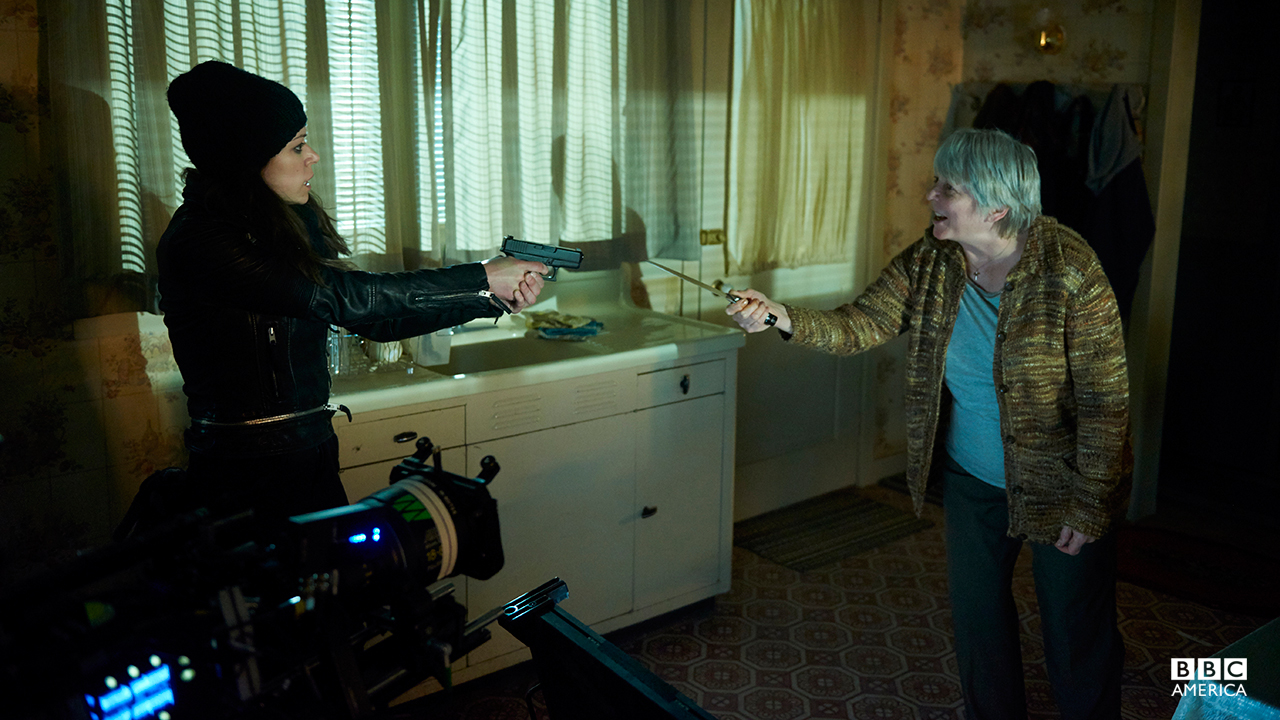 The original or Kendall Malone, is a character that we have always known was going to come out of the woodwork at the end of Season 3. And because she is both Leda and Castor's original, casting her was a key decision and a very important part to get right. The wonderful Alison Steadman plays Kendall Malone. She is one of the most successful British actresses of her generation, in drama and comedy alike. In addition, she was married to film director Mike Leigh. A British national treasure both past and present, notable for Nuts in May (1976) Abigail's Party (1977) Life is Sweet (1990), and more recently playing Pam, Gavin's mum, on hit comedy Gavin and Stacy.
FUN FACT: Alison's first scenes were huge and shot really late at night the day after we arrived, and with her jet lag it really wasn't an easy task to pull off. It was a hard night to get through, but the actors pulled out some amazing work.
MRS S, THE SINGER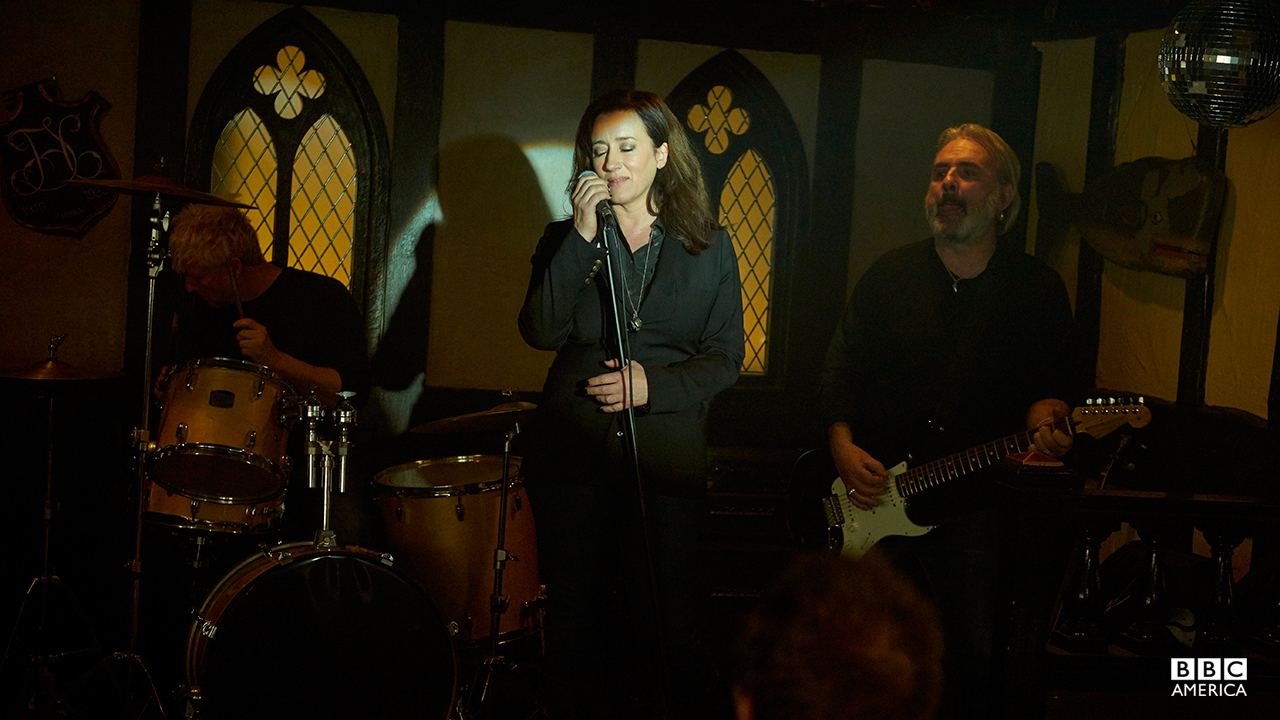 Maria Doyle Kennedy, in addition to her acting chops, is well-known as a singer-songwriter and performs with her husband around the world. Every year since being on the show she has done shows in Toronto, and the cast and crew go out to support them. John and Graeme always knew they wanted to use this side of her talents on screen in some capacity, especially because it works with Mrs. S's backstory and her rebellious younger years. The song she is singing is one of her originals. She has a total of eight albums so we had lots of songs to choose from. However, Maria and her husband, Kieran, who both produces the records and plays guitar for her, brought a fantastic shortlist of tracks to the writers' room. After the track was chosen we had Maria and Kieran re-record the track so that it wouldn't sound as polished as the record's version.
FUN FACT: Maria's husband, Kieran, is in the episode! He can be seen on stage as the guitarist, and he was even given a line!
HELENA'S MIXTURE
We aren't sure exactly what is in her concoction, but if we had to guess, we think it was yogurt and spices with some vegetable/fruit mixed in for texture—maybe carrot?
POUCHY'S GARAGE
This location is on Queen Street East in Toronto. Ming's Autobody Shop is the actual name of the shop. We were sad to say goodbye to Pouchy and his drug-dealing family, but having "house trained" Helena go all "Helena" on them was a pretty perfect ending to their arc on the show.
THE MAMAS & THE PAPAS
We love a good Helena sing-along here at Orphan Black. And any chance we get to throw in one of Helena's Super Sunshine Hits from her days with nuns, we do! Gotta love seeing Helena making soap and singing along to her favorite tunes. She deserves a break from the bleak!