OPENING DREAM
The Garden party was shot over two full days and another 1.5 hours on the third day. So in total the scene probably took just over 22 hours. John Fawcett directed, even though it was part of David Frazee's episode.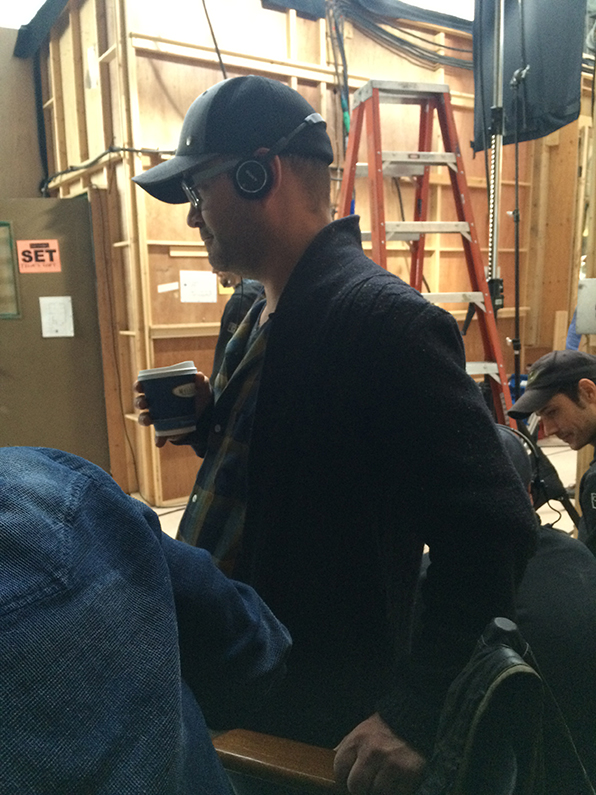 THE DREAM : The inspiration, the look, the costumes, the décor
John Fawcett was really the visual mastermind behind this scene. He, Geoff Scoot, our VFX manager, and Joanna Moore, first AD, put their heads together and were able to realize this scene in a way that was also practical for our shooting schedule—not an easy feat especially without the technodolly (or the Time Vampire as we like to call it).
John also was the brains behind the heightened look of the backyard. He did lots of Martha Stewart research to get the decorations just right!
And then there's the wardrobe:
Helena – her maternity dress was supposed to look like something Alison would have dressed her in. The dress itself had to be redesigned so that the Scorpion could crawl out of the buttons. In fact, a specific pocket was added that holds the scorpion inside the dress.
Cosima – her outfit was ordered from the Ukraine and is an actual traditional Ukrainian outfit. Including the shoes! We wanted to incorporate Helena's childhood and homeland in the dream and this, plus the cake, did the trick.
Sarah – we played with having Sarah dress up in a dress for this scene, but as all of the clones are supposed to be how Helena's subconscious would construct them we put her in traditional Sarah duds. This is also the first time we have ever seen Sarah in sunglasses of her own! (Yes, she wore some playing Katja, but those were part of her disguise and these are just pure Sarah.)
Alison – this one is pretty obvious. It is just Alison dressed perfectly for a backyard baby shower.
Felix – Felix is actually wearing cricket whites, the traditional clothes you wear to play that game in. Don't ask us why, we just thought it worked for the garden party atmosphere!
THE SCORPION
The scorpion you see on screen is almost always a real scorpion! We used the Black Asian scorpions (the biggest ones we could find) and with a little bit of help from the scorpion wrangler, and a few "get-to-know-you" sessions with Tatiana in prep, we were able to make the real scorpions work. That said, VFX did help here and there to get the right claw movements, close-ups, and emergence from Helena's baby bump right.
SCORPION VOICE? ADD IT TO HER ROSTER OF WORK
Who voiced the Scorpion you ask? Tatiana of course! She worked with John Fawcett, Graeme Manson, John Nelles (vocal coach), and John Laing (dialogue editor) to find the right voice for the Scorpion. Of course there is a little bit of editing done to it, but for the most part what you hear comes from her. Including the click/clack-ing sounds that the scorpion makes—those are Tat too!
Is Tatiana scared of critters or not at all?
To say she wasn't scared of the scorpion wouldn't be correct, but they did become buddies the more we worked with them. And as always, we made sure she was safe. We had plastic prop scorpions for rehearsals, the wrangler was on set the whole time, and if we didn't need to have the scorpion out of its box, we didn't!
WE LOVE SHITE BEACH
The scene of Sarah and Felix at "shite beach"—as they like to call it—was shot down on Lake Ontario near the studios we shoot the show in, Pinewood Toronto. That location is actually the same one we used in the first season for Sarah's funeral. It is production-friendly and a part of Toronto that is rarely seen on camera.
PRODUCTION SWITCHEROOS
In previous seasons we shot the episodes in order, but this year we changed things up. We actually shot episodes 302 and 303 together in one block—John Fawcett directed—along with the opening clone garden party scene. The rest of episode 301 was shot after and directed by David Frazee.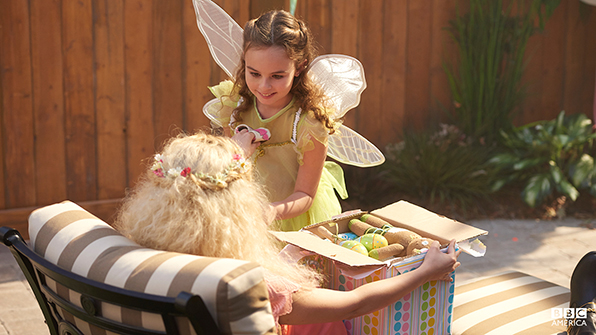 ALISON'S WORLD
Most of Alison's world is shot up in Markham, Ontario—just outside of Toronto. That soccer field, the same one we used in Season 1, is in Markham and only about a five minute drive to the exterior location of Alison's house.
We actually had to rebuild the soccer shed from Season 1 for this episode. We had recycled it two years ago thinking we would never be back, but I guess we should never say never on this show.
SCHOOL TRUSTEES
Marci Coates and the whole school trustee storyline is inspired by one of Graeme Manson's best friends who ran for school trustee in the fall of 2014 in a district in Toronto. He actually came in to give the writers and our art department an inside look at what it is like running for that position.
THE CRAFT ROOM
I wouldn't put words in anyone's mouth, but we all love that set. But we love a lot of our sets. This one specifically was inspired by John Fawcett's sister, TLC's Extreme Couponers, and Martha Stewart—we all want that ribbon holder, amIright?
DUNCAN'S BOOK: The Island of Doctor Moreau
We like our classic sci-fi, and put Mary Shelley's words in Johanssen's mouth last year. This classic is one of the books "The Real Cosima" put on our reading list, as it is about the ethics of messing with biology. In this case the messy ethics involve Dr. Moreau creating manimal hybrids using vivisection, which can be seen as a Victorian version of tampering with DNA. That Professor Duncan put his code in this book says a lot about how the old scientist now perceives his life's work.
NEW BIG BADS
The talented UK actor James Frain plays Ferdinand, our new big bad guy. He is known for lots of different villainous roles, but most recently for Intruders, True Blood, and The Tudors. We developed the character and once James stepped into Ferdinand's shoes he really was complete as a character. He is just so scary!
NEW SETS
The Rendition Camp, where we find Helena is being held, is a brand new set for us this season. We won't go into much detail yet, as there's a lot more of it to be discovered in the next few episodes, but just know that it was our biggest and most ambitious set to date!
We have set scenes in Alison's backyard in previous seasons, but always using the actual backyard of the house that we use for exterior shots of Alison's house. This year we built her backyard,as well as the garage, inside our studios so that we could control a bigger world and space for the Hendrixes. All of the plants and grass? Yep, they're fake!
Delphine's Office. As the new big boss at Dyad, Delphine needed new digs, so we built her a Leekie-esque office (minus the weird experiments) of her very own.